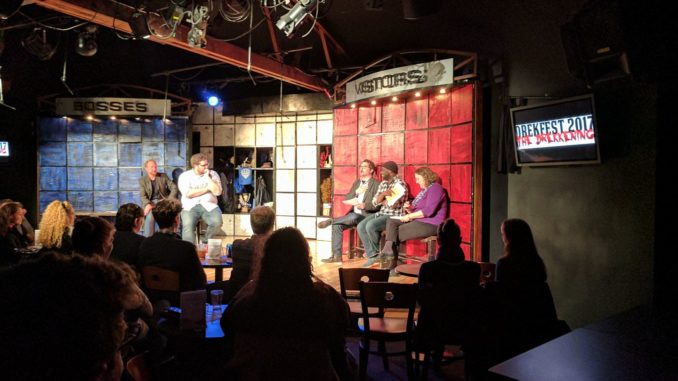 On Tuesday, March 28, Stage Left Theatre presented DrekFest, an annual staged reading series in which playwrights compete to write the worst ten-minute play. Four scripts are performed, and afterwards audience members have the opportunity to vote for the worst play. While the votes are tallied, three "judges" (this year, playwright Ike Holter and theatre critics Kerry Reid and Kris Vire) roast the plays that were just performed. All four playwrights win whimsically specific amounts for participating, with the grand prize ringing in at around $100. Best described as gloriously awful, DrekFest is an riotous evening of bad writing and good spirits, both literal and metaphorical.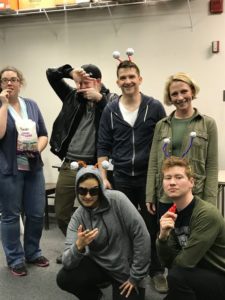 There's something utterly delightful about intentionally poor writing. Like the Sharknado franchise, the plays of DrekFest are so bad that they cycle back around to being good. In spite of host Greg Westler's performative, Snicket-esque insistence that the plays were too awful too bear, the audience was having a great time laughing at the absurdity of both the text and the performances of the actors. It's definitely a show best experienced with friends and booze, and fortunately the bar at host site ComedySportz is happy to provide the latter (although hiring a second or third bartender might not be a bad move for next year, as the lines grew fairly lengthy).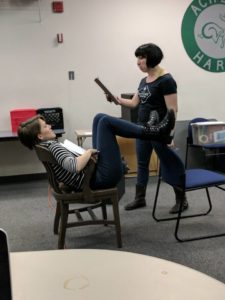 This year's DrekFest opened with Desires Unleashed (A Great American Tale of Great American Tales) by Sean Paraventi, a play so pretentious and convoluted that one almost believes it to be the sincere work of a white guy in grad school. This play also won my favorite award of the night, a certificate titled "The Eugene Ionesco Award for Straightforward Plot Construction." Other plays included Angels in Afghanistan: A Gay Muslimist Fantasia by Thor Rudebeck, a painfully offensive parody of Tony Kushner's Angels in America that became even more disturbing with the realization that the author was not, in fact, Middle Eastern; and The Gyno Room, or Aaron Sorkin Presents Women's Rights, which was exactly has heinous as it sounds.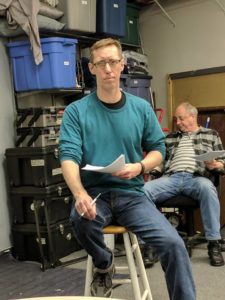 The best/worst play of the night, however (and the winner of the Grand Loser prize), was Armageddon: A Play (Not To Be Confused With the Film of the Same Title) by the charming Eileen Tull, an utterly absurd satirical take on the 1990s action movie that in addition to being hilarious also managed to drag our country's attitudes toward the education system, blind American patriotism in general, and misogynistic depictions of women in film, all in one wacky ten-minute package.
The plays were rife with exceptionally atrocious metaphors, including the comparison of a stereotypical action heroine to a "baby bird you'd still want to fuck" and tongues described as "finding each other like two snakes looking for the last Pop-Tart." In a way, the writing is so awful as to become artful; there's a certain skill in inventing comparisons so profoundly cringeworthy. The judges for the evening also unleashed their significant creativity in coming up with insults for the four plays, with Ike Holter's unapologetic dragging of several Chicago theatre companies past and present being the highlight of that portion of the evening.
Design work is, of course, minimal for this event, as it is a staged reading, but several sound effects were used with great success throughout the night.
DrekFest is fabulously terrible. For a quick hit of lighthearted entertainment, look no further than this utterly absurd and totally fun event.
To learn more about Stage Left Theatre, including their Downstage Left new play development program, visit the Stage Left Theatre website.
All photos courtesy of Stage Left Theatre.