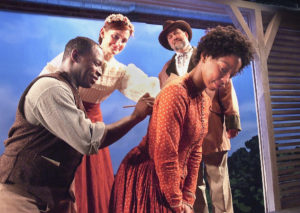 Discovering new and seldom taught segments of American history is always a fascinating journey. When mined for a script and crafted into a full production on stage, this particular story is called "Pure Confidence," and it becomes pure entertainment as written by Carlyle Brown.
A love of horse racing breeds an unlikely friendship between two men. One man is a winning jockey but owned as a slave, the other owns one of the horses that the jockey rides. They strike up a deal; the jockey shall give up his take of the winnings and buy his freedom. This strikes up a whole lot of thought-provoking theatre. Set against the high-stakes world of Civil War-era horse racing the joust surrounding this friendship, power play, and deal becomes quite sobering, sometimes humorous, and very intriguing.
Director Marya Mazor explains that, "at first glance, it may appear to be a period piece—and yet, like other great 'history plays,' it uses that period in time to shed light on similar issues in our own time." Mazor has assembled a seasoned cast to carry the story, which opens in the Sacred Fools Theatre in Hollywood on April 8th.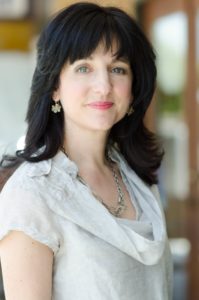 We spoke about the play and the beginnings of her now distinguished career as a director, which includes her direction of "Ivy & Bean" at South Coast Rep, "The Model Apartment" by Donald Margulies at The Geffen Playhouse.  Mazor was one of only eight chosen to participate in the AFI Directing Workshop for Women, where she directed "The Winged Man," by Academy Award Nominee Jose Rivera (Motorcycle Diaries). The film appeared around the world in festivals including ComiCon and Athens International, airing Amazon.
Ester: When did you discover your enthusiasm towards, and your strength for directing?
Ms. Mazor: I became interested in directing theatre as a teen, when I was helping my mother who did "Story Theatre" programs in the schools.  But it wasn't until after college that I started to seriously explore it as a profession — first when I attended a summer program at New York Stage & Film company at Vassar, and then at Williamstown Theatre Festival, where I met a lot of terrific working artists and began to realize what directing professionally meant. Later, I attended Yale School of Drama, which really challenged me—particularly because I was just out of college and still learning what the role of a director involved. But I learned so much from my mentors there, and just as much from my wonderful peers—Juliette Carillo, Mark Rucker, and a host of incredible actors and designers; I've continued to collaborate with many of them which is really the great gift of graduate school.
Ester: How does this play explore a universal theme that audiences can relate to?
Mazor: It uses a story of Slavery not only to shed light on the history of American Slavery & the Civil War, but also to illuminate our own time. Given the vast divisions in our current society, it's no stretch to say there are times we again feel that we are on the brink of war—and that the freedom of our citizens, especially people of color, is in constant peril. But while this historical story illuminates our current political conundrums, "Pure Confidence" is also a story of friendship and power, of the complex ways we love one another even despite tremendous flaws, and most of all it's a rumination on the nature of freedom itself.
Ester: Any unexpected revelations during the rehearsal process?
Mazor: For me, rehearsal is always a time that I try to let go of my pre-conceived notions of the play and really listen to what the actors bring to the table. So, yes, there were so many unexpected revelations; I think the biggest revelations were about the second act of the play—the stakes of that post-Civil War world, what Simon is going through after winning his legal freedom but losing his identity as a Jockey, and what he needs from the other characters in order to move on. The stasis he feels seems to mirror a lot of the confusion we feel today as we navigate another era of great change and uncertainty. That is why I think this story needs to be told.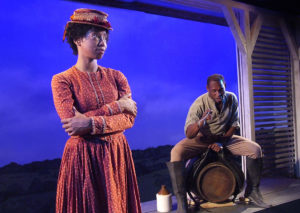 Ester: Who are your favorite directors, or ones that have influenced you the most, and why?
Mazor: Some of the directors who have really impacted me include Richard Foreman, Robert Wilson, Robert Lepage and Julie Taymoor. Each of them has such a clear vision, and they really push the boundaries of the art form. Even though my work has been much more text-based, I have learned a lot from them. I also observed Anne Bogart in rehearsal as a NEA/TCG fellow, as well as Lee Breuer and members of Mabou Mines. Both those experiences were incredibly helpful because they develop work over many years, and they have a freedom in the process that was wonderful to experience.
I was particularly influenced in life and career by visionary actor/director Ruth Maleczech of the Mabou Mines company. When I was a young director she was one of the only women I knew who had children and a vibrant professional and artistic life. Ruth believed in my work and nurtured my voice, she helped me gain confidence and learn to trust the process. She led by example, leading an extraordinary artistic life, never compromising, always putting the art first.  She was also on the Advisory Board to the theatre company that I ran in NY, and in countless ways assisted us in navigating the challenging road of a young company.  She left an amazing legacy—personally, professionally, and artistically.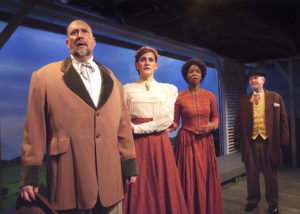 This cast includes Armond Edward Dorsey (Simon Cato), Tamarra Graham (Caroline), Eamon Hunt (George Dewitt/HotelClerk), Deborah Puette (Mattie Johnson), William Salyers (Colonel Wiley Johnson), and Dylan John Seaton (Auctioneer/Tom Roland).
Pure Confidence opens at 8pm on Saturday, April 8th and runs 8pm Fridays & Saturdays, 3pm Sundays through April 30, 2017. Sacred Fools is located at 1076 Lillian Way 
Los Angeles, CA  90038. Tickets $25 – $34. Reservation at Lower Depth Theatre Ensemble and (323) 960-7745. Wheelchair access and ample street parking.