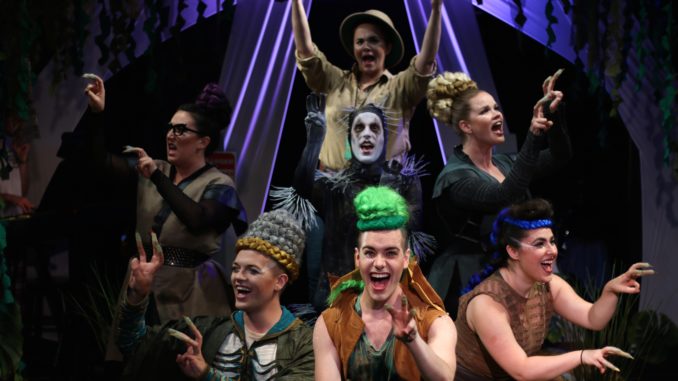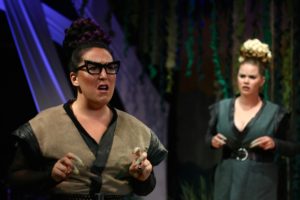 Circle Theatre presents the remount of their 2015 hit Triassic Parq, an off-the-wall musical comedy that borrows loosely from the classic film Jurassic Park. Set on an island populated by an artificially created tribe of all-female dinosaurs, Triassic Parq depicts the events that follow after one of the dinosaurs spontaneously becomes male. Wacky and hilarious, this bizarre 90-minute musical is an utter delight.
The majority of the original cast has returned for this second production. The only newcomer is Veronica Garza, who makes for a spectacularly funny and utterly compelling T-Rex 2. It's clear that the cast has tons of passion for this kooky little show, and it's a good thing too; without the energy and absolute commitment of the actors to their roles, the play could have been painfully uncomfortable in its weirdness. Instead, it's easy to get on board this wild, dino-rific ride. As my friend put it afterwards, "I didn't know I could become so emotionally invested in a velociraptor."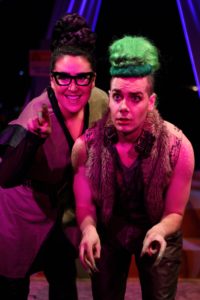 Parker Guidry, who plays the show's heroine, the Velociraptor of Innocence, perfectly captures the spirit of the wide-eyed ingénue, with the sweet vocal tones to match it. Jacob Richard Axelson makes for a glamorous and maternal Velociraptor of Faith. Erin Daly's powerful set of pipes make the rage-filled T-Rex 1 one of the show's most exciting characters. And a running gag featuring the show's piano player, known as Pianosaurus (Justin Harner), is charmingly hilarious.
For all the zany nonsense happening on the surface, the story has an age-old conflict at its heart: the rift between science and religion. That something substantial is happening at the play's core keeps it from going completely off the rails and allows it to be something more than just a goofy musical about dinosaurs. The play also tackles questions of identity and gender in particular—indeed, some rather strange and complicated things are happening with gender in this production and not just because of the sex-changing dinosaur. The casting appears to have been gender neutral, and the blending of various gender stereotypes and secondary sex characteristics leads to a kaleidoscopic chaos of gender that is dizzy, delirious fun.
The show's score is perhaps its strongest feature; aside from one number that cleverly riffs on the theme from "Jurassic Park" itself, the music is fresh and original, with dynamic composition and catchy tunes.
Set designer Jimmy Jagos has made use of every inch of the intimate Heartland Studio; the walls and floor are painted, and rotating set pieces allow for multiple locations even on a stage that is crowded with even a small cast of eight. Costumes by Kat Sass create the unique atmosphere of the island as much as the set does; with an array of earth tones and detail work, the characters' prehistoric garb is an essential part of the storytelling.
Triassic Parq absolutely fits the bill for a cult classic. Is it weird? Yes. Does it always make sense? No. But is it a unique and delightful experience from start to finish? Absolutely. And for this reason, it comes highly recommended.
Ticket Information
Location: Heartland Studio, in Rogers Park, 7016 N. Glenwood Ave
Dates: Wednesday, July 19 – Sunday, August 13, 2017
Times: Thursdays – Saturdays at 8:00pm, with matinees both Saturdays and Sundays at 2:30pm and industry performances every Monday at 8:00pm.
Tickets: Available at the Circle Theatre website.
All photos by Cody Jolly Photography.