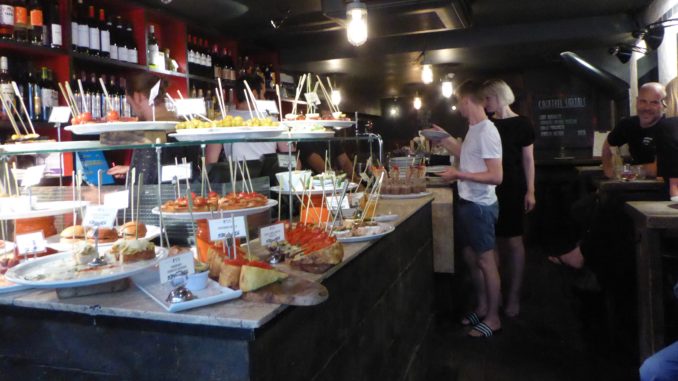 "Foodie Tours" are an interesting and delicious way to learn more about a locale, its residents, and its indigenous gastronomic highlights. Our experience in London on the Twilight Soho Food and Cocktail Tour was one more positive experience for us as we continue to embrace new adventures in foreign countries.
We have previously joined Eating Europe Tours' during our visits to Rome and Prague. We not only are introduced to great restaurants where we consume local dishes, but we also learn a great deal about both the food and the people from our local guides.
So we scheduled a tour with Eating London which is part the Eating Europe Group. Going on the tour not only filled our stomachs, but also educated us on the history and culture of London's colorful Soho District.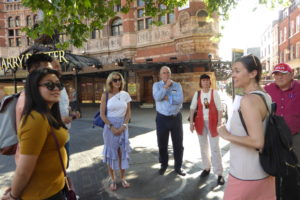 Our diverse group of eight met Bethany, our local guide, at a well defined location in Soho. Bethany explained that we would visit six restaurants as we walked around Soho. She told us that in the 16th century the area was used as a hunting preserve for the wealthy and that Soho was a hunting cry.
The area has been a convergence spot for the many immigrants moving to England starting in the 18th Century. As Soho became overcrowded in the 1800's, brothels and other seedy elements filled the area. Theaters and restaurants found a home here in the 1900's and the music scene came into prominence in the 1950's. The neighborhood now includes many ethnic groups and the food reflects this diversity.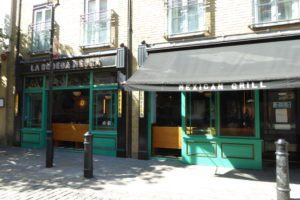 Our first stop at the La Bodgra Negra Mexican Restaurant, was indicative of the variety of cultures. A Mexican restaurant in London? Yes, one that uses genuine Mexican spices and ingredients in its food preparation.
Our group sampled fish and pork bellies Mexican street tacos prepared by the Mexican chef who was "imported" to guarantee the authenticity of the dishes. The flavor and texture were spot on. The tacos were complimented by tasty frozen strawberry margaritas.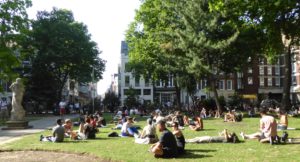 Next, we walked through Soho Square park which was filled with folks enjoying a sunny London afternoon. Bethany pointed out the Manor House. This building housed a high class brothel in the 1700's, but is now an expensive office building. Casanova once lived in the area and Paul McCartney's business interests are housed nearby. The area around the park is called The French Quarter, since French Huguenots settled here. Bethany pointed out a French Protestant Church as well.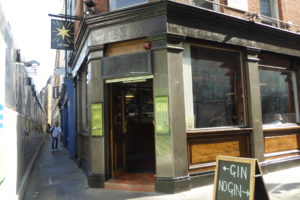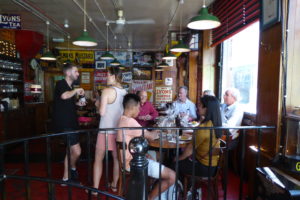 The London Gin Club was our next stop. This family owned restaurant which opened in 1933 claims to serve the best gin and tonic in London and offers over 210 premium gins. Bethany said that although gin was originally developed by the Dutch in 1682, it quickly became a favorite of the English.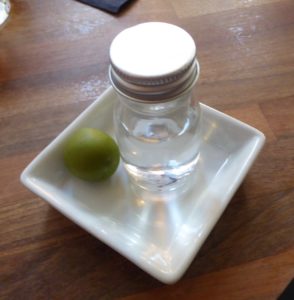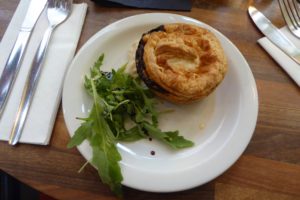 We drank custom made gin and tonics made with house prepared 7 Dials Gin accompanied by homemade beef pies which were infused with more gin.
It was a short walk to our next stop, Enrique Tomas Spanish Deli and Wine Bar. The restaurant specializes in serving Pata Negra and other high end Iberian ham. It also serves excellent manchego cheese and fine Spanish wines.
We washed down bites of the ham and cheese with an excellent Cabernet Sauvegnon Photo by Dianne Davis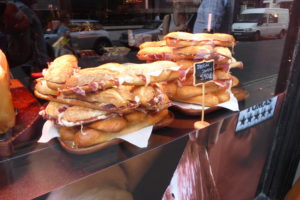 As we walked through Soho, there were many interesting areas. Bethany pointed out the Trident Record Studio. This was once a major high end studio where records by such artists as David Bowie and Elton John were produced. Karl Marx was also a resident there.
What a delight watching the server pour Basque wine  Video by Dianne Davis
Next we visited Pix Pintxo, a Basque tapas and wine restaurant. It features a variety of pintxos which are Basque style tapas or small dishes. We were able to make selections from a variety of pintxos such as chicken kabobs with mint and yogurt, four cheese fritters, and pork belly with onion jam and apple compote. These were washed down with white Basque wine.
Then on to the largest Chinatown in Europe. This part of Soho contains more than 90 Asian restaurants and has a lurid history. Significantly, our next stop was at an interesting place called Opium. The restaurant is tucked away behind a green door and up four winding flights of stairs. This dimly lit location with small rooms was worth the climb. We sampled some excellent dim-sum dishes and house specialty tea. The tea was infused with an orange liquor, vodka and other flavors.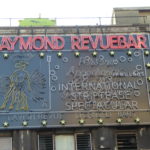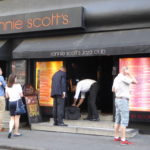 As we walked through the streets, we noted an abundance of sex shops and massage parlors as well as many trendy shops and night spots. Bethany mentioned that many of the properties were owned by a Mr Paul Raymond and his company Soho Estates.
Basement Sate, a French owned restaurant was our final tasting location. This eatery serves only desserts and cocktails and further illustrates the diversity of residents and restaurants in Soho. The upscale décor put us in the mood for the incredibly chocolate praline accompanied by their tequila based Espumoso cocktail. A great finish to our eating and drinking.
Although we were done with the tasting of food and beverages, there was one more stop. Bethany led us to a wall painting which pictured the history and diversity of Soho. She summarized the spots we had visited, the sights we had seen, the food we consumed and the liquid refreshments that we swallowed. This Eating London Tour was much more than a food sampling. It gave us a chance to learn more about a unique part of this great city of London. We will certainly return to Soho on our next visit to London.