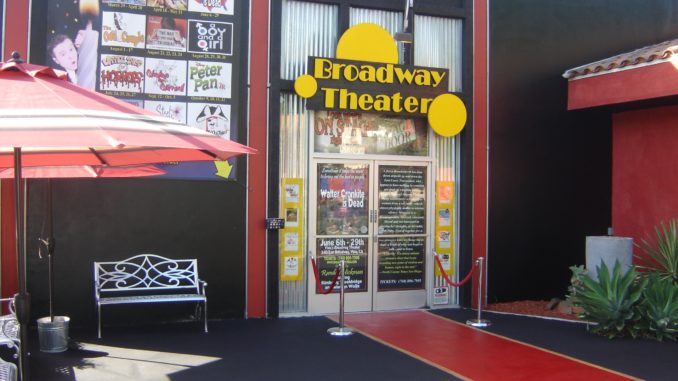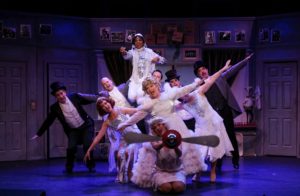 By Kathy Carpenter
The only one sleeping is this one is Lisa Dyson, as the chaperone and she doesn't sleep. Laughter filtered through the audience of The Drowsy Chaperone. Hoots, chuckles, cheers, but no snores.
Premiere Productions home is Broadway Theatre in Vista. Located at 340 East Broadway in Vista offering " The Broadway Theatre experience." A beautiful Art Deco inspired 49 seat venue. Twice a year they go on the road to the Welk theatre at Welk resort. A bigger venue to offer the show to more people.
The Drowsy Chaperone is currently playing The Welk – August 4th – August 27, 2017. Infectious, singing, dancing, and mayhem. With a phenomenal cast.. Don't miss this good time. Director / choreographer Ray Limon has an epic hit.
Vincent Pasquill, plays the Man in the chair. Our narrator for the play. Normally narrators irritate me, hut Pasquill is so much more. He tells us the story of the play., as we interact with his life. The plot of the plays is to keep a Bride and groom from seeing each other on their wedding day, Plot B, a producers is trying to break them up. The fun begins when the bride, groom, rich forgetful widow, servant, best man, two gangsters posing as pastry chefs, a producer, his gal friend, an aviatrix, and chaperone come together for the wedding. Old-fashioned musical fun. Takes place in the fabulous roaring twenties.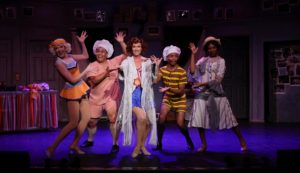 Ashlee Espinosa, plays Janet Van Der Graaff, the rich Bride, she is giving up her illustrious career as movie star to marry. Aaron Shaw plays the lovelorn groom. Patrick MacDonald, plays the best man, who has to do everything. Lisa Dyson is the chaperone, Alex Allen, plays Adolpho, the Latin lover. Robin La Valley, does what she does best as, Mrs.Tottendale. Doug Friedman, plays underling. Torre Younghans, the producer. Kylie Molnar, plays Kitty his girl. Chris Bono snd Dante Macatantan are a hoot as t he gangsters. And Justin High plays Trix the Aviatrix.The great thing about this show is all these characters get their moment to shine. Thus each a star. Each a total delight. A well rounded cast executing quality entertainment.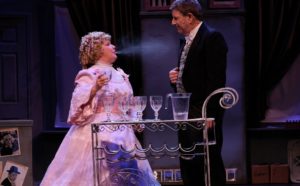 M favorite number is "Cold Feet." Sung by the Groom and Best Man. Why is it my favorite because of the tap. I love tap. The audience favorite is a vaudeville type skit between Mrs. Tottendale and Undeling. Misunderstanding abounds at the mix up of ice water and vodka.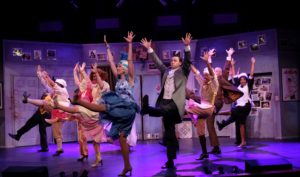 The stage is set as the Man in the chair's apartment, which the Chaperone cast flits in and out of. If I had to pick one star I would pick Pasquill. However, the entire cast totally believable in the roles.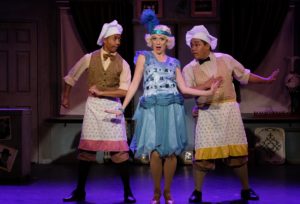 Take a drive out to Welk Resort soon you don't want to miss this one. Escapism at it's best.
The Drowsy Chaperone
August 4 – 27, 2017
Welk Resort Theatre
Champagne Blvd.
Escondido
Coming next from Premiere Productions
At Their Vista Home
On Golden Pond
October 27th – November 5th, 2017
Tickets 1-888-802-7469
www.broadwayvista.biz
br***********@gm***.com