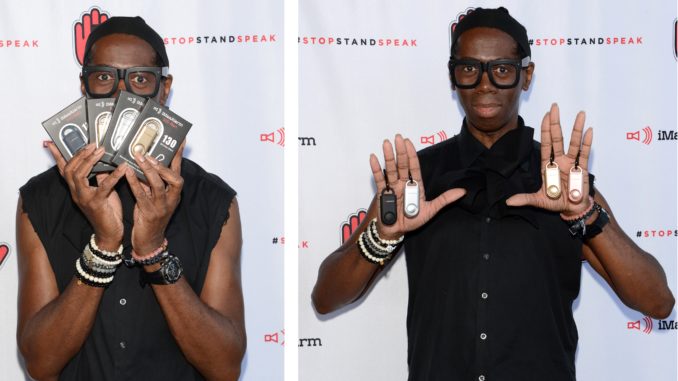 GBK teamed up with Pilot Pen to put together the two day 2017 Emmy Awards Luxury Lounge that took place on the rooftop of the L'Ermitage in Beverly Hills on September 15th and 16th. Guests were treated to an amazing day filled with gifts and pampering.
Attendees included Michael Kelly (Emmy Nominee), Anthony Anderson (Nominee: Lead Actor in a Comedy Series ), Leslie Jones (Nominee: Supporting Actress in a Comedy Series (SNL) ), Tituss Burgess (Nominee: Outstanding Supporting Actor in a Comedy Series), John Tucker and Rachel Osterbach (EMMY winning docuseries on A&E "Born This Way, Presented at the Emmy's), Akbar Gbajabiamila and Kristine Leahy (Hosts, Emmy nominated "American Ninja Warrior"), Yara Shahidi, Allen Maldonado and Aldis Hodge (Emmy Nominated Show "Black-ish"), Mishel Prada (Nominated show FTWD), Alex Chitty (Producer of Emmy Nominated "Vice"), Dan Rubin (Producer of Outstanding Comedy Series "Unbreakable Kimmy Schmidt"), Christopher Jackson (Emmy presenter (Tony Award nominated actor for his performance as George Washington in Hamilton) and many more.
Pilot Pen and their "Modern Classics" theme inspired talent to write inspirational messages with the #1 selling and favorite pen in the US, the Vanishing Point retractable fountain pen, with a 18-karat gold nib. Pilot Pen's space was adorned with colorful art reminding all that "Words Are Powerful, Choose Your Words Wisely", which created a positive vibe alongside DJ Jesse from PRISM DJ's, and the perfect grand entrance for attendees as they entered the lounge experience. Pilot Pen also inspired the celebrities to share their message by offering them a $5,000 donation to their charity of choice.
Blooming was gifting their anti-aging, high-frequency facial massager with LED light therapy. Blooming is the Korean beauty secret that turns back time. The High-Frequency feature was designed to stimulates the renewal of skin cells, and also warms the skin tissues so that skincare products may penetrate deeper and get absorbed effectively for facial beautification. This age defying device sends an electronic pulses to the face tissue triggering a contraction of the muscles. By performing this process for twenty minutes in the morning and twenty minutes at night it will show positive results in just a few weeks. This brings a professional treatment into your own home as it stimulates collagen, tightens the skin and reduces wrinkles. For more information,visit Blooming
In addition to celebrating the Emmy Awards and all of the guests in attendance, GBK had three charities that they were supporting from this two-day event. The three charities were; Animal Wellness, Face Forward and International Society of Human Unity.
The Animal Wellness Foundation is a non-profit animal rescue based in Los Angeles. Not only do they rescue animals, but they provide the best medical care possible so that every saved animal has the best chance at living happily ever after. To help the Animal Wellness Foundation, please visit: Animal Wellness.
Face Forward works with community leaders and organizations around the world to help victims of violence and help them work towards recovery. For more information, visit: Face Forward
The International Society of Human Unity in a non-profit organization that co-produced the documentary "Stopping Traffic." This raises awareness about sex trafficking not only in the United States but around the world. For more information, visit: Human Unity
iMaxAlarm was showcasing their new collection of personal security alarms that act as a safeguard and deterrent from potential harm. Inspired by the shape of an average key fob, the iMaxAlarm personal alarm system emits an ear piercing 130dB siren which will not only startle the most threatening potential aggressor, but will also alert others to an immediate need for help. Simply pull the key from the top of the device and it will immediately emit a deafening noise which will help deter a potential attack, as well as draw the attention of nearby bystanders to the pending emergency. Guests were each gifted on of these ready to use, right out of the box alarms. Each celebrity in attendance took the pledge to #StopStandSpeak against Street Harassment with iMaxAlarm. For more information, visit: iMaxAlarm
Ving Vodka was mixing up cocktails for guests using their organic and gluten-free that is infused with kale, lemon peel and cucumber. For more information, visit Ving Vodka
Cali'Flour Foods was sampling their delicious cauliflower crust pizzas (with only 180 calories in the entire crust) and gifting a year supply to each guest. For more information, visit: Cali'Flour Foods
Burke Williams Spa was keeping everyone relaxed by offering massages and they also gifted products from the H2V
skin care line as well as passes to experience the new Hollywood location. For more information visit: Burke Williams
Kofi Nartey was gifting guests his book Sellebrity and discussing his celebrity and athlete luxury real estate services. For more information, visit: The Nartey Group
Crown of Light was introducing guests to their patented 90-facet diamond cut that elevates the beauty of a diamond to an even higher level. For more information, visit: Crown of Light
Two Gypsea Souls was gifting their custom upcycled hand-made vintage clothing with a rock n' roll theme. For more information, visit: Two Gypsea Souls
Vita Cup was gifting two packages of their vitamin infused coffee and tea pods as well as $50 gift card. For more information, visit: Vita Cup
Bullets 4 Peace was gifting their "Hand-in-Hand" bracelet that benefits the Hand-in-Hand hurrican relief efforts and organization. For more information, visit: Bullets 4 Peace
Caribbean Living Magazine gifted guests at stay at Hotel El Ganzo.
Chateau Boswell Winery is a small family owned winery located in St. Helena. They were sampling a variety of their wines.
Coravin is a must for any wine drinker. This wine preservation unit allows you to pour from the bottle without ever pulling the cork.
Enrico Cuini designer shoes were gifting a pair of their shoes to guests. For more information, visit: Enrico Cuini
Mission Belts was gifting  their unique belt design, style and function that provides a perfect fit for everyone; comes in leather, nylon and now canvas strap varieties with a variety of buckles to give customers the option to mix and match for their own unique combinations.
Bouquet Bar was gifting a box of their online gifting ecommerce products. For more information, visit: Bouquet Bar
Texere Silk was gifting silk pillowcases and men's and women't silk pajama sets from their line of goods made from natural and renewable plant resources. For more information, visit: Texere Silk
Siddhayatan Spiritual Retreat was gifting a 3-day spiritual retreat experience that includes yoga and meditation and much more. For more information, visit: Siddhayatan
Bodacious Concierge was gifting three hours of complimentary service that allows guests to experience the incredible
service that will take care of anything needed. For more information, visit: Bodacious Concierge
ABOUT GBK:
GBK, formerly GBK Productions, is a luxury lifestyle gifting and special events company, specializing in entertainment marketing integration. Formed in 2000 by Gavin Keilly, the company's Founder and CEO, GBK consists of five divisions: GBK Celebrity Gifting, GBK Special Events, GBK Weddings, GBK Charitable Consulting and GBK Marketing/Public Relations. Widely known in the entertainment industry for bringing that little extra something into the Gifting Lounge environment, GBK offers its clients a full range of marketing services. For more information on Gavin B. Keilly (CEO), Carla Domen (VP) or GBK, please go to GBK.
(Photos Courtesy: Stephan Martin)