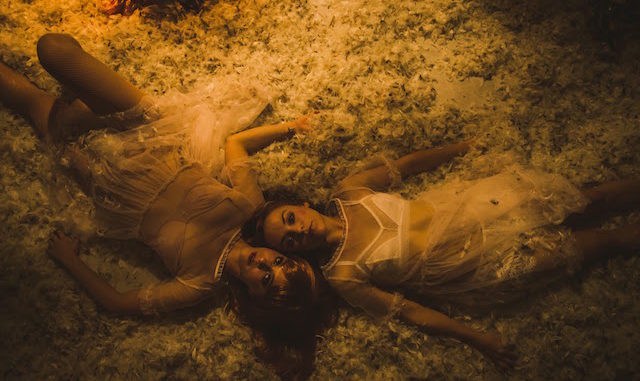 Recently Creep:LA Lore made its debut in LA! The monsters, 'fairies' and characters from the infamous podcast Lore are brought to life – just in time for Halloween! The spook-tacular event promises to be anything but average.
Located downtown at 1986 Hill St, Lore is a fully immersive experience.  Each attendee will truly have their in experience  as the trek through the hour long activity.
Based off of the upcoming Amazon Prime Exclusive's new series Lore is a six-episode anthology series (streaming globally on Amazon Prime on October 13th) will present the frightening and often disturbing tales based on real people and events that have led to our modern-day myths and legends. Celebrating the origins of the horror genre, Lore explores the real-life tales behind pop culture's most legendary horror myths, such as vampires, changelings, werewolves, séances and possessed dolls. Creep LA will bring real-life historical events that birthed many folk tales which ultimately spawned some of our darkest nightmares to life pulling inspiration and using elements from the show.
First timers, a word of advice :Be sure to listen carefully in the coming days and hours before your experience; keep your ears open for the whispers beyond the walls. They have a lot to say.
Lore is one of a kind. In my opinion, it's like being dropped into a season of American Horror Story, but all in fun of course!

JFI Productions' Creator/Producer, Justin Fix said of collaborating with Amazon, "We couldn't be more excited to have Amazon join us on this season. Creep LA's experiences have always focused on the darkness of humanity and the human condition. There is no better opportunity than Lore to focus on the past and the creation of these monsters we have grown to fear. While monsters are scary, the people behind the masks are the real danger."
You'll be split from friends, you'll be constantly surprised, and you may even be buried. This experience is one you'll remember…or forget if you end up being lobotomized.
If you're not on the west coast,  don't worry as there is a pop up in New York for New York Comic Con! The totally free event is fully instagrammable as there are many picturesque moments.


Horror buffs will be thrilled by Amazon Prime Video's Museum of Lore. In promotion of the new anthology series Lore, this unsettling, picture-perfect experience will take place in the North Concourse of the Javits Center. Inspired by one of the fastest-growing podcasts in the United States, Amazon Prime Video's Lore activation will uncover some of the most haunting myths of all-time in the most "shareable" way. Guests will be taken through three rooms – "Gene's Bedroom," "The Unveiled," and "The Beast Inside," each of which will tell a different, blood curdling tale from Lore all while providing attendees with must-share photo opportunities.

Other than the photo experience NYCC attendees will also be able to enjoy an array of Amazon Prime Video panels in addition to the Lore panel. The full lineup for NYCC features the highly-anticipated upcoming Prime member exclusive series Tom Clancy's Jack Ryan, Lore and Philip K. Dick's Electric Dreams, as well as returning favorites The Man in the High Castle and The Tick.
To top off their NYCC involvement, Amazon Prime Video will also be featuring the world's first voice activated Echo Escape room powered by Intel, inspired by Tom Clancy's Jack Ryan. For more information, click HERE.
Whether you're in the City of Angels or The Big Apple make your way to see and experience Lore!
Tickets for Creep :LA are $65.00 and will be in full effect until November 12th! Grab your thrill seeker friends as this is one attraction you won't want to miss!