L.A. Theatre Works Celebrates the Pursuit of Justice — LATW kicked off its 2017-18 season with a special one-night only event on Wednesday, Sept. 27. The evening's honoree was famed attorney E. Randol Schoenberg, who successfully litigated the return of five Gustav Klimt paintings from the Austrian government to the rightful heirs, as featured in the film "Woman in Gold" starring Helen Mirren. The evening, hosted by Hector Elizondo, included a performance of LATW's 2016-17 acclaimed national touring production of "Judgment at Nuremberg" by Abby Mann, followed by a discussion about the challenges of the pursuit of justice then and now with Mr. Schoenberg and Geoffrey Cowan (Chair of USC Annenberg School's Center on Communication Leadership and Policy). The evening began with cocktails and hors d'oeuvres and concluded with a dessert reception.
World War II's atrocities are brought to life in Abby Mann's "Judgment at Nuremberg." In this riveting and provocative radio-show-style drama, justice is the key word. The portrayal of an American-directed prosecution of several Nazi judges, is just one of the many famed Nuremberg war trials. "Judgment at Nuremberg" will urge you never to forget the extent of suffering, desecration, and loss of dignity of Nazi Germany's victims. Some, but by no means all, of the crimes perpetrated by demonic tyrant Hitler included countless forced sterilizations, the mass murder of Jews, gypsies, Poles, the mentally challenged and ethnically and physically undesirables, and others.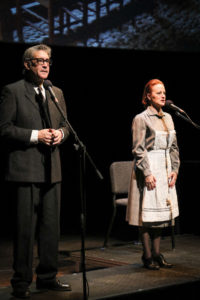 Started by Germany, the war ultimately destroyed most of Europe and resulted in a human tragedy of enormous magnitude. Succeeding generations seem to forget and need to be reminded again and again—in hopes that, with knowledge and awareness, history will not repeat itself.
In a fiery performance, American Colonel Parker (Josh Clark) mercilessly pursues the prosecution of a defiantly silent Nazi Judge Ernst Janning (John Vickery), who refuses to acknowledge the legitimacy of the court. However, as the trial nears its climax, Janning, who was once the undersecretary in Hitler's Ministry of Justice, stuns the court with a lengthy, brutal, verbal delivery of much of the truth. Josh Clark and John Vickery handle their breathtaking scenes with passion and effectiveness.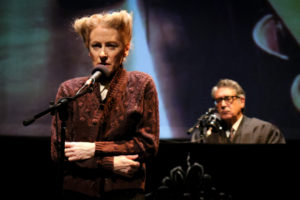 Oscar Rolfe (Matthew Floyd Miller) as the German defense attorney with a thankless task, skillfully attempts to fracture the credibility of the prosecution's star witnesses— forcefully sterilized Rudolph Peterson (Jeff Gardner), and the traumatized Maria (Dylan Jones), unjustly imprisoned for two years for the falsely contrived crime of a sexual relationship with Feldenstein, her Jewish landlord and family friend, whom she regarded as an uncle, and who was executed.
Judge Haywood (Kip Gilman) plays his role as an aware, subtle judge from Ohio, trying to make sense and gain understanding of a complex case. He questions various people in scenes away from the courthouse and spends some time with the owner of the beautiful home in which he's billeted, Frau Bertholt (Shannon Holt), who tries to befriend him and explain her own ambiguous story.
Though the stage setting is minimal, staged sound effects of typewriters, phones, and other devices from a by-gone era by are extremely effectively re-created. Martial music and Nazi propaganda in occasional screen flashes at the back evoke 1945 post-war nostalgia, and bring back horrific, vivid memories of the Holocaust and WWll, and the millions of souls lost, but never forgotten, and shattered lives. Rolfe argues that these projections are prejudicial to his clients.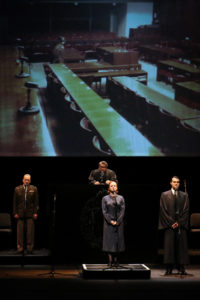 "Nuremberg" challenges our own preconceived values, beliefs and notions of justice, morality, and mass evil. We also wonder about the passive complicity and fear of a nation controlled by a megalomaniac. And, we beg the question why America, in the aftermath of WWII, pressured the courts to be lenient on the defendants. The play is provocative and tough to watch—there are many legal and moral twists and turns that require concentration and deep thoughtful attention.
Outstanding, powerful performances by the entire cast, and great direction and staging by the entire crew of Abby Mann's "Judgement at Nuremberg."
"Judgement at Nuremberg" is written by Abby Mann and directed by Brian Kite
All photos by Rich Rose.
CAST:
Ron Bottitta (General Merrin/Dr. Wickert/Emil Hahn), Josh Clark (Colonel Parker), Jeff Gardner (Captain Byers/Rudolph Peterson/Judge Norris/sounds effects artist), Kip Gilman (Judge Haywood), Shannon Holt (Mrs. Bertholt/Elsa Lindow), Dylan Jones (Mrs Halbestadt/Maria/Sound effects artist), Matthew Floyd Miller (Oscar Rolfe), and John Vickery (Ernst Janning/Judge Ives).