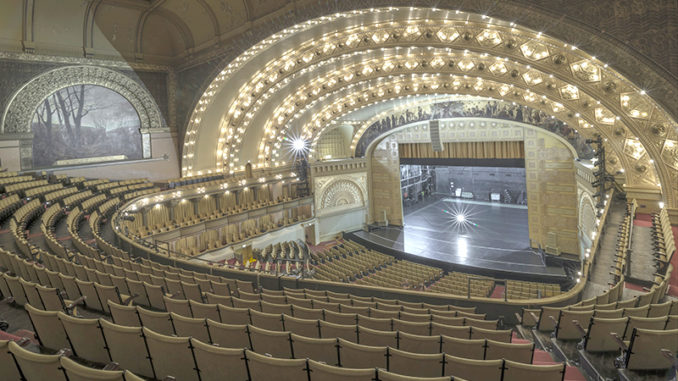 Legendary soprano and five-time Grammy winner, Kathleen Battle, made her debut at the Auditorium Theatre of Roosevelt University, the Theatre for the People, on Saturday, September 30, at 7:30pm, with the program Underground Railroad: A Spiritual Journey. The opera star brought new life into this program of spirituals inspired by the Underground Railroad, the secret network that helped bring 19th-century slaves to freedom.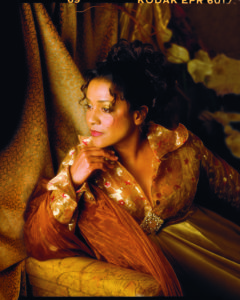 Battle was backed by a hand-picked group of top Chicago Choir singers, led by Jonita Lattimore, an adjunct professor of voice at Roosevelt University's Chicago College of the Performing Arts.
"Kathleen Battle is one of the most legendary opera singers of all time," said Tania Castroverde Moskalenko, Auditorium Theatre CEO. "To have her perform this inspirational program at our historic theatre, accompanied by the most talented Chicago voices, was a very special occasion."
The program included well-known and historically-loved songs such as like "Swing Low, Sweet Chariot" and "Wade in the Water," as well as "I Been 'Buked" and "Lord, How Come Me Here." Battle performed a similar program when she made her triumphant return to the Metropolitan Opera in the fall of 2016 to rave reviews.
Battle's repertoire spans from the Baroque era to the contemporary. She has performed at venues including the Sydney Opera House, Carnegie Hall, and the Royal Opera House, among many others, and has collaborated with artists including Luciano Pavarotti, Plácido Domingo, Wynton Marsalis, and Itzhak Perlman.
The concert was held at the Auditorium Theatre, located at 50 E Congress Pkwy in Chicago, is an Illinois, not-for-profit organization committed to presenting the finest in international, cultural, community, and educational programming to all of Chicago and beyond as The Theatre for the People. The organization is also committed to the continued restoration and preservation of the National Historic Landmark.
The concert was quite the amazing journey to witness. I was very excited to see one of my favorite opera and classical singers live. Kathleen Battle is a songbird rarity, and takes you on a musical journey each time, whether you're listening to her live onstage or on an album recording. Although, I must say that seeing and hearing her perform onstage is the best treat of all!
Battle led the audience through many of the wonderful spiritual songs I mentioned above. She was perfectly backed up with vocals from the Chicago Choir. The singers from this musical group, whom rehearsed for several months to perform with Battle, blew me away with their talent. They blended their voices magically together.
This particular concert was also very special for me because I have always been used to hearing Ms. Battle perform famous operatic and classical pieces. To hear her sing such a different, yet important and historical part of American history was unique and quite the experience. She used her magnificent and versatile voice in such ways that many singers just cannot do. Her elegant voice and overall graceful and professional presence onstage is once in a lifetime. I kept closing my eyes throughout the evening to focus on the beautiful music and Battle's one of a kind vocals. I felt that the singer brought new life to the traditional spiritual songs, including the choir itself.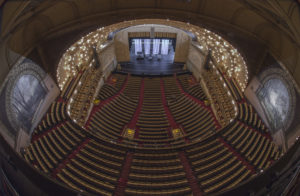 The concert focused on 'the collective singing of African Americans…is a critical element in black culture that enabled a sense of community for African Americans," mentions Dr. Johan Jabir, an associate of African American Studies at the University of Illinois at Chicago. Dr. Jabir specializes in gospel and blues history.
According to Dr. Jabir, "spiritual music emerged out of the context of slavery, as well as modern gospel later on, which was the main focal point of the musical program. Spiritual and gospel music is basically a combination a result of African Americans, as well as symbolizing human dignity and freedom in an anti-black society. It enables a sense of community for African Americans."
The overall program and evening was such a musical journey and allowed myself the opportunity to reflect on American history, the present and our future as a country. I hope that the concert and Ms. Battle opened up peoples' eyes to show that everyone is different, yet exactly the same. The concert taught others that evening about appreciating other cultures as well.
Photos: Courtesy of Auditorium Theatre

The Auditorium Theatre 2017-18 Season is made possible in part with support from the MacArthur Foundation and the Palmer House Hilton. Michigan Avenue is the official magazine sponsor. For more information about programming, volunteer, and donor opportunities or theatre tours, call 312.341.2310 or visit their website. For a complete listing of events at the Auditorium Theatre, please click here.