Nominated for ten Tony Awards – including best musical – SOMETHING ROTTEN finally makes its Los Angeles debut. The all-star masters of the musical include director and choreographer Tony Award winner Casey Nicholaw, with music and lyrics by Grammy Award winner and Tony Award nominee Wayne Kirkpatrick and Golden Globe Award and Tony Award nominee Karey Kirkpatrick. Adding cachet to the production, SOMETHING ROTTEN! is based on a book by Karey Kirkpatrick and best-selling author John O'Farrell. To add to that all-star lineup, three principal cast members come direct from Broadway.
It's the last moments of the sixteenth century and the heart of the Renaissance. Brothers Nick Bottom (Rod McClure) and Nigel Bottom (Josh Grisetti), two purveyors of thespian culture, have a problem. They have lost their patron, who feels that they cannot compete with the cherished and mighty bard Shakespeare (Adam Pascal). Their treasured nemesis has enchanted London with his plays and triggers cheers and swoons wherever he goes. Now the brothers Bottom must come up with something which will set London audiences on their ear and re-establish their credentials as artists to be reckoned with. Enter Nostradamus (Blake Hammond), who has the perfect prediction to turn the trick. Why not try something completely different? Why not add music and dance to those possibly dull lines and induce everyone to hum and toe tap along with the performers?
But a second tale is evolving at the same time. Brother Nigel has his eye on the lovely Portia of the golden curls (Autumn Hurlbert). Unfortunately, Portia's father is a Puritan preacher who is convinced that anything that can be defined as fun is against God's law (which just happens to include almost everything that the Brothers Bottom stand for). Will true love prevail? You bet! Meanwhile, characters with names like Yorick and Shylock wend their way through the story – perhaps as inspiration for Shakespeare's tales?
And so this rollicking Renaissance frolic taps into every trope available – ably assisted by an award-winning design team of Broadway veterans, including scenic designer Scott Pask, costume designer Gregg Barnes, lighting designer Jeff Croiter, sound designer Peter Hylenski, and a solid production team covering all the bases. Music director/conductor Phil Reno and his jolly pack of musicians keep the music flowing and the feet stomping.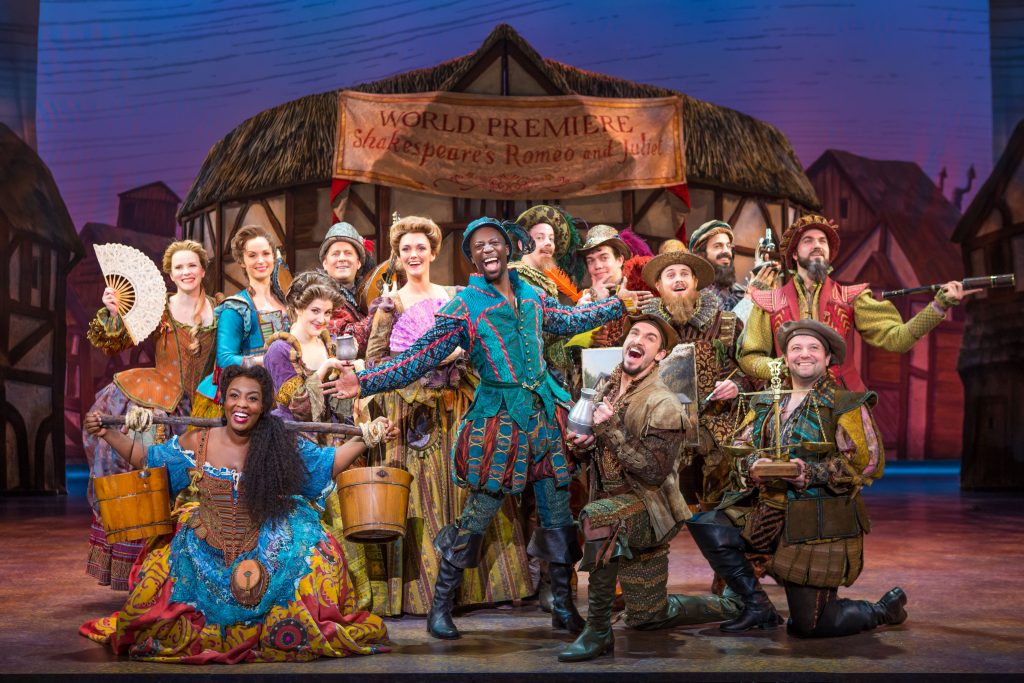 A kaleidoscope of Renaissance colors greets the eye with showy persistence as the talented ensemble work their way from one catastrophe to the next – with the audience chuckling, chortling, and hooting as the actors strut their stuff. SOMETHING ROTTEN! is not to be missed – and its family friendly too. Adults will pick up on the satirical digs and sly humor, while the younger crowd will laugh at the pratfalls and silly fun. This is the perfect holiday show.
SPLASH SELECTION
SOMETHING ROTTEN! runs through December 31, 2017, with performances at 8 p.m. Tuesdays through Fridays, at 2 p.m. and 8 p.m. on Saturdays, and at 1 p.m. and 6:30 p.m. on Sundays. There is no performance on Sunday 12/24 (Christmas Eve). Performances have been added at 2 p.m. on Wednesday 12/27 and Thursday 12/28. The Ahmanson Theatre is located in the Music Center, 135 N. Grand Avenue, Los Angeles, CA 90012. Tickets range from $30 to $140. For information and reservations, call 213-972-4400 or go online.