REVIEW for Splash Magazines by Emily Kuhn
My first thought when I drove up to the new Pete Miller's location at 3032 English Rows in Naperville, IL was that we've needed a restaurant like this in the West end of Naperville for a long time.  I was glad to see they'd chosen this location.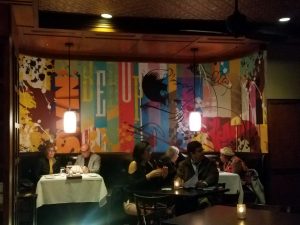 My friend Ali and I attended the press reception on November 7th.  The restaurant was already open to the general public and people were having full meals while we were there, learning about the new location and sampling their tasting menu at stand-up tables in the banquet room.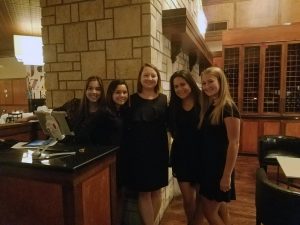 The General Manager, Fred Gore, talked with us for a while and walked us around.  He seems very excited about the restaurant in general and on additional work they plan to do to make it even better. In fact, the staff is a major part of why this place is so exciting. While the hostesses are young girls who live in the area and are bursting with enthusiasm (one was the daughter of a coworker of Ali's), the wait staff are mostly experienced professionals and excel at every part of their jobs (in fact, one of them recognized Ali and myself from when they'd served us at a different place).  Good service always makes a good restaurant so much better and you can expect it here.
The entire restaurant is jazz themed and they are committed to providing live jazz every night, which is also a really nice touch. There are two very colorful jazz murals on the walls, but all the wood everywhere and the multiple fireplaces gives the place a cozy, warm ambience.  While we were there, an excellent duo were playing classic jazz standards on guitar, vocals and piano. You could hear them throughout the entire restaurant. And if this is the caliber of musicians they're hiring for this location, you won't be disappointed.
Some of the old décor was retained from when it was Tommy Nevins including the back room Library for private parties but mostly it's a refresh and a complete repositioning of the old place.  The main dining room is large and has tall ceilings, dark wood and white tablecloths reassuring you that you are in a place that takes its steak and seafood seriously.
This location is featuring a specially-curated menu by Pete Miller's Executive Chef Marcus Mooney. Our tasting menu included:
Jumbo Shrimp Cocktail – very fresh with excellent texture, and exactly what you'd expect from this dish.
Firecracker Shrimp – this was awesome, definitely spicy–but with an Asian flair, which was surprising and superb.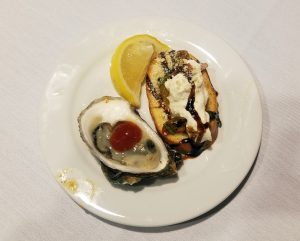 Oysters -there's always the danger of these being awful, but Pete Miller's knows what they're doing and they were perfect.  You could taste how fresh and high quality they were.
Mini crab cakes – these make me want to go back and get a full order.  They were very flavorful and not too dense.
Farmhouse salad – this was good, but had quite a bit too much dressing for my taste. I'd probably request it on the side if I was going to order it.
Bruschetta (steak version on bar menu only) -The bruschetta was the best thing we had! Sad its only on the bar menu as steak bruschetta–they use a creamy barrata (mozzerella and cream) which was a nice change from the usual way to serve it! Just the right amount of vinagrette.
Filet Sliders, which I can't seem to find on any menu.  I am hoping these are a regular feature because they were my second favorite of all the things we had.
They've kept the Nevin's Brewing Company beers on the menu and we sampled some of those as well as having a perfectly-made martini, so the bar is also up to the same quality as the restaurant portion of the business.
My final assessment is that I want to go back for a full meal! And it's nice to have a higher end place in that part of town instead of having to go all the way downtown Naperville or Plainfield.
Exterior photography courtesy of Pete Miller's, all other photographs by Emily Kuhn.