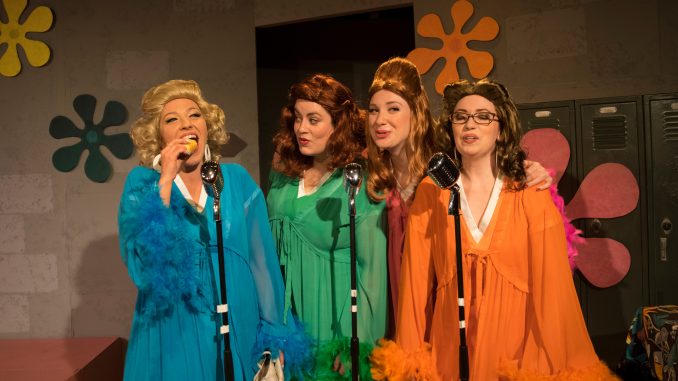 From its first performance in Milwaukee (of all places) in 1999, THE MARVELOUS WONDERETTES has wowed audiences. It was a hit in Los Angeles in 2006, and an off-Broadway smash in 2008. The musical comedy won Los Angeles Ovation and Drama Critics Circle awards in 2007 and has been nominated for several prestigious awards since then. At first, it was a one-act play specifically designed for the small theater. Gradually, it morphed into a two-act play which expanded on the clever original idea with hilarious results.
Playwright Roger Bean has outdone himself with this uproarious tale featuring a quartet of wannabe high school vocalists in the 1950's. This is a great trip down memory lane with tunes like "Lollipop," "Dream Lover," "It's My Party," and "Mr. Sandman" lighting up the stage. In fact, the 50's and 60's songs number 31, each guaranteed to trigger a memory for the older set or simply delight the younger set.
The senior prom at Springfield High School plans to have local high school entertainers – but the lead singer of the headlined boys' group just got expelled for smoking – and so they're out of commission. This is an emergency, and the Wonderettes must rise to the occasion as last-minute substitutes. Betty Jean (Kate Ponzio), Cindy Lou (Kelsey Boze), Missy (Amanda Walter), and Suzy (Renee Cohen) will finally get to air their talents to an appreciative audience. What a thrilling opportunity. And they're ready…almost.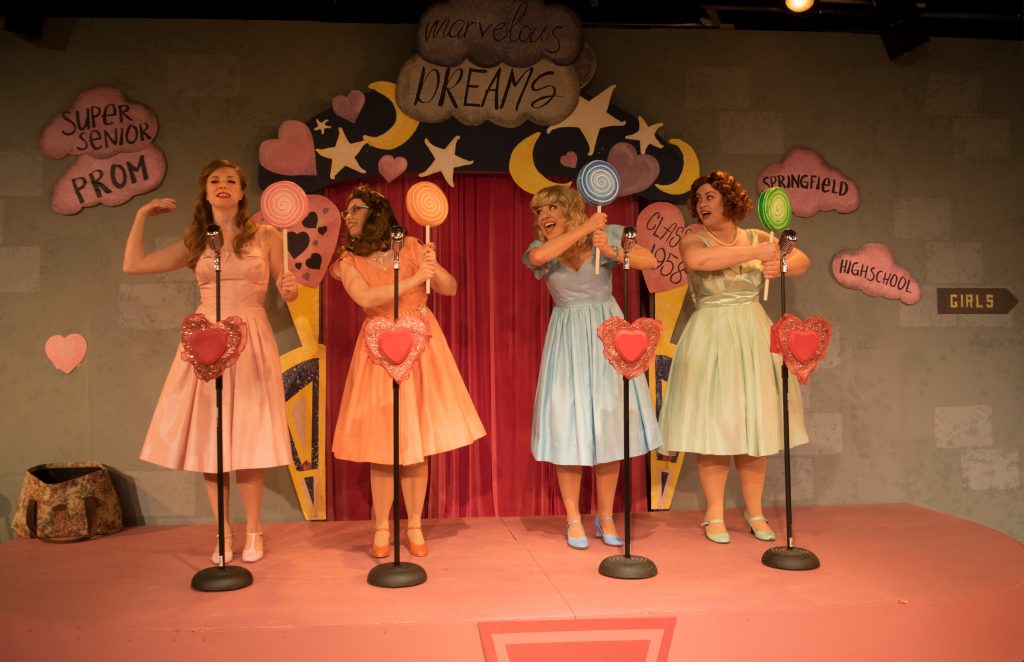 But these are high school seniors in the 50's, and so there are lots of underlying "issues" circling in the background. How about jealousy, vanity, timidity, cattiness? What if one of the little ladies decides to steal another lady's beau? Or is a spotlight hog? Or has a "thing" for their music teacher? This rollicking comedy hits every teenager's sore spots with glee and tongue-in-cheek. But wait. What happens next?
Act II – the ten-year Springfield High School reunion – finds these four songbirds ten years older. Happily, all those teen problems are pretty much gone. But each now has some new concerns as females getting dangerously close to their 30's. Intertwined with the pop songs of the 60's, the Wonderettes try to make sense of time passing – with hysterical consequences for the audience. Rolling in the aisles is putting it mildly.
The ensemble cast does a magnificent job of defining each character, warts and all, as they try to grow up. Director/choreographer Robert Marra keeps the action moving, and musical director William A. Reilly keeps the songs coming – much to the delight of the audience. Joanne Lamb's scenic design is simple but effective, with Jeffery Shoenberg's costumes keeping pace with the years. Joe Shea's sounds and Zad Potter's lighting add to the merriment. Musical arrangement are by Brian William Baker; orchestrations are by Michael Borth; and vocation arrangement are by Roger Bean and Brian William Baker.
THE MARVELOUS WONDERETTES is a marvel – and perfect for the holiday season. Young and old audience members were enchanted – especially when Missy's beloved Mr. Lee turned out to be an audience member!
THE MARVELOUS WONDERETTES runs through January 7, 2018, with performances at 8 p.m. on Fridays and Saturdays and at 3 p.m. on Sundays. The Crown City Theatre is located at 11031 Camarillo Street, North Hollywood, CA 91602. Tickets are $25. For information and reservations, call 818-605-5685 or go online.