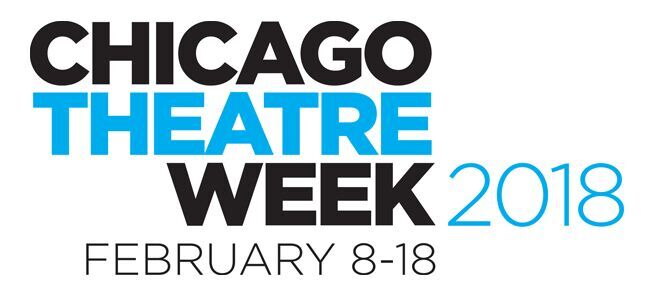 Tickets for Chicago Theatre Week (#CTW18), an annual celebration of the rich tradition of theatre-going in Chicago, will go on sale Tuesday, January 9, 2018 at 10:00am CST. All Theatre Week tickets are priced at $30, $15, or less, and ticket offer details will be listed on the Theatre Week website, ChicagoTheatreWeek website, when tickets go on sale on January 9, 2018.
Chicago Theatre Week will take place February 8 – 18, 2018, spanning a week and two full weekends.  Heading into its sixth year, Chicago Theatre Week is a program of the League of Chicago Theatres in partnership with Choose Chicago. Over 120 theatre productions are expected to participate in neighborhoods throughout the city and suburbs. A list of participating productions will be available online on January 9 at ChicagoTheatreWeek.
A small sample of the many companies expected to participate are: 16th Street Theater, A Red Orchid Theatre, Black Ensemble Theater, Broadway In Chicago, Chicago Children's Theatre, Chicago Shakespeare Theater, Court Theatre, Drury Lane Theatre, Goodman Theatre, Greenhouse Theater Center, The Joffrey Ballet, Lifeline Theatre, Lyric Opera of Chicago, Northlight Theatre, Paramount Theatre, Porchlight Music Theatre, Pride Films and Plays, The Second City, Stage Left Theatre, Steppenwolf Theatre, Underscore Theatre Company, Victory Gardens Theater, Windy City Playhouse and Writers Theatre.
Last year, in February 2017, 128 participating productions offered value-priced tickets to 635 individual performances during Chicago Theatre Week. Over 11,750 tickets were sold in 2017, marking a rapid increase in sales over the course of the initiative. The program continued to bring in new audiences to area theaters with an average of 66% of attendees visiting their chosen theater for the first time. Theatre Week proved to be a draw for visitors from outside Chicago with 13% of patrons coming from beyond 50 miles of the city, including 36 states.
"This year marks the sixth year of Chicago Theatre Week—and each year, the program proves more successful than ever. Last year, almost 12,000 value-priced tickets were sold to 128 participating productions," comments Deb Clapp, Executive Director of the League of Chicago Theatres. "Almost 2/3 of Chicago Theatre Week patrons surveyed said that it was their first time at that particular theatre and it's thrilling to know that people are using CTW to discover new companies. This is a week that reminds us all that Chicago is known locally, nationally, and internationally for its theatre scene, and especially for generating new work, showcasing fresh talent and spotlighting its rich Chicago tradition."
"Chicago is home to legendary hospitality, exemplified every year by Chicago Theater Week," said David Whitaker, President and CEO of Choose Chicago. "For 11 days each year, visitors are given a special opportunity to experience a theater scene that is renowned for the quality, creativity and diversity of its productions–from our Tony Award-winning theaters to our neighborhood storefront performances. There's a seat waiting for you."
Chicago Theatre Week is presented by the League of Chicago Theatres in partnership with Choose Chicago. Subscribe to the Theatre Week email newsletter or follow @ChicagoPlays on Twitter for updates and announcements. The official hashtag for Chicago Theatre Week 2018 is #CTW18.
About Chicago theater
Chicago theater is the leader in the U.S. with more than 250 theaters throughout Chicagoland, comprising a rich and varied community ranging from storefront, non-union theaters to the most renowned resident theaters in the country, including 5 which have been honored with Regional Tony Awards, and the largest touring Broadway organization in the nation. Chicago's theaters serve 5 million audience members annually and have a combined budget of more than $250 million. Chicago produces and/or presents more world premieres annually than any other city in the nation. Last year alone Chicago theater companies produced more than 100 world premiere productions and adaptations. Each year Chicago theaters send new work to resident theaters across the country, to Broadway, and around the world.
The League of Chicago Theatres' Mission Statement
The League of Chicago Theatres is an alliance of theaters which leverages its collective strength to promote, support and advocate for Chicago's theater industry locally, nationally and internationally. The League of Chicago Theatres Foundation is dedicated to enhancing the art of theater in the Chicago area through audience development and support services for theaters and theater professionals.
For a comprehensive list of Chicago productions, visit the League of Chicago Theatres website, ChicagoPlays.com. Half-price tickets to the current week's performances as well as future performances are available at HotTix.org and at the two Hot Tix half-price ticket locations: across from the Chicago Cultural Center at Expo72 (72 E. Randolph) and Block Thirty Seven (108 N. State).