Evans Brewing Co. has created a mouth-watering lineup of craft beer that would be the highlight of any beer bar. The recent addition of Executive Chef Matt Roman to the Public House has taken this from a brewery-based bar to one that would appease any foodie. A tiny kitchen that doesn't strangle the creativity and still allows for mouth-watering in-house creations will keep you coming back.
Executive Chef Matt Roman certainly knows the Public House clientele as he grew up in Fullerton and worked his way up the kitchen ranks in Orange County. If you know the Orange County dining area, you can't help but be impressed by Chef Matt's resume. He spent six-and-a-half years at Napa Rose, and then spent some time at the Catch, Haven Gastropub and the Cellar in Fullerton. Working in a beer centric restaurant is certainly in his wheelhouse, as he was a homebrewer for a while–and to top that off, he is a Level 2 Sommelier.
With all of that experience, Chef Roman has decided to elevate the Public House menu and take the dining experience far beyond what you expect from typical bar food. He is focused on local and fresh ingredients, always working with purveyors to get the freshest ingredients. He lets his creativity take over from there. No dish exemplifies that as much as his recently added parsnip dish. Yes, I did say parsnip dish, and you can thank me later for recommending it. Chef Roman first creates a parsnip puree, and then potatoe-like parsnips are lightly battered, giving them a slight resemblance to a French fry but with a hint of the sweetness of a carrot. He then finishes it off with some parsnip chips and a citrucy sauce that is complimented with anchovies.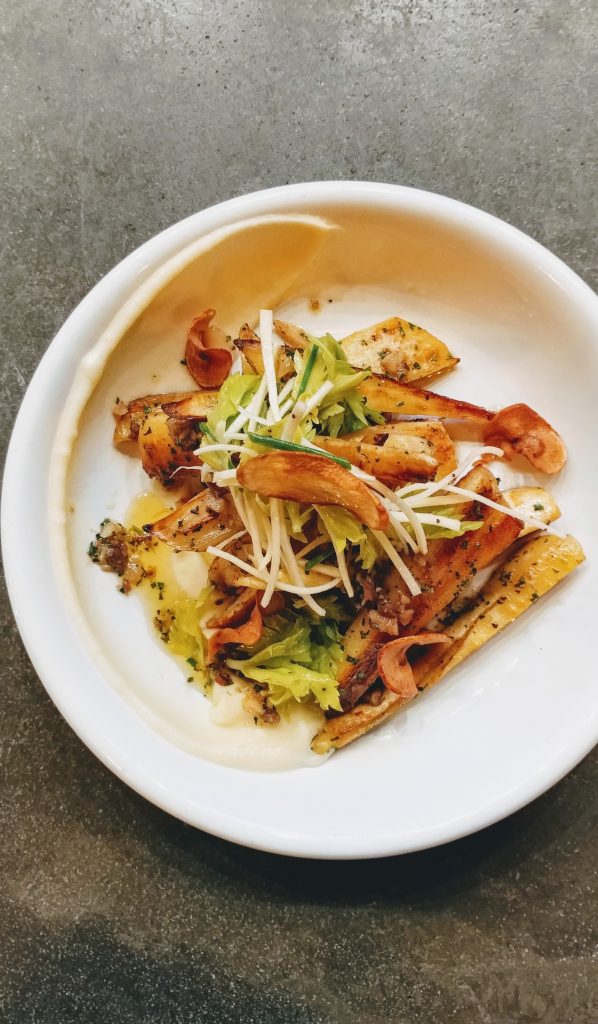 There is plenty of bar food to choose from, but nothing says beer and food quite like the Evans Signature Pub Burger. This burger is as good as it gets when it comes to a burger. The burger is a blend of brisket, chuck and short rib in, which gives you a rich and elevated burger experience. Pair this with the Joaquin Dead red ale and you will be quite happy. Other favorites include: wild caught salmon; flat iron Black Angus steak that comes with a chimichurri sauce; and an assortment of brick oven flatbreads and sweet potato tater tots.
Another feature of Public House is how they incorporate beer into their food. And that begins with the signature sausages and brats that are created using the Evans Brewing beer. The old world bratwurst is infused with the Chocolate Porter, the spicy chicken sausage gets a lot of flavor from the Stout at the Devil, and you have a German Style pork sausage that not only gets flavor from krHOPen IPA, but it is also has cheddar cheese in it. The Pollen Nation brings the perfect flavor to match the chicken with Hawaiian style spices sausage. One of the best deals around is on Tuesday, when, during happy hour, you can get the feature sausages of the day and a beer for a mere ten dollars.
Chef Roman is also going to incorporate his love of fresh baked bread into the menu, as you can soon expect to see some open faced sandwiches made with fresh in-house sourdough bread. I would suggest everyday that you come in to Public House you ask what the latest and greatest is from Chef Roman's kitchen.
The Evans Brewing Co. experience begins with the beer, but it goes well beyond those flavorful drafts. The Public House is focused around the wide ranging selection of Evans beer, but it mixes in a great craft cocktail program, with five varieties of the Old Fashioned, including the classic Wisconsin version. You can come in for a beer, happy hour, a group gathering or just a leisurely weekend brunch; you can even find some great local live music. Evans is the oldest brewery in Orange County and the continue to grow with their latest Public House recently opening in Huntington Beach.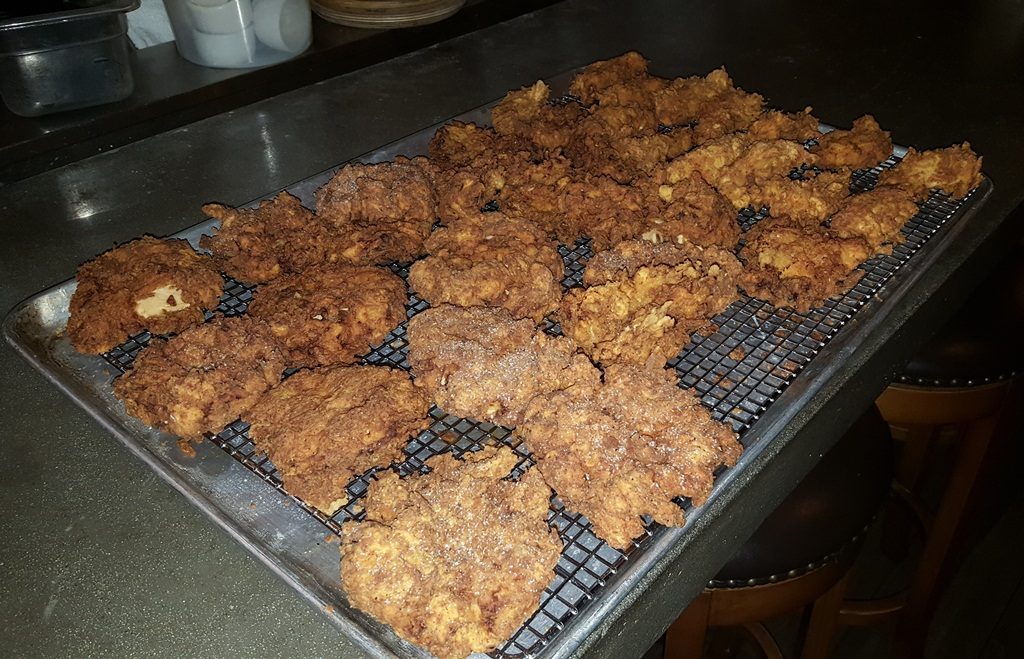 Beer and the craft part of it have created countless breweries up and down the west coast, so deciding where to visit can make for sleepless nights. If you want to venture beyond San Diego and head down a little ways from Los Angeles, there is no better spot in Orange County to experience what craft beer is all about than the Public House in Fullerton. The Public House has a beer for ever palate and some amazing food for every beer, making for one great experience.
For more information visit: Evans Brewing Co.
Chef Matt was gracious enough to share his amazing recipe with us.
Parsnip Puree
4C peeled and rough chopped parsnips
8oz whole butter (divided)
water as needed
kosher salt to taste
Juice of 1/2 lemon
-Peel and rough chop parsnips and place in a medium sized pot with 4oz of whole butter and enough water to barely cover the parsnips.  Bring to a simmer and cook until parsnips are soft.  Strain parsnips out of poaching liquid but reserve liquid for blending purposes.  Transfer all cooked parsnips to a strong blender (I always use a VitaMix).  Add about a cup of liquid and begin pureeing adding more liquid if needed to facilitate blending.  Add remaining butter and lemon juice while blending.  Strain through a fine mesh or chinoise and keep warm for before plating.
Roasted Parsnip Spears
5 Parsnips peeled and cut into tapered spears about 5″ long
1/4 C extra virgin olive oil ( Terrace Hill Estate is my favorite local co.)
kosher salt to taste
-Peel parsnips and cut in half crosswise at a 45 degree angle.  Split the bottom in half lengthwise and the broader top into 6th's or 3rd's depending on the size.  Coat with olive oil and season with salt and roast in a preheated 500F oven until al dente with some caramelization on the spears.  keep warm before plating.
Parsnip Chips
2 parsnips peeled and sliced 1/8″ thick on a bias with a mandolin
kosher salt to taste
-Peel parsnips and carefully slice with a mandolin.  Place slices into a bowl with hot water (as hot as your sink can get) and let rest for 20min.  Drain water and fill again with hot water and let rest for 20min more.  In a deep fryer with the temperature set at 360F, fry until golden brown and crispy.  Season with salt right out of the oil and place on a plate with a paper towel to drain any excess oil.
Parsnip Slaw
1 parsnip julliened
1/4 C celery leaves
1/4 C chive sticks
Juice and zest of 1 lemon
kosher salt to taste
Peel parsnips and cut into 2″ long sections.  Square off with a knife and slice 1/8″ thick with a mandolin.  Cut planks into thin strips (think matchsticks) and place in an ice water bath.  Pick celery heart leaves and cut chives into 1/2″ pieces.  Mix all into a mini salad or slaw and use for garnish on plate.
Bagna Cauda