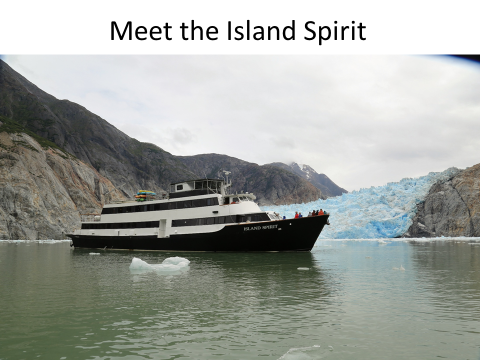 Only a Small Ship Can See the Real Alaska!
Capt Jeff Behrens is excited to launch his coming Alaska season with a 14-day Northbound cruise out of Seattle to Juneau Alaska.  What's Special?  We'll, how many 130-foot passenger boats are you aware of that run on batteries at night, imagine 8000 lbs. of batteries providing all the creature comforts and no noisy engines to keep the lights on.  All, while anchored in beautiful bays off the beaten track?
Quiet enough to hear the waterfall right outside your stateroom window, or perhaps, hear the blow of a humpback whale as it swims by the vessel at night?  Or maybe a brown bear foraging on the beach, turning over rocks and feeding its young.  Interested, then read on, this small ship goes places even the big companies don't offer.
Tenakee Springs Alaska.  A small village only accessible by Seaplane or Alaska Ferry, join Captain Jeff as he shows the guests around this small town.  True Alaskan's who enjoy their privacy.
Not on the big or small ship routes, but accessible due to your Captain's special relationship with the community and the respect his passengers show during their visit.  Be one of a handful to stop at the bakery, visit the mercantile of take a walk-through town and see how real Alaskans live!
Learn more about this 32 passenger Small Ship at smallalaskaship website
10 crew with a Pastry Chef…that's my kind of roughing it!  I will get back to you after my cruise with Capt. Jeff with lots to write about and plenty of gorgeous pictures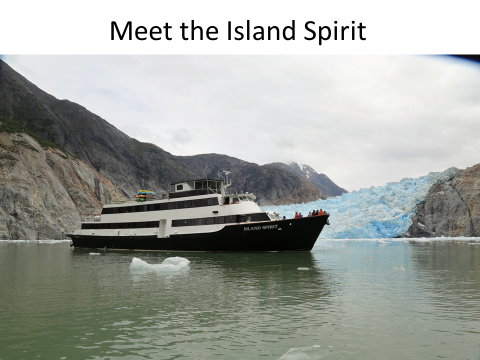 Humpback Whale picture courtesy of:  John Greengo