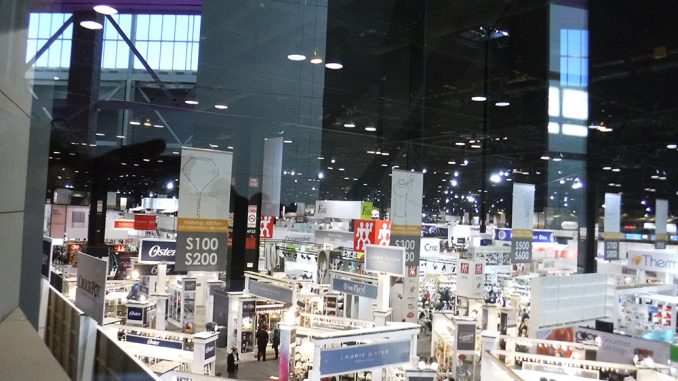 By Barbara Keer and Rachel Greene-
As two of us, Chicago Splash Magazine journalists, explored some of the 16 miles of exhibitions at the 2018 International Home + Housewares Show at McCormick Place, Chicago, the mission was to locate companies whose founder was currently part of the company and the company was privately owned, often a family business. The exploration covered many sections of the show.
We discovered companies that were old and new, foreign and domestic, very large and barely launched, and founded by both women and men.
Our first stop was Berkel, an Italian company that dates back to 1898 and manufactures slicers, originally for commercial use. Located in Milan and Miami, they distribute to Europe, the U.S and South America. New offerings include electric slicers for home use and for slicing fruit, vegetables and cheese, in addition to meat products. Their line has also expanded to include knives, cutting boards and champagne bottle openers. The same family still owns the company. Berkel began in 1898 selling a prosciutto slicer, and look at them now – theberkelworld website
We noticed the Talisman Designs booth and spoke with President Katherine Waymire who began making wine accessories in her home in 2002. "Fast forward to now and Talisman Designs is a known brand in the gift and housewares industries. With a range of products from Beechwood utensils and measuring spoons and top selling gadgets such as Butter Boy and the 1-Piece Adjustable Pie Shield, Talisman Designs is never short on creativity. We get our inspiration from what makes us happy and makes us smile. Personal passion is what influences our work, and customers seem to resonate with that. Talisman Designs strives to bring fun, creativity and simplicity to every item we make." talismandesigns website
The newly launched Costa d' Oro soaps caught our attention. The soap is natural, made in the USA, and handmade. We talked with  Audrey Siegel who took the reins of Cupcake Creations, a Siege family of brands, that her father began in 1994 in Florida. Aside from a huge variety of kitchen items, their website has lots of recipes for cupcakes.
We noticed HomeGrown Gourmet and later discovered a great story about this business that began with current President Jenna Sellers Miller's mother in Delray Beach, FL. "President and CEO Jenna Sellers Miller never intended to operate the business that her mother, Kathleen Sellers, founded 35 years ago. Sellers invented and patented the Super Saucer, a plastic plate for a houseplant, to prevent floor staining. The product sold in Home Depot and other stores for 17 years before the patent expired."  Read more
Ritzenhoff glass is gorgeous and caught our attention. Precious metal used in some of the glasses were eye popping. This is a family that began making glass in 1800 and now produces 50 million glasses every year, with customers in 60 countries. It is the only glass manufacturer in Europe offering the complete development and production process from a single source." Flexible high-tech machines ensure the exceptional Ritzenhoff quality and enable economic production of exclusive forms also, starting from an output of 30,000 pieces per year."
Eight years ago Kim Cole "had my first a-ha moment: there had to be a better way, people need a better solution to this annoying problem… and I would create one" to de fuzz sweaters. Now she not only offers defuzzers that really work but other products as well.
A robot caught our attention and directed us to Home World Simply Kleen, an individually owned company that has been manufacturing trashcans since 1994. For extremely attractive trash cans and more.
French Bull has exciting and whimsical products. Founder Jackie Shapiro launched the company in
2002 with a now famous collection of brightly colored tableware. Now French Bull is a global brand with products ranging from electronics to travel with product that make people feel happy. They say that, "French Bulls exceeds the limits."
Jackie Shapiro
Exploring new products, we came across Dazz, a pill created by David Shahan who is doing his bit to help the environment. Using Dazz, which are small effervescent tablets that combine with water to create solutions that can clean glass as well as kitchen and bathroom surfaces, one bottle can be refilled and reused countless times. One goal is to reduce the waste that discarded plastic containers create and from their website, "we strive to provide a safe, nurturing environment for our children. We try hard to limit our children's exposure to harsh chemicals and toxins. That's why we set out to create our own line of safe, natural, and economical household cleaning products."
When I heard the reason that Elliott Benitez invented the Nuni Toaster, this became the product that impressed me the most. " I was able to calculate my mother had spent 60 days over a 20 year period warming batches of tortillas for our family."-Elliot Benitez, President
A son who cares about his mother's time and effort was very impressive. And I love tortillas, too.
Lou Lentine, now CEO of Viatek began with a patent for Landscape Christmas lighting and expanded broadly.  He has been on a Shark Tank panel and is writing a book.  Located in Chattanooga, TN, his products are Quirky.
The Legacy Companies' CEO / founder Neal Asbury began The Legacy Companies in 1998 as two companies, Greenfield World Trade and Asbury Food Service. Currently The Legacy Companies operates domestically while Greenfield World Trade operates as the International distributor. Neal Asbury says in part, "At The Legacy Companies, outstanding service is a regular part of our day.  Our employees take pride in identifying with the heritage of the brands that have helped mold us into the company we are today." The collection of iconic, heritage brands into one company was interesting.
The IHHS show is always filled with fascinating and useful items and well worth a visit in 2019.
Photos: B. Keer uness otherwise noted.