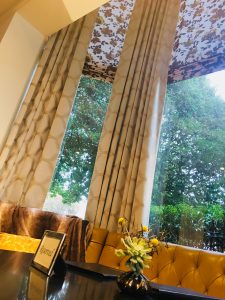 After returning from a whirlwind trip to Atlanta, Georgia, my husband and I remember our visit with fondness. Ah! The Whitley treated us with such grace, elegance and charm. With her classic luxury interiors coupled with that all-important personal touch, she might well be Atlanta's new belle of the ball.
Although The Whitley Hotel is a relatively new name on Atlanta's scene, it carries a classic and well-trusted heritage.
It was in December 2017 that The Luxury Collection Hotels® and Resorts announced the official debut of it's latest establishment, situated in the heart of Atlanta's urban chic Buckhead neighborhood.
Owned by Host Hotels and Resorts, it was officially rebranded from the iconic The Ritz Carlton, Buckhead.
The Whitley now joins a growing ensemble of more than 100 Luxury Collection hotels and resorts around the world, all of which offer a unique expression of their destination.
In this historic shift, the grand dame of the Ritz Carlton passed on the proverbial baton to the young Whitley.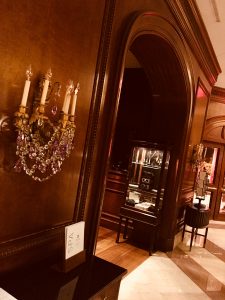 With enthusiasm and expectation, The Whitley aims to continue to deliver the gold standards of its predecessor.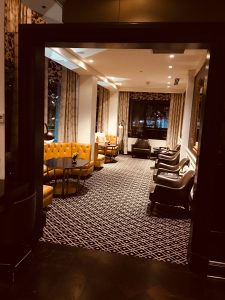 But with her own unique, signature style.
She hosts guests from around the world with tailored stays featuring timeless, yet trendsetting design and gracious Southern hospitality.
It's unique location means that guests can simply walk across the street to a veritable shopper's paradise.
The seemingly endless options at Phipps Plaza, Lenox Square, and The Shops Buckhead Atlanta casts the hotel as an ideal, shopping getaway.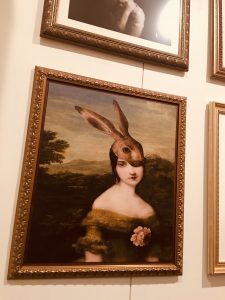 As of Dec 2018, the decision to take the hotel through a unique transformation had begun. But one thing remains, many of the staff that served in the Ritz Carlton (some for decades), have stayed on to serve it's new heir.
The attention to detail, the warm care and finest personalized service one might expect at the Ritz Carlton has carried on to The Whitley Hotel.
The Whitley carries the strengths of the old while aiming to offer a refreshing breath of something quite new.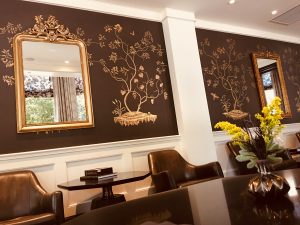 Although the handover is in it's early stages yet, developments and renovations are planned to evolve over the coming years.
Upon arrival, we were warmly greeted by Jane Wilder, a marketing executive from The Whitley.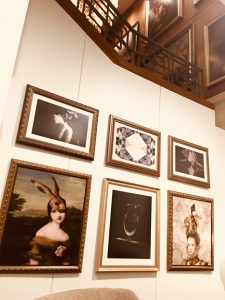 With her coiffed blonde hair and welcoming smile, Jane seemed to embody the charm of the Whitley.
And in her delightful Southern accent and personable manner, she proceeded to give me a tour of the hotel.
Jane spoke with delight of the hotel's upcoming plans to evolve it's current style.
She was clearly looking forward to the coming transformation.
These plans range from upgrading the rooms to refreshing it's many banquet and conference halls. With the luxury hotel's 507 rooms, including 56 spacious suites that feature sweeping views of the Atlanta skyline, The Whitley does have a considerable amount of square footage to offer!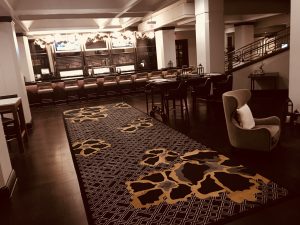 Maintaining Buckhead's historic purpose as a meeting space, The Whitley is a superlative setting for gatherings of all kinds, with 31 diverse event spaces covering more than 30,000 sq. ft.
This includes the 5,000 square foot Legacy Ballroom with outdoor patio. Due to the many events held here, Atlanta's rich and famous are familiar sightings at this classic hotel. In fact, it was at the Legacy Ballroom that Jane Fonda recently celebrated her 80th birthday. I began to see how The Whitley captures the essence of Buckhead sophistication amidst it's characteristic charm.
I feel I must include a note for it's loyal Ritz Carlton clients. Do not despair! Much of the ambience of the Ritz Carlton of old remains, but above all it's loyal staff continues to happily serve.
The Ritz's signature style, acknowledging guest's with personal names along with the eager anticipation of needs, remains a trait carried on by it's new heir.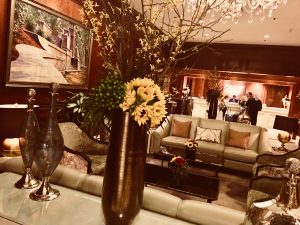 However, guests can look forward to numerous welcome updates that are being ushered with the change.
One of which is that The Whitley has expanded it's culinary delights with the brand new Trade Root Restaurant and Lounge.
Our trip was excellently timed, as we arrived in Atlanta just in time for a special event that day. It was to be the grand opening of The Trade Root Restaurant, a Mediterranean inspired concept.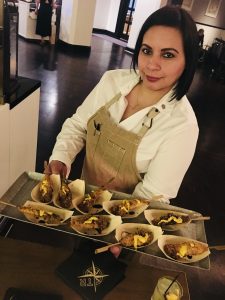 My husband and I had the pleasure of meeting the award-winning Chef Suennemann who manages the culinary operations for The Whitley. Mark hails from Hamburg Germany and holds an impressive career in the culinary arts. It was under his leadership, that the hotel launched the Trade Root.
David Friederich, managing director of The Whitley, relays, "We're thrilled to welcome Chef Marc Suennemann, with his 28 years of industry experience, to The Whitley team. His innovative cooking style and focus on fresh, local flavors will elevate our hotel's fine dining experiences to an even greater level of style and service, and solidify The Whitley as a culinary force in Buckhead."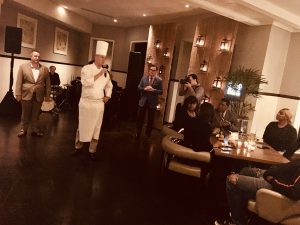 As it's executive chef, Marc oversees his culinary team that brings to life signature, sophisticated dishes and provides the tailored, anticipatory service for which The Whitley is known. All the while, Marc remains extremely humble and warm as he engages with his guests.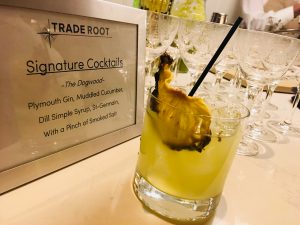 We were impressed by his dedication to deliver creative gastronomical adventures to his guests. We had heard through the grapevine that the special Persian chicken dish that was to be prepared at the opening was covered with chopped walnuts that were carefully dehydrated and monitored over 3 days!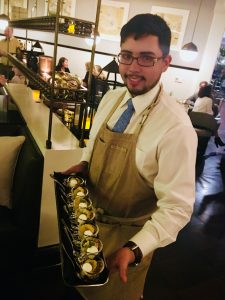 But what really caught my interest was Chef Marc's passion to cultivate long-term relationships with regular clients who would enjoy the sense of community that the restaurant aims to provide.
And so the highly awaited evening arrived in March 2018 and the Trade Root opened it's doors! Both guests and media alike were present for this hallmark in it's history. Atlanta's well-heeled socialites and celebrities were in attendance, each one dressed to impress the social scene.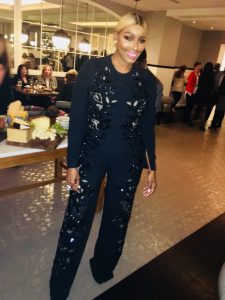 Nene Leakes from the cast of The real Housewives of Atlanta was an attention getter that night. She was every bit the star as she walked in with her entourage, taking the time to attentively pose for photos and socialize with her fans.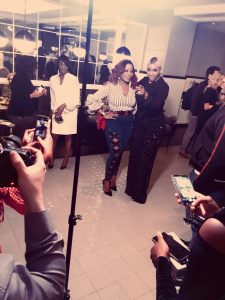 Yet the spotlight remained captivated on the food that night. Delectable, creative meals were carried out with great flair by skilled servers, while guests looked forward in expectation for each culinary delight!
Which offering was my favorite?
Was it the Persian chicken kebabs, coated in chopped walnuts and then lightly drizzled with a lemon aioli? Was it the mini lamb burgers piled high with seasoned lamb and vegetables?
Or was it the luscious dessert, the deep, chocolate squares topped with gold foil that kept us wanting more?
It's hard to say … but what is clear, is that the Trade Root kitchen did not disappoint! We were generously titillated with a variety of well-presented flavours and hues.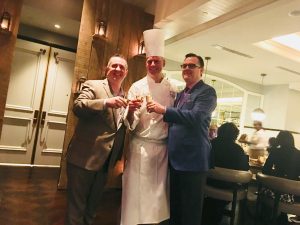 One of the highlights of the evening was when the champagne was popped in celebration at the height of it's festivities.
Guests that night left with a smile and a special gift from Trade Root. A bottle of Mediterranean spices that would encourage guests to carry on the tradition of the feast back home.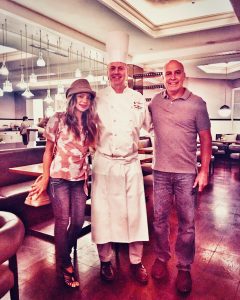 We walked back to our rooms pampered form the night, more than ready to sink into our comfortable beds.
That's when the epiphany came! Surely this must be the very best way to enjoy a meal in town. To choose to stay a night in the very hotel we were dining in, avoiding all travel and traffic after a meal.Upon arriving at culinary satisfaction, one could simply walk up to a luxurious room and happily fall into a deep satisfied sleep.
Henceforth, I contemplated planning staycations at beautiful hotels for future dinner adventures. It seemed to wrap the evening up perfectly!
The next day we woke up at leisure, feeling utterly satisfied by the festivities of the night before!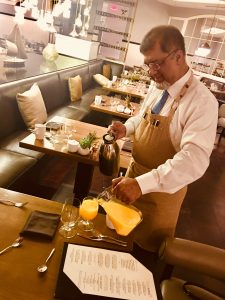 But the Trade Root continued to display it's culinary prowess. The hotel's buffet breakfast aimed to please it's guests with an enjoyable start to the morning.
We enjoyed the different courses offered each morning. They ranged from the popular hearty Southern choices of sausages, bacon and eggs to the Mediterranean styled assortment of meats & cheese, smoked salmon with capers.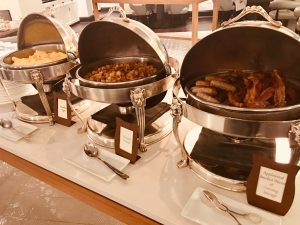 Then there was the fresh salad and fruit that tend to be my personal favorite at any meal.
But I must admit, I was tempted by the perfectly baked pastries.
And then there were the pretty, delicate, glass containers filled with cinnamon muesli. I found myself succumbing to the appealing array, I just had to indulge! It was delicious!
As usual, The Whitley lends it's flair for presentation to it's breakfast display.
The variety of food that was already delicious, tasted even more delightful.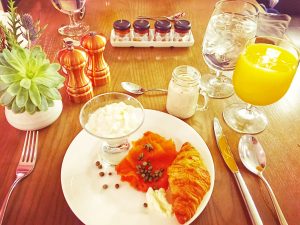 But we had another treat to look forward to, a visit to the Hotel Spa! Otherwise known as The Spa at The Whitley.
A unique feature of The Whitley is that it's 9th floor is an exclusive spa level. The entire level has a calm quiet atmosphere. Guests staying on this level enjoy beautiful rooms with relaxing piped-in music. It's fridges are stocks with healthy snacks in line with the health and wellness theme. Guests also have easy access to the spa and can be spied walking to and from appointments in plush bathrobes.
And so that day, we arrived at The Spa. We were warmly greeted by it's extremely welcoming director, Steve Carbajal.
If there's one thing you'll notice about the staff at The Spa at the Whitley, is that they do aim to please. And the charming, dapper Mr Carbajal is clearly an expert at catering to clients and keeping them pleased.
We had just met him, yet he quickly felt like a familiar friend. A feeling that only comes from those rare individuals who naturally exude warmth and a natural care for others.
Steve took us through the menu of services before ushering us into the elegant interiors hidden within. To our delight, we had stepped into an intimate oasis wrapped with vanilla satin.
To our surprise, we were offered mimosas and light champagne that arrived in delicate flutes. A variety of elegant teas were also at hand, ensuring that all palates are amply catered to. Don't forget to try the delicious little dessert treats available too!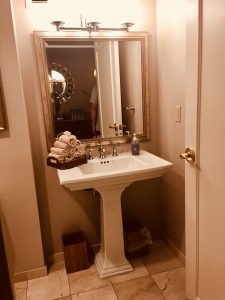 My husband loved the dark chocolate balls but I absolutely loved the dried strawberries. For some reason, I had never tasted, dried strawberries but since my spa experience at The Whitley, they're my new, favorite candy.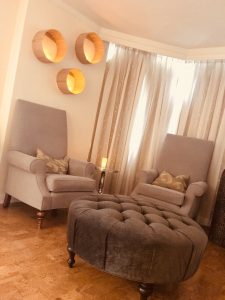 And so began our experience at The Spa. We were led to the quiet room, it's veritable gem. It's in this room that a line of plush, velvet lounge chairs welcome it's guests. Organza curtains provided a romantic touch of intimacy amidst it's candle-lit interiors. We eased back in our chairs and were already nurtured by it's peaceful atmosphere even before our treatment had begun!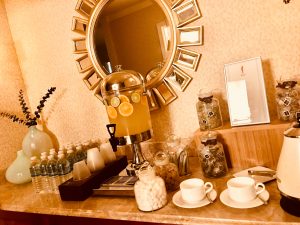 We were lulled into a deep sense of peace amidst our delicious interiors, when our therapists arrived to greet us. Once again the wonderful service of the Whitley is at display at the Spa. An other-worldly experience is carefully cultivated and created.
With gentle whispers they met us and led us into the interior rooms where we would receive our couples massage. By then I was already so deeply relaxed, it was hard to believe that we were actually in the middle of a bustling, shopping neighborhood.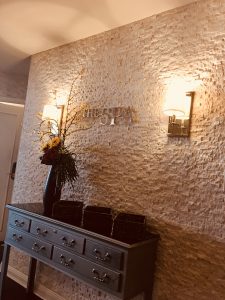 We were whisked away to the massage room. Here we were asked about our preferences on massage styles and were offered a choice of essential oils. The delicate hush of the atmosphere remained as our therapists leaned it to gently enquire of our preferences.
We chose the citrus collection. And it wasn't long before delicate citrus aromas wafted in the air as strong hands kneaded into our muscles, expertly releasing all aches and strains. Soon after, both my husband and I had been cradled into a deep, well-needed slumber.
I must admit that in my experience, most massages tend to feel either too short or long. But this massage was just the right length! We awoke feeling deeply rested and refreshed. It was both the atmosphere and the care we were given that left us so fulfilled.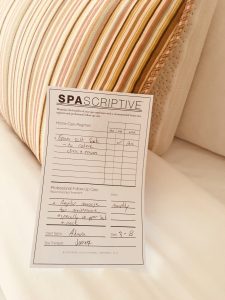 As our trip to Atlanta wound to an end, we found ourselves driving back home happily discussing our favorite moments during our stay.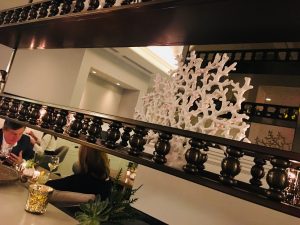 It wasn't hard to pin down exactly what left The Whitley such a memorable experience. The warmth of the service we received made us feel as though we were amongst friends, and the food was simply exquisite! And of course the spa, was our escape into a blissful, hidden sanctuary. One that I look forward to visiting once more!
We left The Whitley with fond memories knowing that at some point in the future, we would grace upon this delightful Southern belle once more.