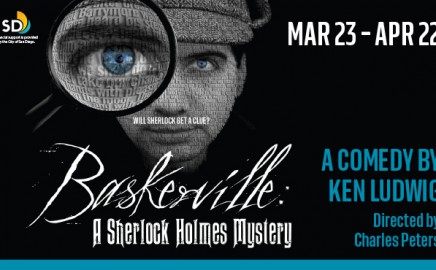 By Kathy Carpenter
Scripps Ranch Legler Benbough theater is nestled  among the trees on the quiet Alliant International University. An intimate venue for a peaceful night out. SRT  Presents "Baskerville," A Sherlock Holmes Mystery from March 23 – April 22, 2018. Hilarious theatrical ingenious at work. An offbeat, outrageous, comedy
mystery.
Sherlock Holmes, was created by Sir Arthur Conan Doyle. A fictional detective, first appearing in print in 1887, in Strand Magazine. We grew to love his uncanny observations and  logical way of thinking. Although it's Dr. Watson who really tells the stories. These stories are not funny but often gruesome.
Ken Ludwig, has adapted The Hounds of the Baskervilles into a madcap romp.With squeals of delight at every turn.
Director Charles Peters, took his five actors and created the canvas of people who surround Holmes. The gritty colorful characters of Victorian England. Over forty wonderful characters to love and laugh with.
Set in London and the Devonshire Moors, in the late 1890's. Against a rather unusual stage backdrop, which a gadgety looking wall, something you might find in a Steampunk movie. To me it looks like part of a time machine. "Unique to say the least. Since most of the story in on the Moors.
After the death of his uncle, American cowboy, Henry Baskerville has come to claim his fortune, Due to mysterious circumstances, Holmes is asked to step in and help solve his death. Due to other work Holmes sends Watson along with Henry to safeguard him until the mystery can be solved.
The lead role is Watson, played by Michael Lundy. A master of his craft. Sherlock Holmes is played by Robin Thompson, the straight man is this jumble of zany. Then we have the three absolute amazing actors who rocked the show. pulling off all the wonderful characters with silly disguises and numerous accents. Who kept up an insane pace of costume changes, making the show delightfully entertaining. Russell Clements, Bob Himlin, and Michelle Marie Trester. Wow!!!
Come out to Scripps Ranch Theater for a chance of pace.
Next up
For Better
May 25 to June 24, 2018
Playwright Coble makes hay with the effects of electronic communications on romance, intimate relationships and marriage. Comedy
858.578.7728