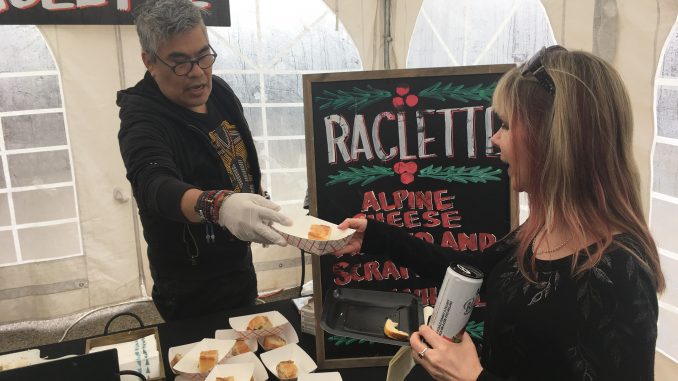 Due to popular demand and rave reviews from the winter event, a spring version of the Chicago Say Cheese Event was added in April.  It was the social food event of the spring in the Windy City that highlighted restaurants and retailers that serve the cheesiest products around. Cheese lovers came from all over to sample everything from grilled cheese to mac n cheese to fried cheese curds to cream cheese ice cream!
The Say Cheese Fest was presented by Social Power Hour, a social event that highlights restaurants and retailers that serve the cheesiest products. The event was held at Concord Fifty+Five (1355 W Concord Place), a stunning rental venue space, which features a dazzling landscaped courtyard featuring seasonal foliage and a charming patio.
General admission ticketholders received tastes from numerous cheese vendors and 5 sponsored drink tickets for either the session 1 (11am-1pm), session 2 (1pm-3pm) or session 3 (2:30pm-4:30pm).
My friend and I attended session 2, which was the perfect choice as it was lunch time! Our mouths were watering as we entered Concord Fifty+Five and smelled delicious aromas of cheese. The venue was an ideal space for the fest, as it was open and airy. There was also a tent outside which had additional vendors to sample from, which was a good idea in my opinion.
There was a huge variety of vendors offering samples of their cheesiest masterpieces. Samples included bites that consisted of cheese or paired well with cheese. Some of them included extra cheesy and gooey Lou Malnati's (my favorite Chicago deep dish!), Mac Dynamite Chicago, Raclette (amazing cheese wheel), Roots Pizzeria, Bai Brands, Gayle V's Best Ever Grilled Cheese, Braciole Station and Blackwood BBQ. Refreshments were also served from wine spritzers from Barefoot Wines, spirits/cocktails from Johnnie & Soda and Boxed Water.
My friend and I enjoyed the various vendors available at the Say Cheese Fest. My friend at first was uncertain what the event actually consisted of; she thought that it would be more of a cheese tasting where samples of different cheeses are given out with wine, cheese and crackers. However, once we entered the venue, she was more than convinced.
Among our favorites that stood out among the crowd were, of course, Chicago's own Lou Malnati's, where the deep dish is always made to perfection and the classic grilled cheese sandwich (Butterkase cheese, fresh butter and fresh baked white sourdough bread) from Gayle V's Best Ever Grilled Cheese, sandwiches made with Raclette (alpine cheese melted and scraped off the wheel), delicious deep fried cheese curds and taleggio/brie pasta, creamy Sicilian style ricotta cannolis, and winter margarita pizzas from Roots Pizzeria. Finally, from Cone Gourmet, we tasted luscious cream cheese ice cream (strawberry and cookies and cream), which was a refreshing twist on regular ice cream.
The event also included an option for attendees to vote for their favorite cheese dish and vendor. My friend and I both voted for Gayle V's Best Ever Grilled Cheese. She is a very talented chef who started small with a food truck and farmer's Markets. Now, she has her own storefront in Chicago inside Block 39 downtown in the Loop.
The spring Chicago Say Cheese Fest overall was a hit among fellow Chicagoans, including myself and my friend. I look forward to future fall AND spring events to see what the Windy City has offer next year!
Photos: Jennifer Lunz
For more information on the spring Say Cheese Fest and next year's events, you can email info@socialpowerhour.com or visit their website.