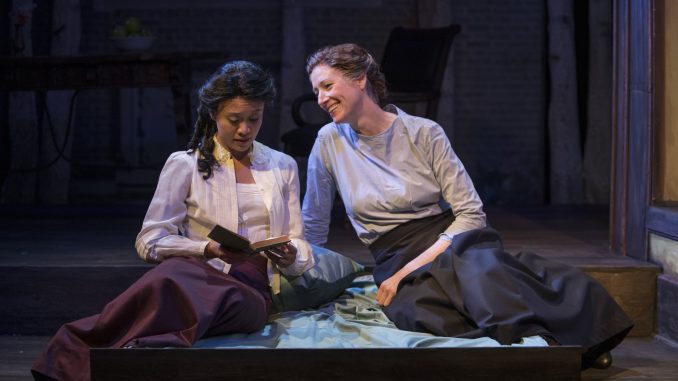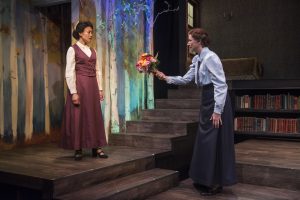 I have often said that the best way to make any media better—be it television, movies, books, theatre, or anything else—is to add more queer women. Of course, as a bisexual woman myself, maybe I'm biased in this line of thinking, but it's not unreasonable to expect an art form as populated by both women and LGBTQ+ people as theatre is to put far more stories of queer women onstage than we typically see.
Luckily, About Face Theatre, under the direction of relatively new artistic director Megan Carney, seems to have embraced the same philosophy with its latest production, Bull in a China Shop, written by Bryna Turner and directed by one of my personal favorite Chicago directors, the fabulous Keira Fromm.
Based in little-known historical fact, Bull in a China Shop centers on the relationship between Jeanette Marks, a writer and professor at Mount Holyoke College from 1901 to 1939, and her lifelong partner, Mary Woolley, an outspoken feminist activist who revolutionized women's education during her time as president of Mount Holyoke and whose remarkable accomplishments are too many to list in this article or in the play itself. The play spans the thirty-five years she was president of Mount Holyoke, detailing the pushback she received for the changes she made to the school's curriculum and mission, her reluctance to come out in support of women's suffrage for fear of scaring off longtime donors and bankrupting the college, various highs and lows in her relationship with Marks, and, at its core, differences of opinion in the way she and Marks approached their activism.
The play covers nearly forty years' worth of events in only eighty minutes, which can be dizzying if you can take a moment to reflect on that and not be fully absorbed in the story, which is frankly quite difficult with such powerhouse actors onstage as Kelli Simpkins, who commands the stage utterly as Woolley, and Mary Beth Fisher, who plays the hilariously straight-laced Welsh, who delivers bad news to Woolley in the most painfully delicate way possible. Emjoy Gavino shines as Marks, bringing warmth, charisma, defiance, and melodrama to the character in perfect harmony; it's impossible to leave the play without wanting to be her friend. Adithi Chandrashekar is hilarious as the socially awkward philosophy professor Felicity; her scenes with Simpkins are an absolute riot.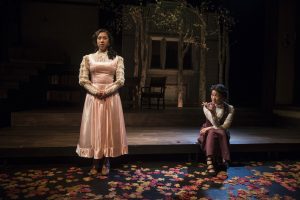 I'm still puzzling out the purpose of Pearl, a student character who heads a society of queer fangirls who obsess over Woolley and Marks' relationship. It's not that the anachronism of contemporary fandom culture seems out of place—indeed, playwright Bryna Turner gleefully pulls elements of the modern into this historical world with no apology or need for any—but rather, that Pearl is written as such a "weirdo"; Marks calls her as much, and Pearl's dialogue led me to both secondhand embarrassment and slight resentment at the poor depiction of fan culture and scoffing at fanfiction as a form. To me, her behavior read less as mere weirdness and more as borderline personality disorder, a condition not made any better by Marks' (predictable, to the point that it doesn't even feel like a spoiler to mention it) choice to have an affair with her while Woolley is abroad.
Don't get me wrong; actor Aurora Adachi-Winter is absolutely brilliant as Pearl, the funniest person onstage in a cast full of funny people. And the intensity with which she performs her final monologue practically requires a second intermission to recover from the marathon whirlwind of emotions Adachi-Winter performs.
Queerness has long been erased from history as casually as errors from math homework, but queer folks the world over are working to right that wrong and bring badass queer people of history, like Mary Woolley and Jeanette Marks, into the limelight they rightly deserve. The portrayal of the intimate and loving relationship between these two real women is an important and beautiful thing to witness—not to mention, the play is exceedingly funny. Don't miss this fantastic production of a great show.
Ticket Information
Location: Theater Wit, 1229 W. Belmont Ave., Chicago
Regular run: Friday, June 1 – Saturday, June 30, 2018
Curtain Times: Wednesdays, Thursdays, Fridays and Saturdays at 7:30 pm; Sundays at 3 pm.
Tickets: $20-$38. Discounts available for groups of 10 or more. Tickets are currently available at the About Face Theatre website, by calling (773) 975-8150 or in person at Theater Wit Box Office.
All photos by Michael Brosilow unless otherwise indicated.