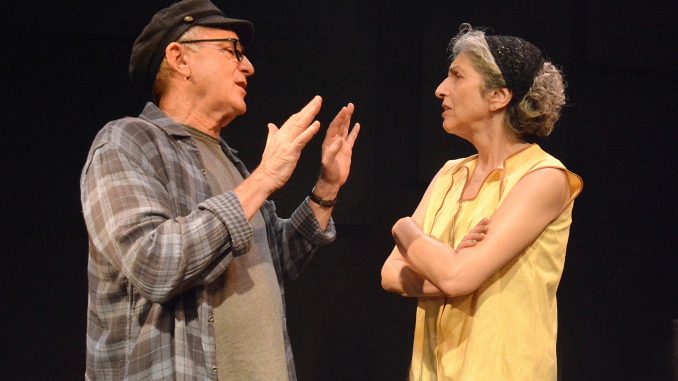 Even those who aren't Jewish will enjoy the humor in this irreverent play about a dysfunctional Jewish family.   "Jews, Christians and Screwing Stalin," a world premiere comedy, opened Aug. 17 at the Matrix Theatre.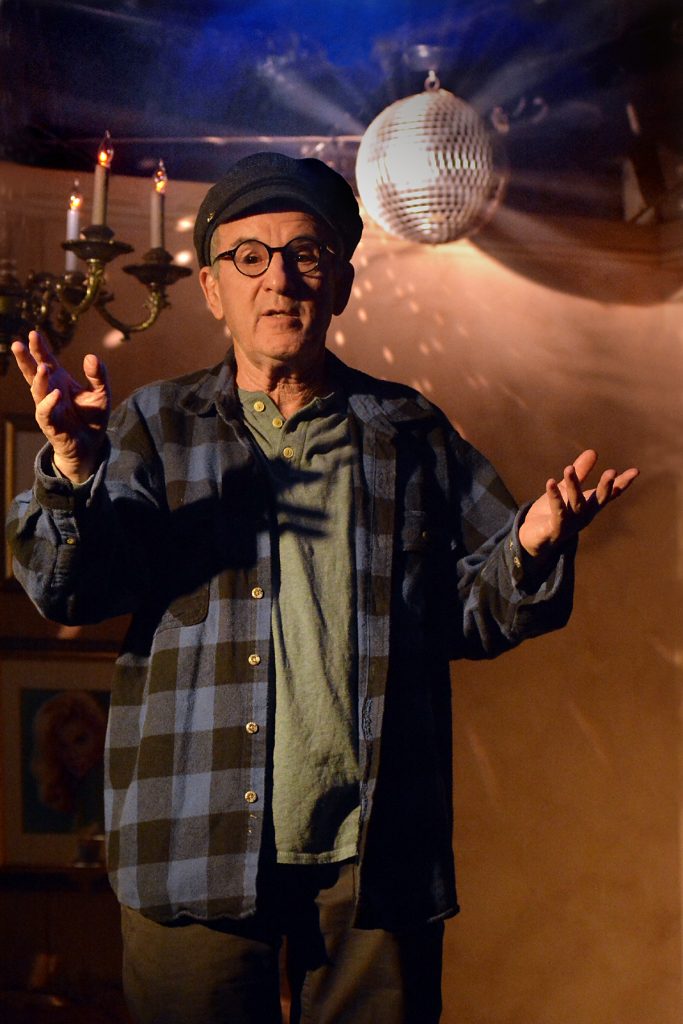 Though much is stereotyped, and with a few Yiddish words and expressions thrown in for flavor, John Pleshette, who plays the ghost of Zayde – Murray Grazonsky, introduces us to the 1960s Brighton Beach, Brooklyn rooming house where his widow, Cathy Ladman, as Minka Grazonsky aka Bubbe (Yiddish for grandmother,)- a former Trotskyite – prepares for the Jewish New Year (Rosh Hashana.)  "This is your typical Jewish kitchen-table comedy filled with bitterness, anger, sarcasm and love," Murray tells the audience.
Minka hopes to reunite Travis York, playing her alcoholic ne'er-do-well son David, with Hunter Milano, playing her angry grandson Joseph, and end their feud especially when she learns that alcoholic David owes a large sum of money with no way to pay it.   He wants her to give her money from the house but… there's a catch since in the male dominated world her late husband had given it to their grandson.
In this universal story of family strife, three generations collide along with several of the tenants in this mixed house.   Laura Julian, as Lillie Feinstein, is a straight woman to Bubbe's comedic comments.
Joseph brings home Sammi-Jack Martincak as Caitlin McCarthy-Heitler, his pregnant shishka (non-Jewish) Southern belle, Irish-German finance.  The subplot of having the family deal with an intermarriage is one that is often used but didn't seem to be explored to its full extent as it has been in other stories.  In this play it was basically used to bring out the Bubbe's backstory of having slept her way to the top of the Russian Revolution – and screwing Stalin, among others.  (Though I am not quite sure what that had to do with the main story of Joseph and David.)
Other tenants, which really didn't add much to the story, are Sally Schaub as Miss Koppelson and Marty Ross as Mister Goldman, rounded out the events as through the main story David tries to convince Joseph that he's changed and Caitlin tries to fit in.
The acting was great and thoroughly enjoyable.   As we said, you don't have to be Jewish to enjoy the play and anyone with crazy, dysfunctional family members will relate to these characters.
Written by playwright and director Mark Lonow, in collaboration with his wife Jo Anne Astrow of 49 years, based the story on his own dysfunctional Russian-Jewish socialist family, peppering the script with Yiddish phrases his bubbe would use. Originally written as s a drama, he was advised by Hollywood director Carl Reiner and Broadway mogul Jimmy Nederlander to revise this as a comedy.
Joel Daavid  served as scenic designer, Wendell C Carmichael did the costumes, Jenine MacDonald was property designer, Joseph "Sloe" Slawinski designed the sound, while Donny Jackson designed lighting.   Racquel Lehrman and Misha Riley were producer and assistant producer.  Jami Rudofsky did the casting.  Stage manager was Karen Schleifer and she was assisted by Sharon Logan.  Kiff Scholl of AFKJ Design did the graphics.
Lucy Pollak did the PR.
"Jews, Christians and Screwing Stalin" runs Aug. 18–Sept. 23 at Saturdays and Mondays at 8 p.m., Sundays at 3 p.m. at the Matrix Theatre and cost $35.  For reservations and information, call (323) 960-4412 or plays411.