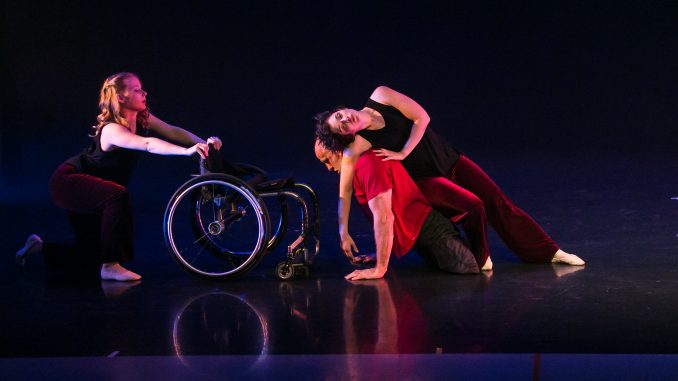 For all who love dance and also those learning about dance, a wonderful and very unusual performance awaits you on Sunday, September 9 when Counter Balance – a unique dance showcase featuring "integrated" dance choreography and performances by talented artists with and without disabilities – returns to Chicago for its eighth consecutive year. This year's concert includes performances by MOMENTA; Cleveland's Dancing Wheels Company; Butoh artist Wannapa P -Eubanks; Jessica Martin's Exploration; and 3Arts Award-winner Ginger Lane, presenting a world premiere collaboration with Israel's Vertigo-Power of Balance. The performance also includes a sneak preview of a short documentary, counter//balance, by Anu Rana and B. Rich.
The popular performance will take place at 3:00 p.m. at the Hoover-Leppen Theatre at The Center on Halsted, 3656 N. Halsted.
Access Living is a nationally recognized leader in advocacy and direct services to people with disabilities since 1980. They are committed to independence and inclusion in all walks of life, and are at the forefront of the disability rights movement. Access Living's Arts and Culture Project showcases the work of artists with disabilities in exhibits and performances throughout the year.
Bodies of Work is a consortium of more than 50 of Chicago's most recognized cultural, academic, healthcare and social service organizations, and are housed in UIC's Department of Disability and Human Development. They are a network of artists and organizations whose art showcases and celebrates the disability experience, and also, advances the rights of disabled people, and widens society's understanding of what it means to be human.
Ginger Lane shared her thoughts about the development of the final piece, Community:
"I first conceived of this piece last March when I visited an integrated dance company at a kibbutz just outside Jerusalem, Israel. I watched the group work and also led a workshop. I was so impressed by what I saw that I began to wonder if a collaboration between our two companies was possible. Quite a bit has been written about physically integrated dance, but nothing I've read has spoken to the idea of two companies, 6000 miles apart, speaking different languages, working in very different styles but from the same foundational concept of contact improvisation, could create a unified whole. That, then, became my first goal, which was immediately embraced by the troupe: to make a short work that reflected the unique styles of each company. What would happen if two companies worked to the same piece of music, within the same physical stage dimensions, with minimal direction?…..
A second goal for me was to reach out not only across the sea to a different culture, but also to the wider Chicago community-to people who enjoy movement but are not trained dancers, or even think of themselves as dancers. I really wanted this to be a "community" project, which would engage a diverse group—crossing age, racial, ethnic, gender identity, and disability barriers……
This work is dedicated to my mother, Lina Banda Weber, who did not survive Auschwitz, but who embodied the concept of community through her love of people of different backgrounds and cultures, helping move fleeing Jews, Hungarians and others, out of Berlin, and embraced the shared values of what it means to be fully human. Her enduring legacy is an indomitable spirit that cannot be broken. I hope you enjoy what you see."
This promises to be a remarkable performance. Come to see it.
For Tickets and information go to the momentadances website