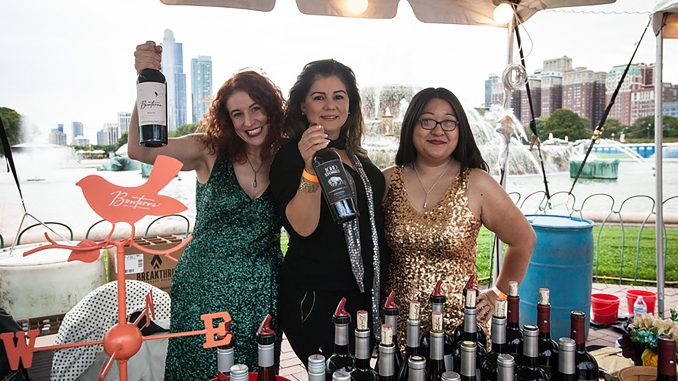 The Windy City Wine Festival is returning to the beautiful Buckingham Fountain for its 14th year, and U.S. Bank returns for its second consecutive year as presenting sponsor. The entire city of Chicago is known for its love of food and drink, and this festival is a wonderful cultivation of all the amazing culinary options the city has to offer! The festival has averaged around 4,000 guests per day annually, and is the perfect opportunity for Chicagoans to sample wines from near and far. Buckingham Fountain is one of the most iconic landmarks in the city, making it the perfect backdrop for a Chicago summer festival.
The festival has become a widely anticipated summer event for Chicagoans. This year we are proud to be partnering with the Chicago Parks Foundation, which works to support and revitalize over 600 of our favorite parks and communities throughout the city. The Foundation fosters healthy green spaces for everyone to enjoy, and they are the perfect partner for this year's festival.
The event begins Friday, September 7, at 5 p.m. Guests with General Admission Plus or Cadillac Connoisseurs Club tickets may enter the festival starting at 4 p.m. On Saturday, September 8, the festival begins at 3 p.m., with aforementioned ticket holders able to access the event at 2 p.m.
The Windy City Wine Festival offers a unique wine-tasting experience, showcasing varieties from around the world that can please every palate. In addition to the wine and food options, the location of the Windy City Wine Festival is what makes it a truly special event. Buckingham Fountain on its own is a Chicago icon, and with the lakefront and beautiful Chicago skyline serving as the backdrop, the entire atmosphere of the Windy City Wine Festival is truly unmatched.
Approximately 250 different wines will be available for tasting this year, provided by a multitude of vendors. Guests can enjoy local wines from the Chicagoland area to Napa Valley wines from California to the Tuscan regions of Italy, all the way from Cooper's Hawk Winery of Illinois to Cass Winery of Paso Rables, California. Local favorite City Winery will also be sponsoring this year's Beverage Center, where guests can purchase a variety of City Winery wines by the glass.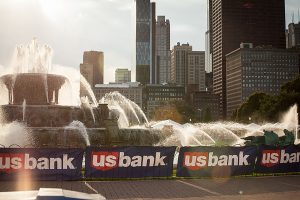 Several local restaurants will also be providing samples and food for purchase, ranging from Gayle V's Best EverGrilled Cheese to Taco in a Bag to Wally's Waffles. If you are craving it, you can find it at Windy City.
In the midst of enjoying all of these wonderful food and wine options, festival attendees can listen to live, local bands like The Winchesters, Keri Johnsrud, and Scott Tipping Syndicate.
Wine drinkers of all experience levels and palates can find something to love at the Windy City Wine Festival! There is so much to try, and this is the perfect opportunity for guests to go outside their comfort zones to try different brands and varietals than they typically enjoy. Festival goers also have the chance to take home their new favorite at an exclusive discount!
In addition to a wide range of wines, this year's ticket offerings allow guests to expand the fun and experience even more with one-hour early admission. General Admission Plus and Cadillac Connoisseurs Club tickets can get an advanced start on the day and take advantage of all the Windy City Wine Festival has to offer!
Ticket offerings for 2018 include:
Adult Wine Tasting General Admission: $45 in advance, $50 at the door
Adult Wine Tasting General Admission Plus: $55 in advance, $60 at the door

Includes all of the benefits of General Admission ticket, plus one-hour early admission
Cadillac Connoisseurs Club: $99 in advance, $120 at the door

Includes all benefits of Adult Wine Tasting General Admission Ticket, plus:

One-hour early admission

Access to the VIP tent

Sampling of exclusive wines

Passed hors d'oeuvre and gourmet small plate foods provided by Inspired Catering and Events
Designated Driver Ticket: $15 in advance and at the door

Receive tasting glass upon departure

Interactive experiences

Musical entertainment

Opportunity to purchase wine at a discount
Photos: Liz Benedetto, Elizabeth Ashby, Inc.

Visit the website for complete details about the event and for regular updates on wine and food vendors.