Existing outside the boundaries of time, Dionna Michelle Daniel's play "American Saga – Gunshot Medley Part 1" is the last production that Rogue Machine will stage at the MET Theatre, September 9 – 23. As they take up residency in Venice, the play will continue at the WLCAC for an additional run in Watts through October 14, 2018. It is an American Premiere.
Directed by multi-award nominated Desean Kevin Terry, the piece is a lyrical and mystical play with live music. It's about the struggle against systemic racism, bringing past and present together in a soulful tale of lives destroyed by deep-seated tensions, and conflicts that have marred America's history from antebellum south to the present day.
Rogue Machine is one of the top theatre companies in Los Angeles. They won the Ovation Award this year for "Best Season" and last year received, for the second time, the Polly Warfield Award for an Excellent Season from the LA Drama Critics Circle.
Desean Kevin Terry's passion for the piece, and his respect for its creator, was palpable during this interview.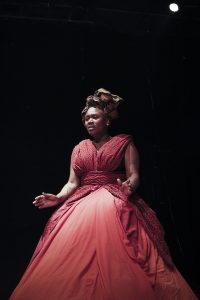 Ester: What was it that intrigued you about this project?
Desean: One of the many reasons I was drawn to this project was because of the dynamic themes that it explores. Dionna Michelle Daniel has written something truly haunting. By existing outside the boundaries of time, it allows us to observe not only present day impacts of violence committed against the African-American community, but it offers observations into the history of that violence as it ripples through time.  It addresses the notion of historical trauma, and how all communities deal with this trauma. It is especially inspiring when you realize that this play comes from a young lady that is 23 years old.
Ester: Why do you think that this story must be told now?
Desean: We are at a very unique juncture in history.  I am a storyteller; that is how I impact the world.  I love working on plays of impact. I prefer plays that examine the system through very personal stories.
There is something beautiful happening with the younger generations, and so for me working on the words of a playwright as young as Dionna makes sense.  It feels like our society is developing a lot of young leaders. Perhaps it has something to do with the years of "Hope" juxtaposed now to our current place. I think these younger generations may understand the need for social activism more than past generations. This production of the play uses Dionna's beautiful words as an opportunity for activism.
Ester: How does that happen?
Desean: The first part is inspiration. Hopefully, the work reminds us all of our humanity. When people are inspired they are compelled to act. Then comes the second part, action. Should our audience be so moved (inspired), we will have voter registration available at each show and interactive components at select shows including community talk backs about creative activism and tours of the WLCAC Civil Rights Museum. This isn't just a play.  We hope we are a part of a movement.
Ester: Is that why the title indicates a continuation?
Desean: I can't speak for the playwright regarding her intentions behind the meaning of the title. The play deals with violence, but it also deals with human expression. A lot of that expression exists in the music. That's one part of why I think it is called Gunshot Medley: Part 1. Additionally, it speaks to the rich tapestry of music that exists in Black culture. I do believe that, at a very pivotal moment in the world, we are offering something noteworthy that will inspire dialogue and healing.
American Saga – Gunshot Medley: Part 1 opens at 8pm on September 8th at the MET Theatre and runs Fridays, Satruday, and Mondays at 8pm, Sundays at 2pm through September 23rd (additional performance added on Thursday, September 20 at 8pm).
It then moves for a two week run at WLCAC Theatre, 10950 S. Central Ave, Los Angeles, CA 90059 beginning on Friday, October 5th, with performances on Fridays and Saturdays at 8pm, Sundays at 2pm through October 14th.
Rogue Machine is located at The Met, 1089 N Oxford Ave, Los Angeles, CA 90029.
Tickets are $40 at the MET Theatre and $35 at the WLCAC Theatre with Pay-What-You-Can for Watts local audience at the door. Performances on Oct 5, 7, & 14 feature a guided tour of the Civil Rights Museum. Group discounts for 15 or more through Julie at Am******************@gm***.com. Reservations: 855-585-5185 or here