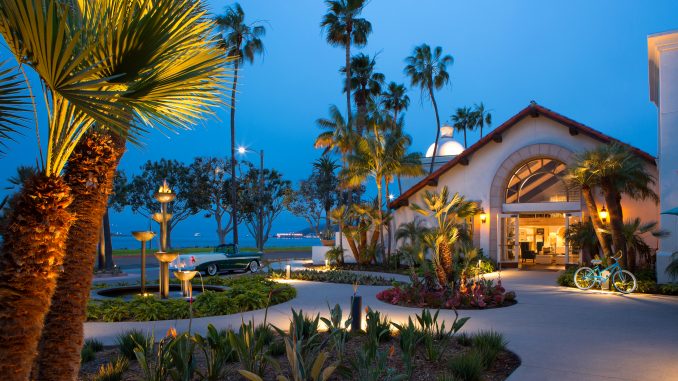 Kona Kai Resort & Spa on Shelter Island just outside of San Diego is one of those historical and classic vacation spots that has kept that vintage feel while updating their scenic resort. This is truly the hidden gem of the area as Kona Kai makes you feel as if you are in your own private world situated at the tip of Shelter Island, but you are still just minutes from all that San Diego has to offer.
It is hard to have a vacation that offers weather that is as perfect as what mother nature delivers in San Diego. Kona Kai combines that weather with water experiences at every turn. It begins with the 170 luxury guest rooms, which includes the 41 brand new suites, that offer breathtaking views of Point Loma Hillside and the San Diego Bay. There is so many options once you venture out of your room, water sports such as paddle boards, sail boats and jet skis and you have the Kona Kai Marina, the closest marina to open ocean in San Diego with over 525 slips. If you just want to enjoy the marina and the spectacular skyline of San Diego, you use one of the beach bikes that Kona Kai offers and you can venture up and down the marina or make your way into town.
If you are looking to just relax at Kona Kai, they offer two pools to take advantage of the sunny Southern California days. Kona Kai recently added the Paloma Pool and Bar, an exclusive pool area for guests ages 18 and up. There is also the more family friendly pool so if you did bring the entire family this is the place to spend the day. Kona Kai as has their own private beach that offers full service in terms of food and beverage and they also have a firepit that is perfect for that s'more's making experience as you sit around the fire once the sun goes down. Kona Kai has s'more's kits with everything you need so you don't need to worry about anything other than making sure you don't burn your marshmallows.
The picture perfect wedding is what everyone envisions, it is not always easy to pull that off. Kona Kai has a location for whatever type of wedding you want to remember for the rest of your life. You can choose from a private beach wedding, to the marina view lawn, the circle patio or you can enjoy the view with the skyline view park wedding. There are plenty of other reasons to celebrate at Kona Kai, they can take care of any type of celebration or family event and they can also take care of any business meeting and they have plenty of space for conferences. Whether it is family, friends or business associates, everyone will love the grounds and setting at Kona Kai.
To truly enjoy all that Kona Kai has to offer, one must experience SpaTerre. The new 7,020 square-foot spa features private treatments that are as wide-ranging as any spa you will ever visit. If you want a truly unique spa treatment, SpaTerre is one of only handful of spas that have a quartz heated sand table. The therapeutic heated alpha-quartz sand bed is based on the ancient Greek concept of 'psammotherapy', which uses warm sand to alleviate pain and promote comfort. It will truly benefit every joint and muscle in your body and leave you feeling like a new person. You can also choose from the deep-tissue, mommy-to-be or a Swedish massage as well as some other unique treatments such as the Himalayan Salt Stone Massage that uses salt stones to work on muscles that are tight or sore. In addition there is a state-of-the-art fitness facility that has all of the latest in workout equipment.
Kona Kai designed their Vessel Restaurant with the beautiful marina views in mind, as it doesn't matter if you are dining inside or out, you will have a wonderful view. As much as you will enjoy the view, the food from Executive Chef Roy Hendrickson just might make you forget about what is outside and leaving you to focus on what is in front of you. Ever dish is brought to a vibrant life with the local, seasonal and sustainable ingredients and there is vast selection that for dinner allows you to choose from a clam chowder to start and then you can venture over to porcini-dusted sea bass, seared diver scallops as well as short rib and ribeye. If you want to experience a weekend brunch to remember this is the place to come. From breakfast classics to a pulled pork hash or fresh fish and chips in an IPA beer batter you can't go wrong with anything on this menu. Kona Kai also makes sure to take advantage of the local beer scene with a number of rotating local beers on tap and in cans to let you experience some of the San Diego beer scene. For brunch you can also bottomless mimosas and the over-the-top bottomless bloody Mary bar that has more ingredients than you will know what to do with.
Kona Kai is almost too beautiful and it makes you so relaxed that spending your entire trip at the resort sounds tempting. But this is San Diego and there is simply so much to do and so many things to see that you have to spend at least one day experiencing some of the sights and sounds and bites and drinks of the city. You can start with SeaWorld or the San Diego Zoo as well as the Gaslamp Quarter and Balboa Park. Each one of those could take a day to experience all by themselves.
Just minutes from Kona Kai is Stone Brewing World Bistro & Gardens at Liberty Station, a bit of a beer lover's paradise. Stone took over what was once a U.S. Navy mess hall and while keeping the nuances of the original setting, they created a beautiful restaurant with indoor and outdoor dining and bars. In addition they have added a bocce ball court, outdoor cinema space and garden and if you ever wanted a beercentric wedding, this is the place to hold it. If you want to experience what Stone is all about, pull up a seat at the bar and choose from 40 taps of craft beers, including Stone year-round and special releases and beers from other small breweries as well as an extensive bottle list of craft and specialty beers from around the world. With a selection of beer that good, Stone decided they had to have a menu to match and they did that in creative style. Some of the delicacies on the menu include: roasted bone marrow along with prime steak tartare, charred brussels sprouts with seasoned pancetta lardons and the wonderfully flavorful lamb collar barbacoa tacos that are rubbed with Mexican spices. To celebrate 22 years of brewing beer, Stone also recently releaed their 22nd Anniversary Anni-Matter Double IPA, a very clean and crisp IPA with great citrus flavors throughout. For more information, visit: Stone Brewing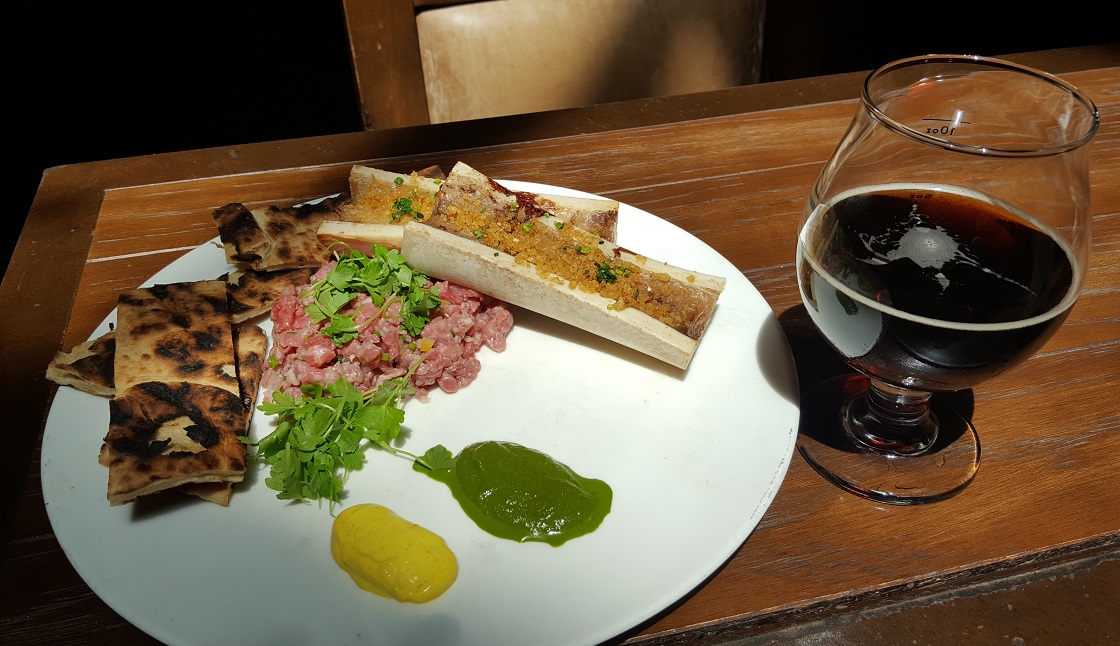 Experiencing even a little taste of the approximately 150 breweries in San Diego can be truly overwhelming. If you want to visit a few, not worry about driving and have someone knowledgeable take care of the details, Brew Hop is an amazing brewery tour company that will not only have you experiencing plenty of world-class beer, but they will have you doing it in style. Brew Hop co-founder Summer Nixon is content to create a tour to breweries or beer styles of your liking or if you are looking for her San Diego beer expertise, simply let her lead the way and she will make sure you not only have some great beers, but you also have one memorable experience. Brew Hop also makes the experience as easy as possible for you, they can pick you up right at the entrance of wherever you are staying and then drop you off at the same spot. The only thing you have to worry about is drinking beer.
If you want to experience the San Diego beer scene on your own, Kona Kai is a great home destination as there are plenty of breweries that are just a short ride away. You can try such San Diego iconic breweries as: Ballast Point, Stone Brewing or Coronado as well as some of the more recent and fantastic breweries such as Modern Times or just venture around and you are more than likely going to find some great beer.
Every Ballast Point location has an identity of their own, but you can always guarantee that you will find a huge selection of their beer regardless of the location. The Little Italy Ballast Point location is not only about as good of a beer experience as you will find anywhere, but it is also a great experience in any possible way that you could measure it. In terms of beer, you just never know what you might find on tap here, as this is pretty much the home of experimentation in the world of Ballast Point beer. In addition, you can literally watch brewers creating and brewing as you are eating and drinking. From the moment you walk through the doors, your Ballast Point experience is in your hands. You can grab a seat on the patio or set-up a beer party experience with a private cabana and if you want a truly unique dining experience, you can make reservations at The Kettle Room and dine in the brewing space. Ballast Point has become far more than beer as they have elevated the brewery dining experience to a new level. Being in San Diego they get the freshest fish around and the seared octopus that they serve is not only fresh, it is simply as good as you will find in any restaurant. Also don't expect just any bar burger, the Ballast Point burger begins with Meyers all-natural beef and is topped with blue cheese with all your burger fixings on a fresh brioche bun. Ballast Point also does some incredibly unique beer pairing dinners. The Ballast Point Miramar location is a little further up the road and if you are driving to or from Los Angeles is a perfect stop along the way. This is where the majority of Ballast Point beer is produced so you can only imagine the size of the facility. Well you don't actually have to just imagine, you can take a tour of the giant facilities and get a behind-the-scenes look at Ballast Point. If you want to experience the San Diego beer scene, Ballast Point simply must be on the list.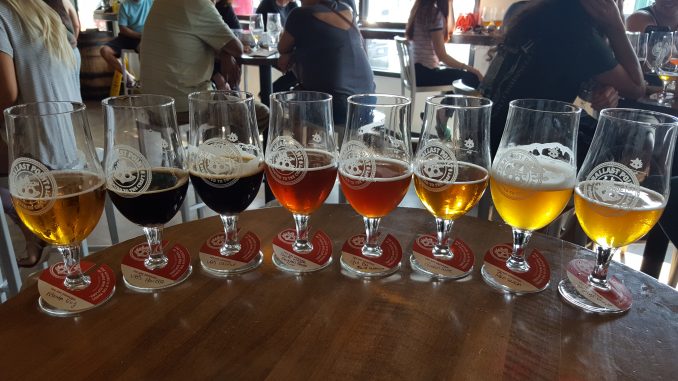 San Diego has so much do and so many places to see that you might be too busy making plans and you might not think where you are staying is a priority. Sometimes you don't know just how important your location is and how you are treated until open the door to your room and your vacation begins. Kona Kai Resort & Spa has taken a historical resort and kept all those classic nuances that makes it special while at the same time bringing a fresh feel to it and upgrading it so that you have all of the amenities that you could ever want.