Peter Saul, Government of California, 1969
Now on view through January 6 at The Met Breuer is the Exhibition entitled Everything is Connected: Art and Conspiracy. The exhibit explores the much talked-about topic of suspicion between the government and its citizens. Covering the time period between 1969 up until 2016, the show presents pieces from 30 different artists whose work spans across many different mediums; from sculpture to paintings, drawings, videography, photography, installation artwork and beyond.
                             Jeremy Blake, 1906, 2003
The exhibit is curated by Douglas Eklund and Ian Alteveer. According to Eklund, this is the first exhibit of its kind where artists tackle conspiracy as a subject. But, Alteveer notes that the subject has actually been around for quite a long time. The exhibit examines subjects such as slumlords, the Black Panthers, the AIDS crisis and then it goes on to present more fantastical aspects of life in a democracy, imagined by the artists themselves.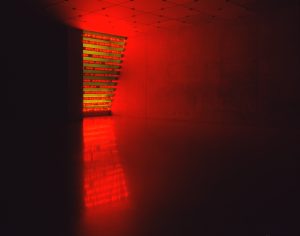 Jenny Holzer, Red Yellow Looming, 2004
"All of the artists are on the outside, mirroring the topic of exploring the parts of our culture that are hidden or underground," notes Eklund. Looking at works by these fantastic artists, we gain some more knowledge and some more power in confronting past history, says Alteveer. Eklund hopes that through the exhibit viewers will get rid of preconceived notions. Everything is Connected: Art and Conspiracy will be accompanied by the installation Jane and Louise Wilson: Stasi City
For more information on events at the Met Breuer
Photos: Courtesy of the Met Breuer