Marina Del Rey is known for excellent variety of casual dining experiences. Midici is the new kid on the block, specializing in Neopolitan Pizza. This style of pizza is very thin crusted, with less calories and is cooked very quickly at high temperatures. They even offer a gluten free pizza that is a cut above most gluten free offerings. Yet Midici is so much more than just pizza offering tasty meat and cheese boards, salads, desserts and a full bar with fantastic specialty drinks.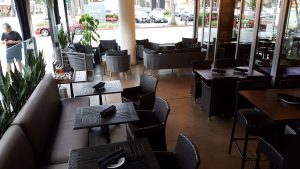 Their outdoor patio with couches and fire pits is warm an inviting for an afternoon with friends or a romantic evening. Sitting inside allows you to watch the pizza being made in this open kitchen.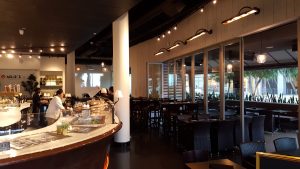 We started our evening with a few of their specialty cocktails. The Midici Margarita is simply my favorite margarita in all of Los Angeles. Made with Silver Tequila, Cointreau, Lime Juice and Lemoncello, it is simply divine. The Bazil Fizz is also well worth your time, consisting of Gin, Lime Juice, Soda, Simple Syrup and Fresh Basil. When I visited Verona Italy last year the locals all drank a Spritz as sunset approached. Here at Midici they offer a wonderful Aperol Spritz with Prosecco and Aperol over ice. All three of these cocktails are 350 calories or less.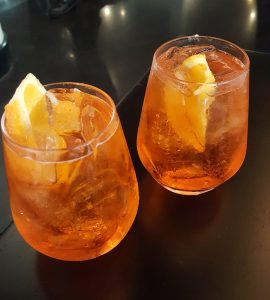 With a large selection of tap and bottled beer, wine and specialty cocktails Midici is a great place to unwind with friends after work. We sipped our cocktails while enjoying several items from the shared plates menu. The Housemade Meatballs with Fresh Mozzarella was very tasty. The Burrata Caprese was hands down my favorite. This sumptuous cheese served with garlic toast and a small salad goes great with anything your drinking. They also offer the Burrata with Melon & Proscutto. Or you might try either the House Meat or Cheese Board, and yes they offer a combo of the two.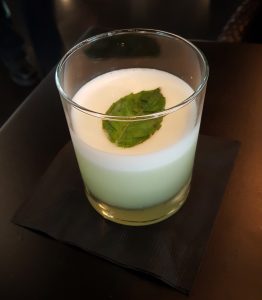 There are nine small and shared plates to choose from. For a salad we enjoyed the Midici House Salad. Another house favorite is titled The Italian. The choices are terrific, from a Purple Kale & Ricotta Salad, to a Walnut & Gorgonzola, they use only the finest ingredients. It reminded me of the Sonoma County restaurants that are farm to table. They offer other traditional salads including The Caesar and The Greek. 
Although pizza is their specialty they also offer a nice selection of five Wood Fired Calzones. From a Chicken Pesto, or a Meatball Calzone, to a Spicy Sausage or a classic Four Cheese, they even have a Truffle Calzone. When it comes to pizzas you can create your own or choose from 13 Specialty Pizzas, from Shrimp Scampi to Egg & Bacon, or The Meats to Hawaiian.
If you are creating your own pizza you first choose from one of five bases. White, House Pesto, Truffle, Red Marinara, or best selling The Margherita. Then mix and match from a dozen protein toppings such as, Applewood Smoked Bacon, Rosemary Ham, Vegan Sausage, Pepperoni, Chicken, Shrimp, even a freshly cracked Egg. Now choose from the market section of the menu, Grape Tomatoes, Kalamato Olives, Mushrooms, Baby Spinach, and much more. Finally pick your cheese selection, Black Truffle, Goat Cheese, Vegan Cheese, Mozzarella, Ricotta, Burata, Feta, Gorgonzola, even offering an exotic Truffle Cream.
We shared a house favorite specialty pizza The Devil's, with Spicy Sausage, Spicy Italian Salami and red chilies with fresh Mozzarella and tomato sauce. We also enjoyed a Pesto Pizza.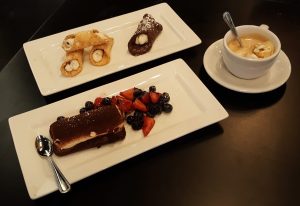 But do save room for dessert for they are exceptional. We shared a wonderful Tiramisu and an order of the Cannoli Sicliani, both desserts just melt in your mouth. The signature Nutella Calzone also looks divine. Or try the Panna Cotta or some Italian Gelato & Sorbetto. I love that every dish on the menu shows you the calorie count. At Medici Restaurant they use only the finest and healthiest ingredients. So next time you are on L.A.'s Westside stop in for a wonderful dining and drinking experience with plenty of free easy parking at this location in Marina Del Rey.
Midici is a great place to catch a ballgame and they have wonderful lunch specials too!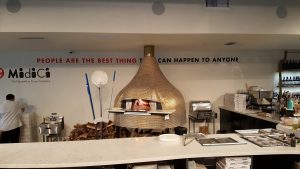 Photos by Matthew Oxman.