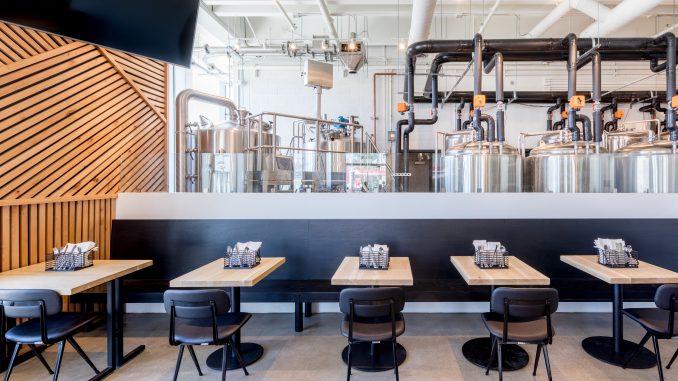 If you are looking a spot that embodies what the a beer experience is like in 2018, look no further than 6th & La Brea Brewery & Restaurant. It all begins with some amazing house brews, but you are also going to find creative and flavorful food, creative cocktails and it all comes together in a stunningly beautiful restaurant.
When you visit 6th & La Brea, while it is tough to choose, you would have to say it all begins with the beer. Led by Director of Brewing, Noah Regnery, you are able to view the majestic looking 7-barrel brewing system inside of the restaurant and from their you can choose from the 16 rotating taps. The best way to begin your 6th & La Brea experience is with a beef flight of some of the 6th & La Brea beers that are fresh from the in-house tanks. The 'Get Buzzed Golden' is a light and refreshing golden ale that balances nicely the citrus of grapefruit and the sweetness of honey. The 'Hancock Hef' is Bavarian style wheat that has hints of banana in to give it a unique twist. The Joke Killer Double IPA comes in at a whopping 9.3% ABV and a strong hoppy, citrus and piney flavor to match. If you enjoy a stout with your meal, the Mid-City Irish Dry Stout on Nitro is very light and easy to drink with some wonderful chocolate notes. There always some great beers from other breweries on tap and the selection is always stellar.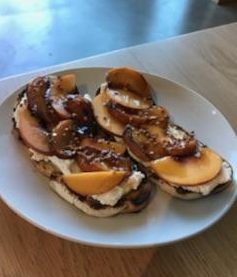 Brunch at 6th & La Brea is a great reason to get out of bed on the weekends as they have some of your classic favorites as well as some creative and unique dishes that are truly memorable. You have to start with the ricotta tartine topped with fresh curds, some amazing honey and seasonal fruit which if you are lucky are the fresh peaches. The breakfast sandwich is so much more than the name leads you to believe as you get eggs, tipped with pork belly, pickles and fermented hot sauce. The short rib hash is simply as good of a hash as you will find anywhere with perfectlyly tender short rib, crispy potatoes, shiitake mushrooms topped with sous vide eggs.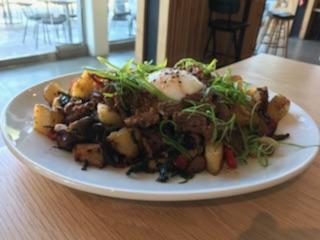 The dinner at 6th & La Brea is a completely elevated brewery menu and would make any restaurant jealous. There are plenty of vegan options including the seared tofu glass noodles that are served in a sweet soy sauce with shiitake. Some other highlights include the prime rib-eye from Creek Stone Farms Beer, the K.F.C., Korean Fried Chicken and there always spectacular short rib. The Happy Hour from 3:00 to 6 p.m. also can't be missed as you can enjoy select beers for only $4 and the "Standard" Burger made with wagyu beef for only $6 along with some other great selections.
The beautifully designed 4,800 square foot modernly designed space is inviting and eye-catching as you walk up to the floor-to-ceiling glass that brings in natural light throughout the restaurant. The casual setting also offers a dog-friendly outdoor patio. If you are looking for something a little more private or a spot for a party, the backroom, Brandon's, is very speakeasy classic and just beyond cool with a spirit selection that is second to none.
A love of beer is a good enough reason to visit 6th & La Brea Brewery & Restaurant, but they have created a venue that makes it so much more than a spot simply to have a beer. Regardless of whether you love beer, a handcrafted cocktail or you simply enjoy incredible food, 6th & La Brea is a spot that everyone will love and they will love coming back again and again.
For more information, visit: 6th & La Brea Brewery & Restaurant