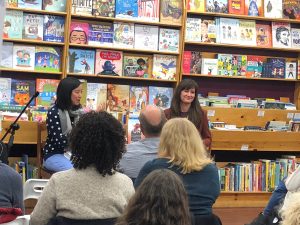 Last month, I wrote my first book review for Splash about Linda Kay Klein's nonfiction book Pure: Inside the Evangelical Movement That Shamed a Generation of Young Women and How I Broke Free. I loved the book, a mix of memoir and interviews with women who were raised in the white American evangelical "purity" movement of the 1990s that explores, with great nuance and a diversity of voices, the effects of purity culture on the women who grew up in it. On Friday, November 9, Women and Children First, a feminist bookstore in Andersonville, hosted a reading, Q&A, and book signing with Klein and, to no one's surprise, I had a great time.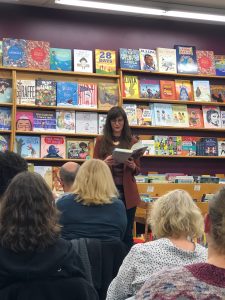 Women and Children First is a gem of a bookstore, the kind of place where I have to reduce the pile of books I've selected by at least half before I head to the register lest I go broke. Boasting an amazing selection of both children's and adult books ranging from diverse picture books to memoirs of famous feminists to queer romances and more, it quickly won my heart as my favorite bookstore in Chicago. But one element of Women and Children First's offerings that I had yet to explore was its free community events. Reviewing Pure opened up the opportunity to attend my first event there, and I was not disappointed.
Audience members crowded into the picture book section, with staff members bringing out extra chairs to accommodate the size of the crowd. The evening opened with a reading from the prologue of the book by its author, Linda Kay Klein. Then, Klein answered questions from Deborah Jian Lee, whose book Rescuing Jesus discusses the intersection of race and LGBTQ+ identities with evangelicalism. The floor was then turned over to the audience to ask questions, with many in the crowd sharing parts of their own histories with religion and sexuality. Klein gave every audience member a postcard, encouraging us to share our own stories about sex education as part of her Break Free Together movement to help liberate women from shame and harmful ideas surrounding sex through community with other women with similar experiences.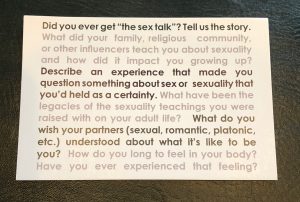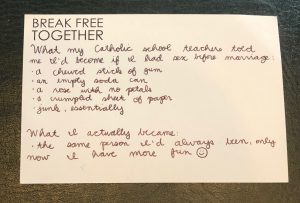 I was fortunate enough to get to talk to Klein after the event, where she greeted me warmly, signed my book, and kindly agreed to an interview. Here are some of her thoughts about the event:
How did you get connected with Women and Children First?

Linda Kay Klein speaks at an author event at Women and Children First.
A friend of mine actually lives down the street from Women and Children First and is a huge fan of the bookstore. "You have to speak there!" she exclaimed while she was visiting me in New York City. Then she went back to Chicago and promptly made it happen.
The environment at the event was somewhere between a typical book event and a group therapy session; folks felt comfortable sharing parts of their own personal stories with you and the group. Do you find that this happens often at these events?
Every bookstore I've read at has been a sacred space. Sometimes people cry; sometimes they share intimate stories that I suspect they have shared with few others. There is a deep need among many of us to talk about our religiously-rooted sexual shame, fear and anxiety, and this need is often brought to my readings.
Describe your relationship with Deborah Jian Lee.
Deborah and I first met at a book event she did in New York City around the release of her book a few years ago. We stayed in touch and reconnected at conferences as we could. There aren't that many folks writing about sexuality and religion, so those of us who do this work generally try and stick together and support one another as much as we can.
You've been all over the country doing your research. What stands out to you about Chicago?
I'm always paying attention to how evangelical schools like Chicago's Moody Bible Institute and Wheaton College are talking about gender and sexuality, and how their students are talking about it as well, especially in closed spaces outside of the institutional eye. As is the case at many evangelical schools, I see a disconnect between the institutional perspective and the perspective of many young people.
For more information about Women and Children First and their robust calendar of free events, check out their website.
For more information about Linda Kay Klein and her stunning book, visit her website.
All photos by Jessie Bond.