Hubbard Street Dance's much-anticipated Winter Series, danc(e)volve returns to Harris Theater for Music and Dance, 205 E Randolph Street, Chicago on December 6th, 8th and 9th, 2018 for Season 41. The program of world premiers features the innovative choreography of Hubbard Street's own artists: Alice Klock, named one of Dance Magazine's "25 to watch for 2018", and 2019 Hubbard Street Choreography Fellows Florian Lochner and Rena Butler.
This reviewer had the opportunity to interview the choreographers about the program and their new work, and here is what they told me:
– Das Feld (The Field) by Florian Lochner
Florian Lochner, Hubbard Street Dance Main Company Dancer and 2019 Choreography Fellow, is delighted to be following Alice Klock's lead into the fellowship, already begun. "It's so easy to work with my fellow Hubbard Street Dancers, because they already know my language", he confided.
He conceives of the dance as not simply "to fulfill a visual sense". Using segments of taped interviews he conducted with 9 of his colleagues allowed him to incorporate their voices into the "sound score" along with his own movements. "This way", said Lochner, "the piece is personal to them and to me".
He described the work- inspired by a book of the same name- as "an exploration of personal relationships, history, and how we wish to be remembered". He reflected, "Life is not about legacy. I want to be remembered for my humanity, as a kind person." Lochner also utilized family trees to create sections of the piece.
– Fold Me by Alice Klock
Fold Me explores the idea that multiple versions of the self might exist refracted over dimensions, time, and space; Alice Klock questions what might happen at the intersection of those dimensions, if the fabric of these lives could fold together to line up. Klock, herself folded up on a nearby chair, described how the genesis of the concept for this dance arose during a discussion with her mother. "It began with the sensation of déjà vu; we wondered if the uncanny sense of 'knowing' in this phenomenon were the self recognizing other aspects of one's self 'popping out'. What would it be like if we could create a dimensional fold that would cause this to happen?"
Using this theme as an overarching idea, she "constructed an emotional trajectory and structure and grafted personalities into it". Klock emphasized "It was important that the work be individually personalized to the people I'm creating with, so I asked the dancers to express what they would be like in another dimension".
– Common Thread by Rena Butler and Florian Lochner
This co-choreographed dance used some portions of the 2 other works on the program by these 2019 Choreographic Fellows. The creators were reluctant to talk much about the piece, so as not to make this preview into "a spoiler". Florian Lochner advised that, "It will be a surprise, and the audience can make their own decisions about it!" Butler added, "The spirit of the evening is self and relativity; this piece will be abstract, a palate cleanser".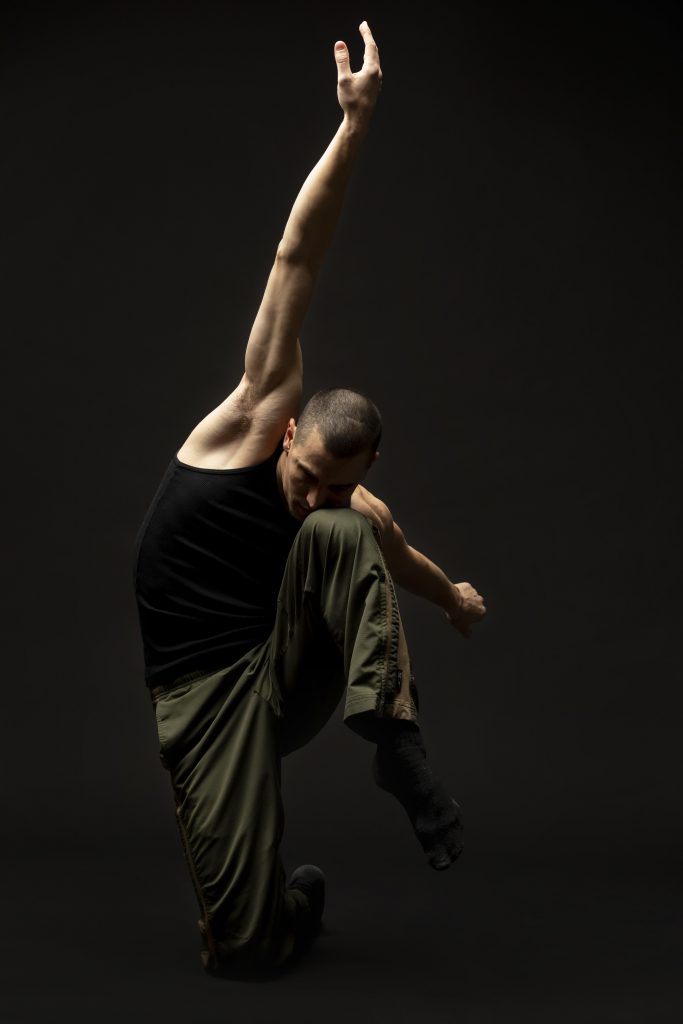 – III.Third  by Rena Butler
Hubbard Street Main Company Dancer and 2019 Choreography Fellow Rena Butler explores her own culture and identity in this new work for the company. It's the final segment of her three-part series; the first portion was recently performed in Chicago at Loyola University, the second was set at the State University of New York at Purchase.
The concept is described in the program as "surrounding gender, race, and culture through the lens of Butler's personal experiences." Butler elaborated on this, "The dance was crafted through my own lens. It's a mirrored image of my own experience, research and deep investigation; that process informs the piece, which is very layered, textured and collected."
Butler noted "I have an open dialogue with the dancers in rehearsal, which gives them the space to create along with me." Observing the rehearsal was an eye-opening experience into the nature of this collaboration.
After the floor of the enormous studio was sectioned off, Butler walked about the rehearsal space, gesturing with her hands and consulting with the dancers. Along with the Hubbard Street Company were members of this year's Hubbard Street Professional Program, (HS Pro) which provides career training and performance opportunities for 20 aspiring professional dancers aged 18-24 who take classes on-site in a year long intensive. Throughout the rehearsal, the principal dancers also conferred with each other, demonstrating and negotiating placement. On the sidelines, the HSP students would quietly copy these movements, seemingly automatically refining their own understanding.
Once the percussive music commenced, the performance was immediately entrancing, the dancers converging in an impassioned landscape of diversity, access, and inclusion while telling a tale of separateness and challenge. It was heady, sexy, funny, brilliantly conceived and executed. At the back of the room sat Butler, bemused, enthralled, calling out delighted encouragement.
The program promises to be fresh, vital, and intriguing!
Note: This performance will include explicit language and the use of haze effects. 
For information and tickets to danc(e)volve and all the great programs of Hubbard Street Dance Chicago, go to www.hubbardstreetdance.com