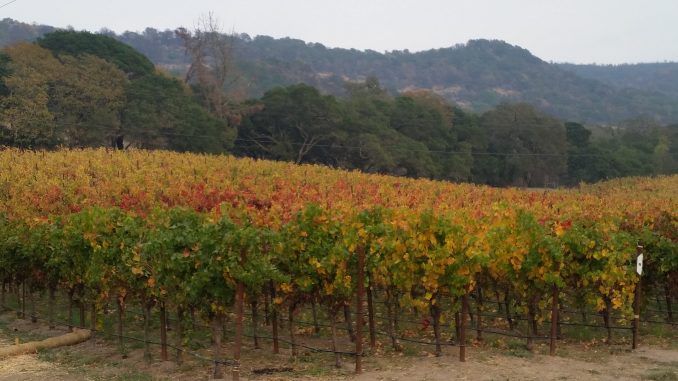 I last visited Sonoma in October of 2014 during harvest season, which is a great time to go. Here we are November four years later as I headed up for a long wonderful weekend of superb wine tasting and some of the best restaurants in America.  Last year in October of 2017 Sonoma got hit with a devastating fire that destroyed many houses but not the wineries, restaurants and hotels. Yet the tourist business suffered greatly for more than half a year. I am happy to say Sonoma is as stunning and charming as I remember it. Napa gets so much attention but for my money Sonoma is the place to go. I love the quaint Sonoma historic town square with over 20 wine tasting rooms, many charming stores and some of my favorite restaurants, which specialize in farm to table cuisine. Within a 15 minute drive from the square are many spectacular wineries to explore their scenic grounds and enjoy their tasting rooms. A few are within biking distance from the town square if you are looking for some exercise.
I spent my first two nights at the
Hidden Oak Inn
run by
Valerie
who is a wonderful host. This
charming Victorian style B and B home dates back to 1914
, and is just one block off the Sonoma town square. They only have 3 beautiful country style rooms to rent out which adds to the charm and attention to detail for your comfort, so do make a reservation. I arrived in the evening after driving the hour in my rented car from the
Oakland Airport
. I quickly melted into this very comfortable king size bed.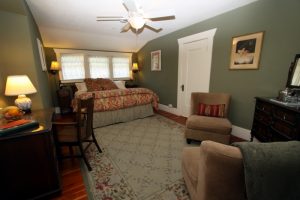 The room is beautifully appointed, the bath towels are those wonderfully fluffy soft inviting towels as is the robe waiting for you in the closet. I noticed a washer and dryer in the closet as well which comes in handy if your in the middle of a long trip.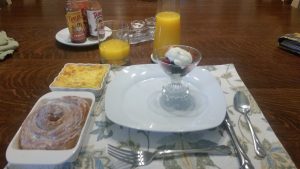 A very generous complimentary continental breakfast awaits you in the morning. Eggs, croissants, yogurt, fresh fruit and cereal, along with coffee and tea. In the early evening enjoy the old style parlor for some wine and cheese, or take it out on the front porch, It's like stepping back in time and yes they have air conditioning for those hot summer nights.
They also have a pool and Jacuzzi out back. There was no TV in the bedroom and it was nice to disconnect for the night. I turned on the radio and enjoyed music while I showered. Valerie will give you a map/ local
Sonoma winery passport which includes several free wine tasting's for two
.
Hidden Oak Inn
is perfect for a couple looking for romance, or a weekend away with friends.
Last time I was here I biked to three of the wineries. Which is a great way to work off the calories for all the top notch wine and food you will consume on this Sonoma adventure. If you are a morning person maybe a dawn hot air balloon ride is in your future.
Sebastiani Winery
is the closest to the town square and less than 5 minute bike ride. The founder
Mr. Sebastiani
is responsible for establishing and building much of the Sonoma town.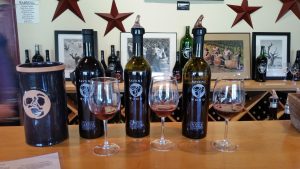 From there it was a 15 minute bike ride, or 3 minute car ride to
Ravenswood Winery
for more exquisite tastings. You will find high quality Reds and Whites at all these fabulous wineries. From there it was onto
Gundlach  Bundschu Winery
, the oldest still owned family winery in California. Six generations later this 320 acres still turns out amazing wines.
From there is was a short ride to
Buena Vista Winery
, which translates to beautiful view.
Founded in 1857 this is California's first premium winery
. The founder
Agoston Haraszthy
came from Hungary and brought vines with him from his family vineyard in Europe. He was a visionary and started planting here in Sonoma, and wrote extensively about his land and new winery for newspapers around the world and thus attracted others to follow him here to Sonoma to join in the wine business, Each of these wineries is worth your time to taste and ship some bottles home. many are a popular setting to host weddings here as well as family and corporate parties.
After a morning of wine tasting it was off to lunch at one of my favorite restaurants in the entire country,
The Girl And The Fig
located right in the historic town square. Voted the top restaurant in Sonoma, I would suggest you do a dinner and a lunch while visiting Sonoma, its that good.
This farm to table restaurant has been a staple here for over 20 years.
They offer a large selection of cheeses, they own their own garden, and cure and smoke all their meats which come from locally owned farms. The interior is lovely but on a nice day the charming patio is my choice. The patio is tented in winter. Begin with a signature drink like the Fig Kiss or the Fig Royale which is a sparkling wine infused with Fig and Vodka. During my two meals here I flipped over an amazing Tuna Conserva appetizer. Local Albacore, lemon creme fraiche, shaved apple, pickled butternut Squash, red onion and sunflower spouts on toast. The combination of flavors that explode in your mouth are delicious. Their signature Fig and Arugula Salad is a must. Goat cheese, toasted pecans and incredible sweet tasting figs make this salad special. You can get a half order of each as I did. the following night at dinner I went for the goat cheese sampler to start things off. There are 6 cheese dishes and 7 Starters to choose from so your choices are endless here. Their impressive menu change seasonally to fit the garden. I could eat here for a week straight and have different fantastic dishes for every meal. If it is winter I enjoy warming up with the soup of the day. For entrees I enjoyed for lunch the Crispy Chicken Thighs over delicate squash with a butternut squash puree.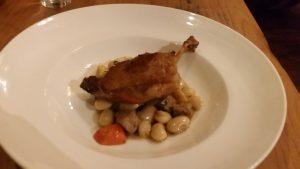 For dinner I had Duck Confit with butter beans, fennel sausage, roasted root vegetables and fresh herbs. Both were filled with amazing flavors. Their friendly staff is wonderful with wine pairing so when in doubt take their advice.  Other entrees include Local Swordfish, MT Lassen Trout, Strip Steak and Wild Flounder. Save room because the desserts are very good. I promise you a very memorable meal so don't miss out and make a reservation they are very popular here at The Girl And The Fig. It is also a local favorite for breakfast.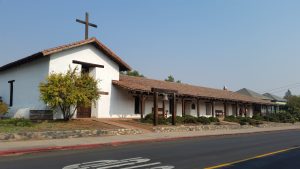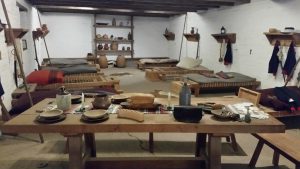 Stroll the town square and visit the historic Mission San Francisco Solano established in 1823 and built under Mexican rule. Don't miss next door the Spanish Army Barracks, an incite to the lack of living comforts back then. It was here in the Sonoma Town Square where in 1846 the California flag with the Bear insignia was first raised. There was even a Russian Settlement in Sonoma starting in 1812 with Fort Ross that lasted to the 1840's. Some local wines labels mention the Russian River, named by the settlement. Lets not forget the Native Americans were here first and forced out by the white settlers over time. Their are several walking wine tasting and history tours around the town Square, I did one when I was here 4 years ago. I recommend you do a google search to find one you like.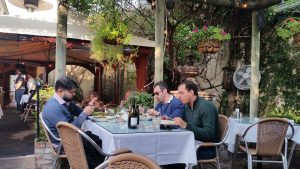 For me any trip to Sonoma includes a lunch and a dinner at my favorite Tuscan style Italian restaurant
Della Santina
. This family owned and run trattoria sits right in the town square and has been here since 1990, Here they serve both their Grandmothers old world recipes from the Tuscan town of
Lucca
Italy 
that have been handed down.  Pass through their gated entry, down a brick walkway into the warm and inviting courtyard and you will believe you are in Italy. Get ready because this is some of the best Italian food you will ever have, Their homemade pastas and sauces will knock you out with all the delicate flavors.Over two days I enjoyed many dishes.
I started with Tonnato di Maiale, thinly sliced Loin of Pork with a very light cream sauce served over mixed greens in a light vinaigrette dressing. Simply superb combination of flavors.
The Scaloppini di Vitello, a sauteed thinly pounded Veal Loin topped with mixed mushrooms and finished with a Marsala wine reduction was pure perfection. I opted for a bowl of pasta instead of the seasonal vegetables and potatoes. Another day I started with the Burrata Con Speck, fresh Burrata and Mozzarella filled with ricotta served on a bed of marinated radicchio and finished with Speck. Rob the owner is a wonderful host and will pair your food choices with terrific wine suggestions.
Four years ago when I came here I was blown away by their Duck Ragu pasta dish, again grandma recipe that you will find nowhere else. So this time I had Pappardelle All'anatra, a house made wide ribbon noodle finished in a Duck Ragu, topped with truffle oil. For last few years I dreamed about that dish and I will for the next few years, this restaurant is that good. The desserts are superb. One lunch I finished with a Panna Cotta and a Cappaccino.
The next night it was the
Torta di Cioccolata
, a fantastic chocolate mousse tart. Right next door they own
Enoteca
, a wine bar/wine store where you can sit at the bar and order off the same restaurant menu and enjoy a ball game on TV.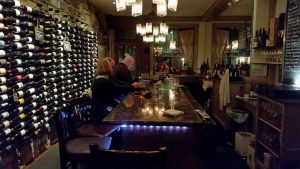 For my final two nights I stayed at the charming
Ledson Hotel
located right in the middle of the
Sonoma Town Square
. This quaint upscale hotel features 6 individually decorated guest rooms on the upper floor. The rooms offers elegant antique grandeur and the feel of a luxury Victorian large home.
My room named The Barkeley Room featured a nice large white Jacuzzi whirlpool bath tub that I enjoyed a soak in after a day of wine tasting and strolling. There was a nice fireplace and balcony looking out over the town square. After dinner I melted into my comfortable king size bed and enjoyed the flat screen TV with surround sound. Yes they have air conditioning and Wi Fi. The bathroom featured twin sinks and counters and a separate stall shower. The ground floor of the hotel is the Zina Hyde Cunningham tasting room.
There is a
Ledson Winery
that boasts 16,000 square foot architectural showpiece known as
The Castle
.  You will feel like your in
Normandy France
as you drive up. The Winery is a 30-minute drive from the Hotel and the staff can set you up with a wine tasting and tour there. For breakfast the Hotel offers a variety of complimentary pastries and muffins and a glass of orange juice.
On my way to visit a few other local wineries I stopped at
Cornerstone Gardens and Marketplace
. Stroll these irresistibly charming variety of different themed gardens. With an old fashion beautiful barn style building in the middle of the property, this is a very popular wedding destination.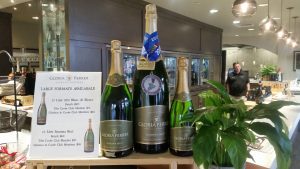 Directly across the road and up the hill you will find the
Gloria Ferrer Winery
which specializes in sparkling wines, a favorite of mine. I especially enjoyed their Brut Rose and the Cameros Cuvee wines. They offer a nice tasting menu of wines and light foods to enjoy while enjoying a view of the valley below. Every winery I mentioned has their own wine club with some terrific discount offers, so get on their E-mail list and have some wine delivered to your home.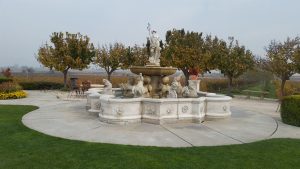 Just a stone throw up the road is the
Jacuzzi Family Vineyards
set it what looks like a lavish Italian Villa. And yes this is the
Italian family that invented the jacuzzi pump
which bears their name. Here you will enjoy tasting many Italian inspired wines and do sample their large variety of olive oils they offer for sale.
An afternoon massage at the
Fairmont Sonoma Mission Inn Spa
followed by dinner at their restaurant named
Sante
is a must. Their spa is named the
Willow Stream Spa
, Located atop an
ancient thermal mineral spring
that flows from 1100 feet below. Their large treatment menu ensures an authentic approach to therapy using local products and traditions, creating a wonderful top notch experience. Choose from a large selection of massages, body treatments and facials, while enjoying full use of the health club. Before my hour massage I opted to soak in the outdoor pools each one offering a different water temperature. After my wonderful relaxing massage I really loved their relaxation lounge. Here you find padded lounge style chairs to stretch out on in your robe while the soothing music and a Japanese style nature visuals moving on a large screen offer you a feeling of pure zen. It was so wonderful and relaxing, a perfect way to end my Spa experience.
I could have stayed there for hours and been happy but it was time to shower and change back into cloths for dinner at
Sante
. Here you can dress casual but the experience is high class.
I started the evening with a Mission Mai Tai. The pirate in me loves rum drinks and I wasn't disappointed, it was one of the best I have ever had. From the Starters I went with the Housemade Tagliatelle, Alaskan King Crab over the house-made pasta. The King Crab was flown in live from Alaska. The taste was fantastic, some of the best King Crab I've ever had. Other starters to choose from on this seasonal Chef Tasting Menu were, Grilled California Squab, Fois Gras Millefeuille, Beets, Steamed Black Cod, to name a few. The  smartly dressed Wine Steward approaches each table with his suggestions and returns to pour the wine himself. I like white with this pasta and enjoyed the 2015 Rams Gate Chardonnay.
For my Entrees I went with the Miyazaki A5 Wagyu Beef. The meat is certified with a certificate from Japan giving each cow a number. It was served with milk bread. This thin sliced beef was prepared delicately and was packed with flavor. By far the best tasting beef I have ever had. This is the highest grade beef Japan exports, Kobe beef is not exported. I've had Kobe beef at the Palace Hotel in Tokyo and this was just as good if not better. The Wine Steward choice was 2012 Stone Edge Farm Cabernet Sauvigion, which paired perfect with the beef. Save room for a wonderful dessert. Don't miss a dinner or two here at Sante on your next trip to Sonoma.
While strolling the historic town square you must stop into the unique and wonderful
Socks On The Square Store
. Here you will find every type of wonderful designs on high quality socks. Presidents faces like
Obama, Lincoln and Washington
are here. An array of colorful Star Wars characters,
Dr Seuss
is well represented along with animals from Cheetahs, Dolphins and Tigers. If you can think of it they have it. Several different surfing socks, one best seller features
Duke
the father of surfing.  I got myself Cheetahs and a Pirate pair featuring skulls and swords. And as a Christmas present to mail my 11 year old granddaughter a pair featuring the Grinch and another pair with IT One and IT Two, You cant go wrong with
Dr Seuss
. So find time in your busy schedule and head to wonderful
Sonoma
, its all great fun and good for your soul.
Photo's By Mitch Sacharoff and Provided by the Hotels Restaurants and Wineries.