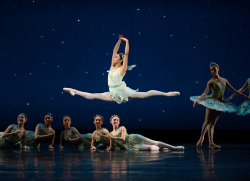 I had the delight of observing my nearly eight-year-old great-granddaughter as she was mesmerized watching her first live ballet. She was in good company as one of many young people who dotted the audience at the War Memorial Opera House for the matinee performance of "Don Quixote" on January 26, 2019. What could be a better ballet for children and/or a first-time ballet experience?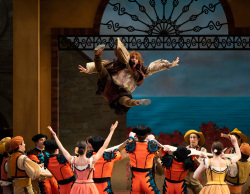 The ballet is gorgeous and filled with drama and humor, and San Francisco Ballet did it proud.
"As my dancer granddaughter noted: "The ballet of Don Quixote delights all types of ballet goers: it has a little bit of everything. There's a fantastical dream sequence, character dances with various props, flashy costumes, several changes in scenery, beautiful music, playful pantomime, tricky footwork sequences, classic choreography with spaces for new choreographers to show their work, and a wonderful sense of fun. San Francisco Ballet's current production meets the demands for each of these, but what I found most enjoyable about the production was how they projected a sense of fun throughout the show. With skilled dancers, an experienced choreographer and director, and a talented array of artists in charge of the production, watching the show is delightful. As wonderful as watching the show was, the most wonderful part of watching the show for me was glancing over to see my seven-year-old daughter perched on the edge of her seat, completely riveted by the spell cast by the performance, smiling from ear to ear as she clapped enthusiastically each and every time there was an opportunity to do so. I am so grateful to San Francisco Ballet for creating such a marvelous production and I highly recommend this production for romantic evenings, fun with friend, or family outings."
With staging first performed in 2003 and last seen in the 2015 Repertory Season, Artistic Director and Principal Choreographer Helgi Tomasson and Choreographer in Residence Yuri Possokhov update Alexander Gorsky's revisions to Marius Petipa's original choreography from 1869, making this year's Don Quixote a celebration of the 150th anniversary of this vibrant ballet, a rare comedy in the classical repertory.
This is one of three narrative ballets of the 2019 Repertory Season that was inspired by only two chapters from Miguel de Cervantes' titanic picaresque novel, Don Quixote. It presents many dynamic characters, including Don Quixote, a humorous Sancho Panza, the loveable squire, the flirtatious Kitri (Dulcinea), the barber Basilio, and so much more.
As my granddaughter, great-granddaughter, Lily, and I enjoyed the beauty of the performance- beautiful music, gorgeous sets, exquisite dancing, amazing costumes in an historic and opulent opera house, I wondered what Lily was thinking about this exciting adventure.  All of us wanted the performance to go on forever, but it did have to end and when it did, I presented Lily with some questions.
Is this your first visit to the War Memorial Opera House? What impressed you about it?
When we went to the ballet, it was my very first time going to the War Memorial Opera House. I was excited when we went inside, too. I was impressed by how many pictures for the ballet were all around the building.
Before you arrived, you learned a lot about the story of the ballet and watched videos of it. Was actually watching the ballet what you expected?
Watching the ballet was mostly what I expected, I expected there to be a wedding but the costumes were a bit different. The story was pretty familiar, it was exciting to see a live performance and all the costumes and set.
Were there any surprises?
The design of the costumes and set were different than what I expected. What surprised me the most was the real horse on stage!
Were you able to listen to the music given that there was so much going on? If so, what did you think about the way it sounded?
I liked the music. I was surprised to see a woman conductor, but more surprised when she went on stage wearing street shoes to take a bow. I'm not allowed to wear street shoes in my dance studio.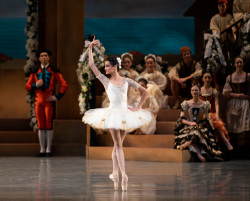 Did you have any favorites? A favorite scene? A favorite costume? A favorite person? Any other favorites?
I liked all the dressy costumes a lot. I loved the whole thing too much to have a favorite part.
——————————————————————————————————-
You will love this, too and it will leave very soon. Don't miss the opportunity to see this production.
Additional information including Don Quixote's synopsis and associated content is available on San Francisco Ballet's website, in its Discover section. Ancillary events are also scheduled, and include a Ballet Book Club on February 2 at 5:00 pm. Meet the Artist pre-performance interviews occur on January 25 at 7:00 pm, January 27 at 1:00 pm, February 1 at 7:00 pm, and February 3 at 1:00 pm. Don Quixote's Pointes of View lecture with Helgi Tomasson and dance educator Mary Wood is January 30 at 6:00 pm.
Photos: Courtesy of the San Francisco Ballet