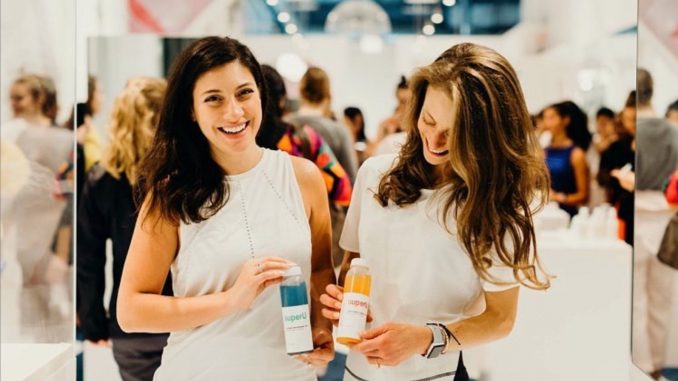 Now that the new year has arrived, many want to start off with resolutions, goals and a fresh start. A popular one that I myself try to partake for the year is to take better care of myself by treating my body right. Eating more veggies and fruits, and choosing healthy beverages. After all, when you feel good; well it's nice to just feel great. Right?
That's where the NEW beverage superhue comes in. While originally called superU, one of the creators, Korina Sanchez says that the name update is an ode to that the natural bright colors of the juices used in the beverage as well as the company's promotion of self-expression, individuality and being your best "color" or /self. Along with ingredients that include real juice and natural ingredients, this elixir contains 15mg of CBD which sets it apart from other beverages.
Creators Korina Sanchez and Marie Goodman told me all about themselves and how they came up with superhue.
Having met in college at Michigan University, Sanchez says that she and Goodman were sorority sisters and roommates. After college, Sanchez went to law school and practiced law for a few years. She says, " I still practice, but I always knew I wanted to do something more, especially something that would incorporate my love for food and health. Marie has been in the healthcare industry since graduating from the University of Michigan, doing mostly healthcare consulting and project management at larger companies. She recently moved to a startup fitness web platform and event company which allows her to have real insight into the health & wellness community which is so helpful for us as we grow superhue."
So why was superhue started?
"Marie spent a couple months in Denver last year where she first heard of CBD and its benefits and was excited that she could legally buy it in Illinois and experience the amazing mood boosting and anti-inflammatory benefits of CBD here, without the high. We played around with a few ideas, but we saw it as a complete health supplement that we personally, would love to have in a beverage, whether we wanted to start our day with it, get over that mid-day slump, unwind at the end of the day, or even make cocktails with it! It's just so versatile."
I had the opportunity to attend their launch party a couple weekends ago at The Space Between in downtown Chicago. Upon arrival I saw the cans of their 3 flavors: carrot ginger turmeric apple cider vinegar, beet strawberry basil apple cider vinegar, and blue majik mint lemonade. I was intrigued by blue majik as I had never heard of it before. I was pleasantly surprised. And lemonade is always yum, too. I later tried the other flavors too. There is definitely something for everyone's taste.
When I asked why we will love this compared to other beverages on the market, Sanchez says, "There are quite a few companies coming out with CBD infused sparkling waters. First, ours has 15mg of CBD which we believe is a really great dose to combat daily mild-moderate stress and anxiety symptoms and inflammation. Second, our flavors are so unique! We do not use "flavors", we use real juices and ingredients. And all of our flavors also have less than 1g of sugar per serving! "
You might be wondering what CBD is or how it might affect you if you are drinking it. According to superU's website:
"Cannabidiol (CBD) is one of more than a hundred cannabinoids found in cannabis strains, like hemp which we use. It is non-psychoactive, so it won't make you high. In fact, your body actually produces its own slew of cannabinoids, which attach to receptors in your brain and throughout your body to support a variety of processes including memory, mood, pain, metabolism, immune function, appetite, sleep, and stress. Hemp supports these cannabinoids and boosts their effects."
The Space Between definitely fit the selfcare, serene aesthetic. After an introduction of the space and beverage with a True or False Game about CBD facts, attendees were participants in a yoga class lead by Stephanie Rosenblum. Relaxing, it was also as superhue says, #amplifynaturally and get lifted. For more from Stephanie Rosenblum click here
Cindy Luffred, the founder of Revealing Soul then gave us some spiritual insight through a mini workshop on Auras auras as she was at launch party with an aura camera taking a person's individual aura photo and providing a mini reading. It was interesting to see my own aura photo and understand what all the colors stood for.

From here, superhue arranged for the attendees to move around and explore other healthy foods and self care items. GRAZE was in attendance with some yummy green and red smoothies. Have you ever had popped lotus seeds? Something different, interesting and awesome from a new company called foxxpop; I think it is an addicting and a perfect snack to go with your superhue drink of choice. And for anyone who can't resist great workout and yogawear, Outdoor Voices was there with a trunk show.

Wondering which ones are the founders' favorite flavors? Sanchez says that it " depends on my mood! Strawberry and Carrot flavors have additional benefit of apple cider vinegar so they taste like a slightly tart healthy soda, but the blue majik tastes like an adult lemonade! it's so yummy!"
And where will we be able to purchase superhue? Sanchez says, " People can purchase on our website – www.drinksuperu.com soon to be www.drinksuperhue.com. $30 for a 6 pack. We will also be available for purchase at local stores in Chicago starting mid-February. We will routinely update our website to list at what local stores we are available."
Superhue is a tasty drink that I enjoyed. It's definitely something I will be reaching for as part of my health quest.