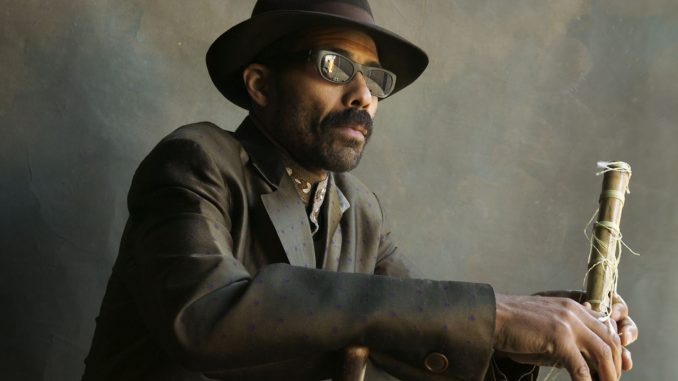 Sir Kahil El'Zabar's Ethic Heritage Ensemble (EHE) embarked on its 46th annual Black History Month tour, Tour 46: Be Known, throughout February 2019. Band members include Kahil El'Zabar, percussion/vocals; Alex Harding, baritone saxophone; Corey Wilkes, trumpet; with special guest appearances by Ian Maksin, cello.
El'Zabar, a much-decorated visionary conductor/multi-instrumentalist/composer, has just been signed as flagship artist for Spiritmuse Records, based in London, who are backing the North American tour. The new company is dedicated to "exploring the world of deep, spiritual and avante-garde jazz and its infinite world music influences".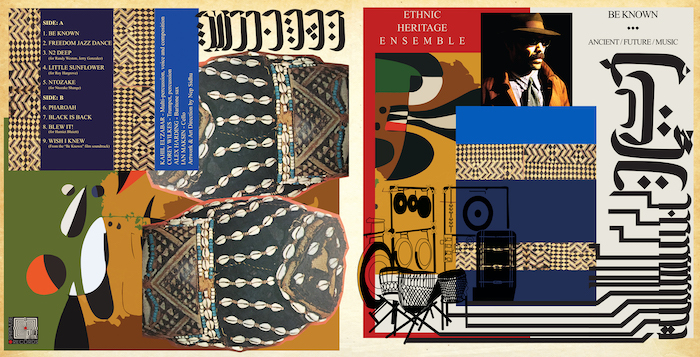 The new release, an audiophile recording (which will also be available digitally) called Be Known: Ancient/Future/ Music with the 4 EHE touring artists, is due out in March 2019, and the new-art/afro-centric yet universally accessible jazz tunes will be largely featured on the 19- city 21-concert North American series of engagements.
A charismatic improviser who's collaborated with Stevie Wonder, Paul Simon, Nina Simone, and Cannonball Adderley, percussionist/vocalist Kahil El'Zabar is a second-generation member of Chicago's Association for the Advancement of Creative Musicians (AACM) and proud heir of that Afrocentric collective. As the leader of the Ethnic Heritage Ensemble for more than four decades, he's created a body of incantatory jazz anthems marked by call-and-response interaction and surging countermelodies.
"I am a student of life," says El' Zabar, "I have very strong personal affection for my colleagues, and I have loved every moment of the music we have made together". He noted, "The spirit of one's approach comes first, even before the technical virtuosity. All the facility in the world with nothing that comes from the heart doesn't make good music."
In Washington D.C., (where the Ethnic Heritage Ensemble will perform on February 17th at Rhizome DC- Art Learning DIY Culture, 6950 Maple St., NW, 20012), The Library of Congress, National Archives and Records Administration, National Endowment for the Humanities, National Gallery of Art, National Park Service, Smithsonian Institution and United States Holocaust Memorial Museum all join in paying tribute to the generations of African Americans who struggled with adversity to achieve full citizenship in American society. Museums, cultural institutions, and organizations all over the country follow their example.
"As a Harvard-trained historian, Carter G. Woodson, like W. E. B. Du Bois before him, believed that truth could not be denied and that reason would prevail over prejudice. His hopes to raise awareness of African American's contributions to civilization was realized when he and the organization he founded, the Association for the Study of Negro Life and History (ASNLH), conceived and announced Negro History Week in 1925. The event was first celebrated during a week in February 1926 that encompassed the birthdays of both Abraham Lincoln and Frederick Douglass. The response was overwhelming: Black history clubs sprang up; teachers demanded materials to instruct their pupils; and progressive whites, not simply white scholars and philanthropists, stepped forward to endorse the effort.
By the time of Woodson's death in 1950, Negro History Week had become a central part of African American life and substantial progress had been made in bringing more Americans to appreciate the celebration. At mid–century, mayors of cities nationwide issued proclamations noting Negro History Week. The Black Awakening of the 1960s dramatically expanded the consciousness of African Americans about the importance of black history, and the Civil Rights movement focused Americans of all color on the subject of the contributions of African Americans to our history and culture.
The celebration was expanded to a month in 1976, the nation's bicentennial. President Gerald R. Ford urged Americans to 'Seize the opportunity to honor the too-often neglected accomplishments of black Americans in every area of endeavor throughout our history.' That year, fifty years after the first celebration, the association held the first African American History Month. By this time, the entire nation had come to recognize the importance of Black history in the drama of the American story. Since then each American president has issued African American History Month proclamations. And the association—now the Association for the Study of African American Life and History (ASALH)—continues to promote the study of Black history all year."
Excerpt from an essay by Daryl Michael Scott, Howard University, for the Association for the Study of African American Life and History
About what the Black History tour means to him personally, El' Zabar stated, "The basis of the strength of any artistic evolution has come from ethnicity. It's very important for the world to know about the contributions that Black people have given to music". He looks forward to a future in which "All people, all ethnicities, all contributors will share and be heard all the time in a continuous natural integration".
Catch The Ethnic Heritage Ensemble on its North American Tour Be Known at the cities and venues listed below: