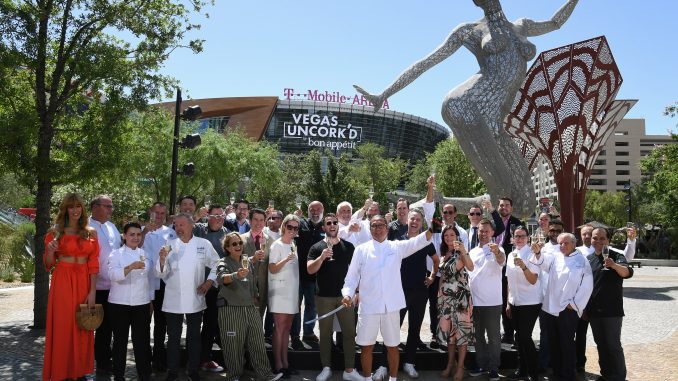 Vegas Uncork'd by Bon Appétit today announced tickets on sale for the 13th annual culinary festival May 9–12, featuring a world-class lineup of renowned celebrity chefs, restaurateurs, master sommeliers and cutting-edge mixologists from Caesars Entertainment, The Cosmopolitan of Las Vegas, MGM Resorts International and Wynn Las Vegas. Tickets are available for purchase at vegasuncorked.com.
Vegas Uncork'd by Bon Appétit is the only festival that brings the world's most iconic chefs together for a once-in-a-lifetime gourmet experience. This year's headliners include Roy Choi, Christina Tosi, Gordon Ramsay, Lisa Vanderpump, Guy Fieri, Masaharu Morimoto, Guy Savoy, Julian Serrano, Michael Mina, Mark LoRusso, Nobu Matsuhisa, Bryan and Michael Voltaggio, Will Guidara and more. Southern Glazer's Wine and Spirits of Nevada is the official distributor across all festivities.
Chef Lorena Garcia will hosting her CHICA "Mom-Mosa" Brunch as she will be celebrating the two-year anniversary of CHICA at The Venetian Resort, in a stunning celebration of Latin American cooking and hospitality showcasing flavors, influences, and techniques, re-imagined in her distinct global style. This spectacular brunch event is the perfect way to celebrate Mom or the favorite women in your life, with a variety of Chef Lorena's favorite dishes served alongside festive brunch cocktails. Chef Lorena commented that this is one of her favorite events of the year as she not only gets to mingle with so many fellow chefs, but it is a unique experience that allows her to a more intimate and up-close experience with guests.
"Over the years, Las Vegas has evolved into one of the world's most exciting culinary destinations," said Cathy Tull, chief marketing officer for the Las Vegas Convention and Visitors Authority. "We're excited to partner with Bon Appétit to showcase this incredibly comprehensive collection of distinguished restaurants, chefs, master sommeliers and unique epicurean experiences, all in one thrilling weekend."
This year, guests can choose from a variety of experiences, ranging from intimate dinners to large-scale events. Returning favorites include The Grand Tasting at Caesars Palace, featuring exclusive Top Shelf access, and Picnic at The Park, MGM Resorts' outdoor dining and entertainment district. New and notable activations include Roses and Rosé with Lisa Vanderpump, Champagne Brunch & Truffle-Making with Christina Tosi, Master Series: Gordon Ramsay's Favorite Things, Under the Stars at The NoMad Pool and May the Best Chef Win: Celebrity Poker Tournament.
Condé Nast has announced additional lifestyle brands from across its portfolio will host portions of this year's festival, including AD, Condé Nast Traveler, GQ, them. and Vogue.
"We are excited to head back to the Strip to celebrate 13 years of Uncork'd," said Adam Rapoport, editor in chief of Bon Appétit. "Nowhere else can you experience this stellar lineup of chefs, resort partners and brands. This year promises to be nothing short of incredible."
New and notable:
Master Series: An Evening of Steak and Scotch with Greg and Marc Sherry, featuring Macallan (Caesars Palace), Thursday, May 9: Greg and Marc Sherry from the legendary Old Homestead Steakhouse present with GQ a one-of-a-kind dinner, featuring a distinct variety of scotch whisky from Macallan. Over a welcome cocktail and four courses featuring classic dishes and new favorites from the Old Homestead menu, guests will savor a variety of exclusive and rare selections, including The Macallan 25 Year Old. No matter how you indulge, this intimate evening is one to remember for scotch and steak connoisseurs alike.
Roses and Rosé with Lisa Vanderpump (Caesars Palace), Thursday, May 9: Get ready for a night of intrigue at the all-new Vanderpump Cocktail Garden. Hosted by Lisa Vanderpump and Vogue's Sally Singer, enjoy sweet and savory bites as you mingle in a lush, candle-lit indoor garden complete with a DJ and free flowing rosé and cocktails.
May The Best Chef Win: Celebrity Poker Tournament (Wynn Las Vegas), Friday, May 10: Icons of the culinary world will be putting their best poker faces forward to compete in the Celebrity Chef Poker Tournament at Wynn's Poker Room on Friday, May 10. Guests get an up-close-and-personal experience, cheering on their favorite chefs as they play to win. Cocktails and irresistible snacks up the ante at this one-of-a-kind poker match. Plus, a portion of the proceeds will support charitable causes.
Perfect Peking Duck and Other Secrets of Chinese Cooking (Wynn Las Vegas), Friday, May 10: Chef Ming Yu invites you behind the scenes into the kitchens of the five-star Wing Lei at Wynn Las Vegas for an exclusive interactive cooking demonstration. Learn the secrets to cooking perfectly crispy Peking duck as well as several of the restaurant's renowned signature dishes. An informal lunch will follow the class.
Champagne Brunch & Truffle-Making with Christina Tosi (The Cosmopolitan of Las Vegas), Saturday, May 11: Pinkies up for a whimsical Saturday morning with Vogue and James Beard award-winning pastry chef and owner of Milk Bar, Christina Tosi, for a brunch featuring bites, bubbly and baking! Guests will have the opportunity to get their hands divinely dirty as they take part in an interactive cake truffle-making class alongside Christina while enjoying bottomless champagne, a spritzer station, and a decadent and delicious brunch spread.
From Amalfi, with Love (Wynn Las Vegas), Saturday, May 11: Celebrate the Amalfi Coast during an al fresco tasting extravaganza featuring the fresh flavors of Capri, Positano, and the Italian Coastline. At Costa di Mare at Wynn, guests will enjoy live culinary demonstrations, savor seafood and pasta at various tasting stations, and dream the day away with Italian-inspired cocktails, wines, and much more.
Master Series: Gordon Ramsay's Favorite Things (Caesars Palace), Saturday, May 11: Join award-winning chef Gordon Ramsay as he gives guests a glimpse into the Ramsay household and his distinguished career with a selection of his favorite dishes and special family recipes from throughout the years. Guests will enjoy a seated multi-course experience and will walk away with a commemorative photo along with recipe cards to recreate some of the dishes at home.
Yo Cuz!: An Italian Afternoon with Steve Martorano (Paris Vegas Hotel & Casino), Saturday, May 11: Anything is possible and everything is delicious with Steve "Yo Cuz" Martorano. Join the "heavyweight champ of Italian-American cooking" as he demonstrates some of his most famous dishes as seen on "Jimmy Kimmel Live!," "The View," and "STEVE." Guests will also walk away with a DVD keepsake.
Under the Stars at The NoMad Pool (NoMad Las Vegas, located at Park MGM), Saturday, May 11: NoMad Las Vegas will host the coolest roof deck pool party of the season led by Will Guidara, restaurateur of the 2017 World's Best Restaurant as well as The NoMad Restaurant. Enjoy a night under the stars while sipping expertly crafted cocktails, dining on elevated casual fare and listening to the latest beats courtesy of On The Record, the new speakeasy and club at Park MGM. The event will be filled with interactive, immersive moments and special surprises. Discover NoMad Las Vegas, an intimate resort experience and The Strip's newest destination.
Returning favorites:
Master Series: Beyond the Blade with Chef Nobu Matsuhisa (Caesars Palace), Friday, May 10: Hosted by legendary Chef Nobu Matsuhisa, who has traveled the globe creating authentic and inventive Japanese-fusion cuisine that has grown into more than 30 restaurants and soon-to-be 20 branded hotels. This signature event will enlighten guests to world-class sushi, Nobu signature dishes and premier sake, all in an intimate and interactive atmosphere.
The Grand Tasting (Caesars Palace), Friday, May 10: The Grand Tasting is the signature event of Vegas Uncork'd, where over 2,500 food enthusiasts enjoy a staggering variety of signature dishes prepared by some of the world's most celebrated chefs. The dramatic five-acre Garden of the Gods Pool Oasis at Caesars Palace will feature more than 50 award-winning chefs and more than 100 of the best wines and spirits from around the world. EARLY ACCESS: Gain exclusive early admission to the event with an Early Access ticket. A limited number of tickets are available to deliver the undivided attention of culinary experts on site.
The Grand Tasting: Top Shelf (Caesars Palace), Friday, May 10: We're offering a prestige Top Shelf experience for guests at The Grand Tasting. Lucky event attendees will have a chance to sample the best bar program Vegas has to offer with four dedicated top shelf bars showcasing premium wine, cocktails, and beer. Along with these sensational sips, guests will sample light bites from a star chef from Caesars Palace. Hosted at the Bacchus Pool, you'll spend the evening indulging like Caesar and Cleopatra while relaxing in the VIP cabanas.
Master Series: The World's Best, An Epicurean Affair with Guy Savoy (Caesars Palace), Saturday, May 11: Renowned chef Guy Savoy will present a multi-course epicurean affair with premier pairings, serving signature dishes alongside some of the world's great wines and champagnes at his Forbes Five-Star/AAA Five-Diamond Las Vegas restaurant. With his Paris restaurant recently receiving the "Best Restaurant in the World" award from La Liste for the third year in a row, this meal will take diners on a truly special adventure across Chef Guy Savoy's empire of tastes and influences, celebrating his achievements through his signature creations paired with wine from the restaurant's Wine Spectator Grand Award winning list. A roaming violinist will complete the five star sensory experience. Don't miss this rare opportunity for an intimate dinner with a world-renowned legend.
Picnic at The Park (The Park, located between Park MGM and New York-New York), Saturday, May 11: Soak up the sunshine and celebrity at the third annual Picnic at The Park, Vegas-style, featuring live music and an all-star roster of MGM Resorts' most notable chefs, including Jean-Georges Vongerichten, Michael Mina, Masaharu Morimoto, Roy Choi, Bryan and Michael Voltaggio, Susan Feniger, Julian Serrano, Shawn McClain, and MGM Grand executive pastry chef Florent Cheveau. Picnic at The Park will offer creative twists on classic, al fresco dining perfectly paired with wine curated by Master Sommelier Jason Smith, cocktails by Mixologist Craig Schoettler, and a variety of beer. Located on the Las Vegas Strip, this marvelous outdoor experience lets you enjoy a fun, interactive afternoon of picnicking with celebrated chefs. EARLY ACCESS: Gain early admission to the event with an Early Access ticket. A limited number of tickets are available to deliver the undivided attention of experts on-site, an exclusive signature cocktail available only to early access guests, and an opportunity to interact with the chefs in a more intimate setting.
Raise a Glass to the Past: A Speakeasy Tasting and Distillery Tour at The Mob Museum (The Underground Speakeasy and Distillery The Mob Museum), Saturday, May 11: Go back in time to the Prohibition era for a tasting and tour at The Underground, The Mob Museum's speakeasy and distillery. Guests will be transported by the taste of spirits smuggled by mobsters decades ago as they sample a variety of classic cocktails, new moonshine flavors from the Museum's own on-site distillery, and delicious passed appetizers while listening to live jazz, exploring eye-opening exhibits, and learning inside stories from expert educators.
A Smokin' Good Time with Susan Feniger (Mandalay Bay), Saturday, May 11: Chef Susan Feniger and Executive Chef Mike Minor are bringing the heat at an epic BBQ party with a Mexican twist. Join the Border Grill chefs, Andy Baraghani of Bon Appétit, and host Whembley Sewell, Executive Editor of them, for a smokin' good time on the outdoor patio at Border Grill at Mandalay Bay as a variety of meats, plant-based proteins, and veggies get smoked, grilled, and slow cooked to perfection at interactive stations. Guests will experience a mouthwatering feast of mesquite pulled pork tortas, fried chicken tacos, slow-smoked Texas-style brisket, spare ribs, house-smoked tofu with habanero BBQ sauce, impossible sliders, all the fixins' and much more. Not to be missed, the famous burnt ends burrito, named "best burrito you will ever try" by USA TODAY, from BBQ Mexicana, a new quick service eatery from Chefs Mary Sue Milliken and Susan Feniger at Mandalay Bay Resort and Casino. Top it all off with the local craft beer pairings, barrel-aged cocktails, smoked spirits, fire pits, and live music.
Master Series: Rao's Italian Brunch with The Rao's Family (Caesars Palace), Sunday, May 12: Celebrate Mother's Day the Italian way–with Rao's Restaurant owners Frank Pellegrino Jr. and Ron Straci at a true Rao's family-style event. At this intimate afternoon affair, you'll enjoy a seasonally inspired multi-course brunch featuring authentic family recipes and perfectly paired libations in honor of the occasion.
About Bon Appétit
Bon Appétit is where food and culture meet. The award-winning No. 1 food lifestyle brand covers food through the lens of cooking, fashion, travel, technology, design, and home. As the leading arbiter of taste, its home-grown talent and tireless dedication to recipe testing separates it from the competition by miles. Bon Appétit has been named to Advertising Age's A-List for eight consecutive years, including Magazine of the Year 2013 and 2017, Brand of the Year 2015, and Digital and Video recognition in 2019, and has been named to Adweek's Hot List every year since 2012, including Hottest Food Magazine in 2013, 2017 and 2018. Bon Appétit has also been nominated for 32 National Magazine Awards in the past six years, including wins in 2014 for General Excellence and Photography, and in 2017 for General Excellence. For more, visit www.bonappetit.com.
About the Las Vegas Convention and Visitors Authority
The Las Vegas Convention and Visitors Authority (LVCVA) is charged with marketing Southern Nevada as a tourism and convention destination worldwide and also with operating the Las Vegas Convention Center. With nearly 150,000 hotel rooms in Las Vegas alone and more than 11 million square feet of meeting and exhibit space citywide, the LVCVA's mission centers on attracting ever increasing numbers of leisure and business visitors to the area. Download the virtual reality app, Vegas VR, to experience Las Vegas from your iPhone or Android by visiting http://www.vrtv.vegas/. For more information, go towww.lvcva.com orwww.visitlasvegas.com.