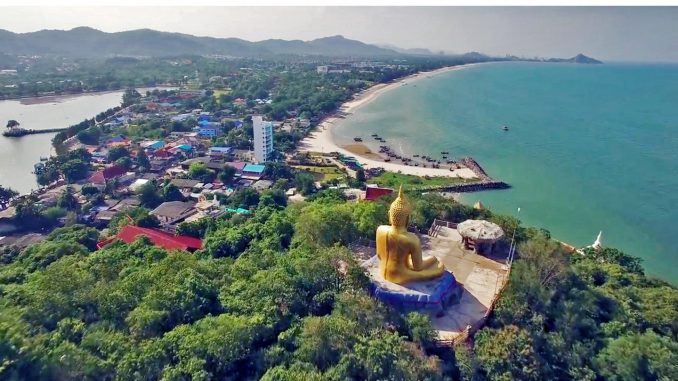 Honestly there are so many stunning beach towns in Thailand it's hard to choose. They each have their own unique attractions. Phuket with it's famous Maya Beach as seen in the movie -The Beach. Krabi with it's dramatic limestone cliffs and white powdery sand beaches, a rock climbers heaven. But for a quick get away from the bustle of Bangkok, Hua Hin on the gulf of Thailand is a short 3-4 hours away.
HUA HIN BY TRAIN – There are a several ways to get there. Taxi which is around $80.00 each direction, Mini-Van at about $6.00 or the train which I prefer at $12.00 each way for an air-conditioned 1stclass car with reclining seats, including a hot meal of rice, curried chicken and a beverage. There can be heavy traffic on the highways, especially weekends. and the train is doesn't have that problem. It's a relaxing nice way to take in the sights on the way down to Hua Hin.
I've also tried the 3rdclass cars for $1.20. No air-conditioning, no reclining seats but a nice way to be with the locals while vendor walk up and down the aisle selling food, sandwiches, ice cream, you name it! It will be rare not to see a smile from the people on board you're riding with.
The morning express train leaves Bangkok at 8:00am. Within an hour you're out rolling through the country side west and south of Bangkok past lush green rice paddies arriving in Hua Hin just around noon. Departures and arrivals have always been on time give or take a few minutes.
My last trip to Hua Hin I was fortunate to be invited by the Tourism Authority of Thailand on a 4 day visit to the coastal town on a (FAM) familiarization trip.
MONSOON VALLEY WINERY – Our first stop was for lunch and wine paring at the Monsoon Valley Winery nestled in the hills behind Hua Hin.
We ordered fried calamari, spinach pizza, seafood salad and jasmine rice.
Next came the paring with three wines. A white wine with crab, rose with rock lobster and a delicious Sarah with smoked duck. All three wines were well balanced and tasty!
My favorite was the 2016 Shiraz with a slight taste of coffee. The roots for these grapes were imported from France. I enjoyed it so much I bought two bottles to bring back to California for friends to try. 
We toured the winery with an extremely informative guide who's English was perfect. She really knew here wines!
HOLIDAY INN, HUA HIN – After the winery we checked in at the Holiday Inn, Hua Hin. Not a traditional Thai hotel but new, modern and well managed with of course Thai superb hospitality.
We were treated by the management to late afternoon custom-made cocktails high on the 26th floor. There is a observation deck with glass floor looking down on a water park below. If you don't have vertigo, it's pretty exciting to look down 26 floors.
The view was stunning with the Gulf of Thailand off on our right and the sun setting in Myanmar off in the distance to our left.
THE ORIENT EXPRESS – One afternoon while on my room deck, I observed a shinny green and yellow train flying north on the tracks down below. This struck me as odd as all the trains I've ever seen in Thailand are red & white or purple in color. I jumped on the internet and discovered it was the famous "Orient Express." The luxury train runs between Bangkok and Singapore 3 times a month. Lucky timing to see a piece of history passing by.
MRIGADAYAVAN PALACE – The next day we visit the grand summer palace, Mrigadayavan, of King Rama VI. He was Thailand's most highly renowned artist, writing modern novels, short stories, newspaper articles, poems and plays. He even translated three of Shakespeare's plays into Thai.

Build on the shores of the Gulf in 1923 it served as his family's holiday 3 months a year out of Bangkok. The palace, at the time of this writing, is undergoing a massive restoration costing 250 million Thai baht / $8,000,000 US. One half of the palace was the king's and the other half was the residence of the queen.
WEDDINGS IN THAILAND – On Wednesday we attended a buyer's and sellers meeting for weddings to Thailand. Buyers came from around the world to get information for their clients on weddings in "the land of smiles." US, Russia, France, Australia, Canada. to name a few, were all represented.
It was interesting to hear just how many couples would fly in from all over the world for weddings in Thailand, but again, this is exotic Thailand!
The beach is always a nice setting often chosen by couples.
BARAI WELLNESS CENTER – After the meeting we were treated to an hour and a half aroma therapy massage at the Barai Wellness center located near the Hyatt Regency in Hua Hin.
Visiting this facility was like going back in time to a Turkish bath. It was exceptional service and the massage, well the Thai's excel at this! I highly recommend spoiling yourself at Barai, at least once. It's extremely well priced, under $50.00.
SEENSPACE BEACH MALL – Towards the end of the day we drove down to the new and only beachfront mall in Hua Hin creatively named SEENSPACE.
It's ranked as the premier destination for a laid-back vibe complete with JD playing music for relaxing poolside by the sea. It is a very chill environment with multi-brand fashion stores, exclusive pool bars, and restaurants offering a variety of food ad drinks.
The complex has it's own hotel, Chocolate Box with 23-rooms, utilitarian design and chic industrial furnishings. Definitely a must see or stay if you visit the city.
After a great 4 days we were on our way back to Bangkok. At noon we took a little detour off the highway to a locals restaurant, KaoMai – Plamun.
This is an open air bamboo restaurant next to a shrimp pond.
When asked what I'd like for lunch I said "please surprise me" to my hosts and let the Tourism team pick out the local dishes. The great thing about Thai food is the variety. I've had so many different dishes since I've been here these past 8 years but still there is always something new and delicious to discover.
If you take a trip over or live in and around Bangkok , it might be worth just taking a visit out to Hua Hin for some great wine tasting, palace visiting or just relaxing at the beach.
This was a unique insiders trip! I want to thank the Tourism Authority of Thailand team, Pichaya and Ranit, for making the journey so professional and informative with new discoveries! More new discoveries to come!
Article by Daniel Herron – Copyright 2019
Photograph by Daniel Herron – All images captured on Apple iPhone XS Max except drone and Orient Express images – Copyright 2019