All your favorite characters from the previous six installments are coming together for an epic, high-stakes, emotionally fraught conclusion this April. You might be thinking of Game of Thrones, but this also describes Lottery Day, the seventh and final play in Ike Holter's riveting Rightlynd series about the eponymous fictional 51st ward of Chicago. But unlike season seven of Game of Thrones, the world premiere of Lottery Day at the Goodman Theatre is unlikely to disappoint.

Mallory has invited her friends/chosen family to her backyard for a big blowout celebration—of what, exactly, no one's sure. She's kept the guest list, menu, and agenda for the evening a secret from the attendees, only one of whom, Cassandra, suspects her plans and who begs her to stop before she does something stupid. Mallory won't be deterred, however, and soon her party becomes an event no one will soon forget.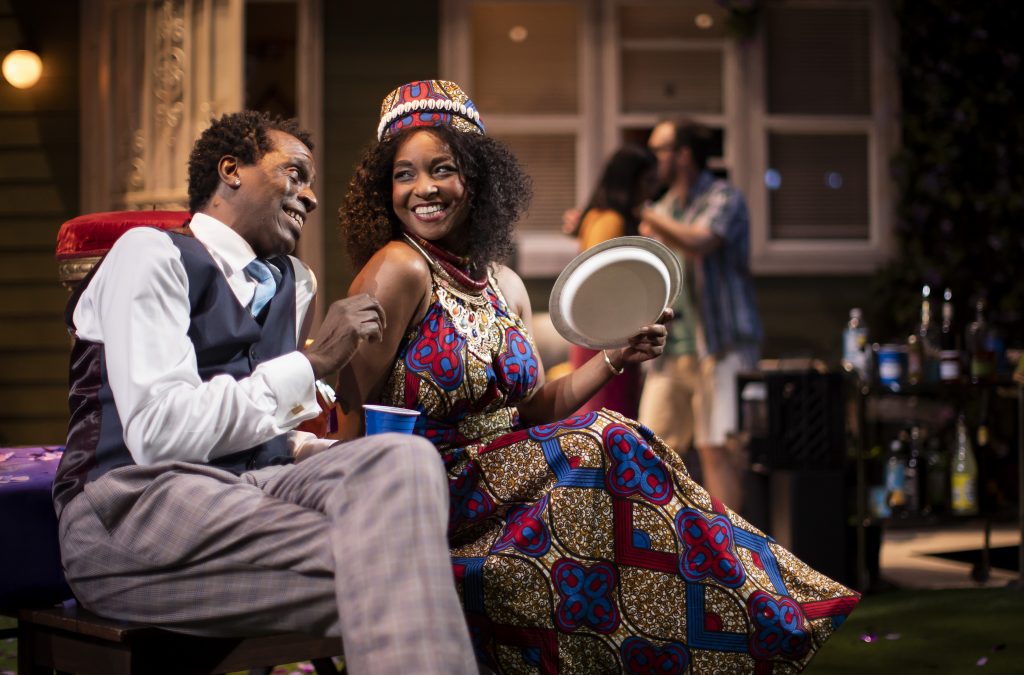 Fellow Ike Holter fans will recognize many characters from his other plays and, happily, the same actors portray several of them across productions. Robert Cornelius, who was a riot as used car dealer and mechanic Robinson in the Victory Gardens world premiere of Rightlynd in November, returns to bring his opinionated character to life on the Goodman's stage, and Aurora Adachi-Winter's vivacious portrayal of neurotic "theatre person" Tori is just as delightful here as it was on Steep Theatre's stage earlier this year. In addition, Mckenzie Chinn originated the role of Cassandra in Sender at A Red Orchid Theatre and played the role in the staged reading of Lottery Day as part of Goodman's New Stages Festival in 2017, and Tony Santiago previously played Nunley in The Wolf at the End of the Block with 16th Street Theater.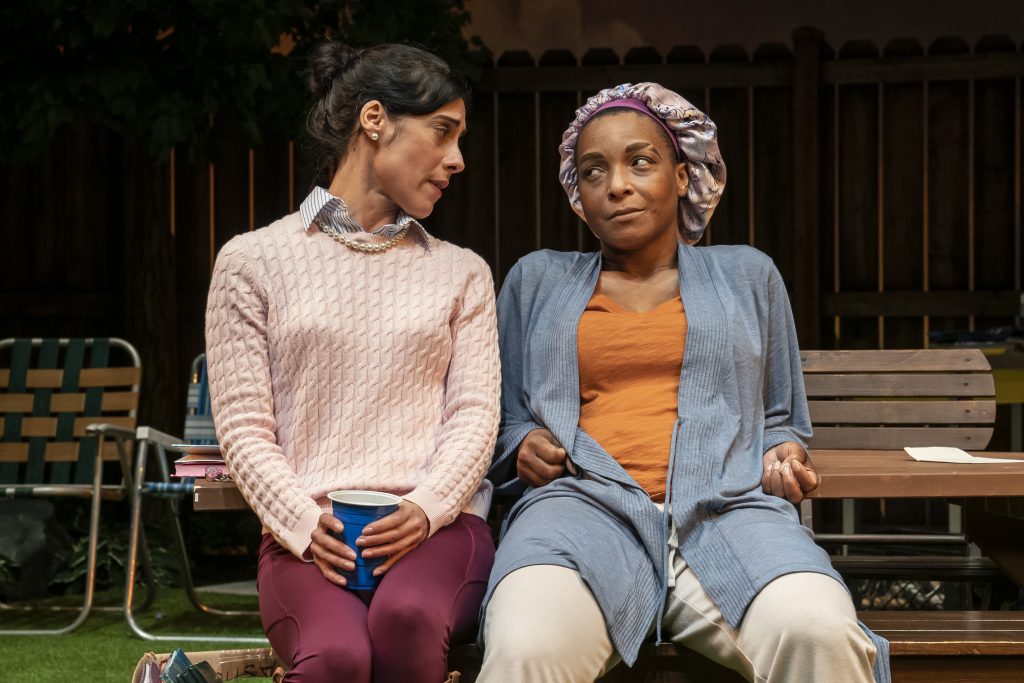 If all this seems like a tangled web, relax. Lottery Day stands alone. There are a few Easter eggs that are more fun if you've seen other plays in the Rightlynd saga, but if this is your first Ike Holter play, you won't be at any disadvantage. Holter's writing and the phenomenal cast of actors onstage make it easy to trace the connections and history between the characters without any prior knowledge. Having the same actors reprise their roles as characters in the Holterverse across time and theatre companies not only creates a sense of connection between all the plays in the Rightlynd saga and indeed the Chicago theatre community itself, but it also enhances the quality of the acting, as performers already familiar with their characters and used to occupying their psyches find opportunities to delve even deeper into their roles.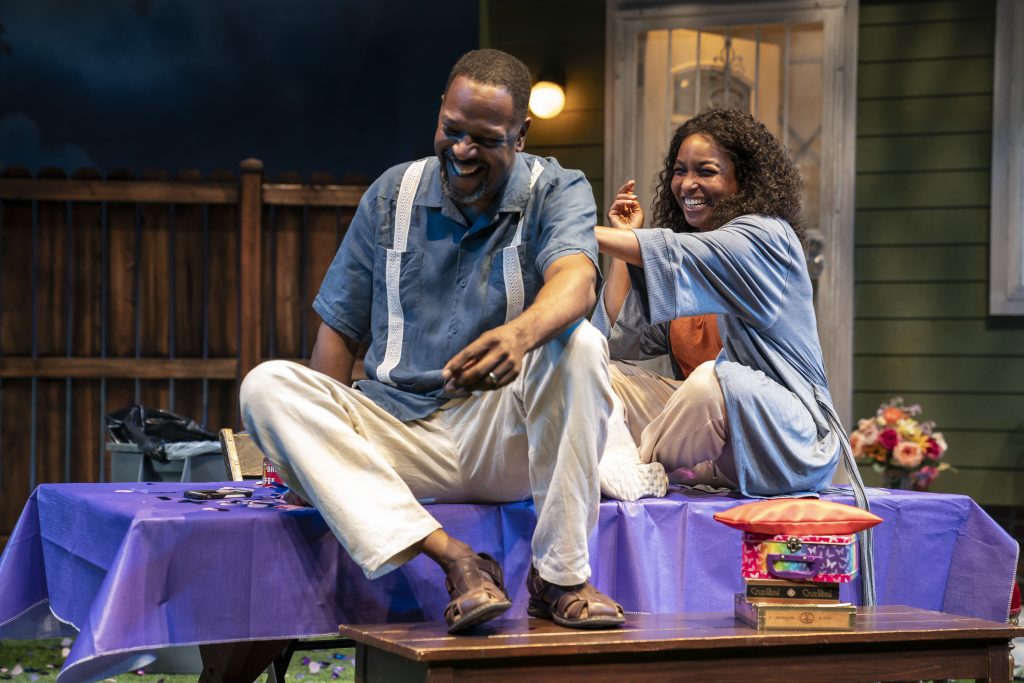 Attending an Ike Holter play is not the quiet, orderly experience you might expect from the theatre. The stage can get loud; his characters are bold, many of them have strong opinions, and the verisimilitude of his dialogue is such that characters often talk over one another. Audience members, unable to contain their reactions, will whoop and holler and bust out laughing. It's hard not to when the play is so full of slick references, clever turns of phrase, and the kind of love between friends that manifests as insults. Holter drops hard truths at unexpected moments, and uses silence as effectively, if not as often, as Annie Baker. His writing is lyrical and grounded and fresh and epic, and a hundred years from now every Theatre 101 student is going to have to read his work.
I would be remiss not to mention the gorgeous set design by Arnel Sancianco, which literally made my jaw drop as soon as I entered the theatre, or costume design by Samantha C. Jones, which includes a gorgeous dress worthy of a queen that Mallory wears when she makes her grand entrance to her own party.

If the Avengers assembled in Nick Fury's backyard, only the Avengers were real people with no superpowers, better senses of humor, more realistic trauma, oh, and more than one woman and zero people of color among them, the result would be something like Ike Holter's Lottery Day. But don't take my word for it; get down to the Goodman and see it for yourself.

Ticket Information
Location: The Goodman Theatre, 170 N. Dearborn
Dates: March 29 – April 28, 2019
Tickets: Available online at the Goodman Theatre's website; by phone at 312.443.3800; or at the Goodman box office (170 N. Dearborn).
Information about accessible performance can be found on the Goodman Theatre's website.
All photos by Liz Lauren.