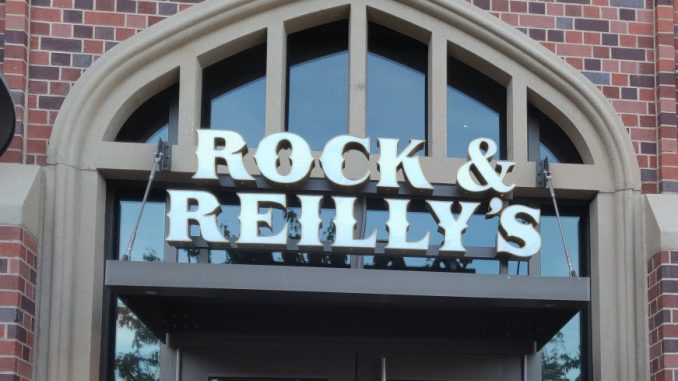 Rock & Reilly's opening a new location at USC Village sounds like the perfect setting for a college venue. Rock & Reilly's was made for , but while this newly created village has USC in the name, you don't need to go to college to enjoy this unique atmosphere.
Rock & Reilly's fits in beautifully in the 104,000 square foot USC Village that is made up of stunning brick buildings that hold to 36 retail spaces and simply permeates a Southern California feel and a casual off-campus setting. This isn't just for the kids, USC Village has little bit of everything for everyone and nothing says adult to go with your day quite like Rock & Reilly's. The Rock & Reilly's space is an 8,000 square foot location that includes a wonderful 2,000 square foot outdoor setting that allows you to enjoy the splendorous days that this city has to offer.
When it comes to food Rock & Reilly's not only has their tasty regular menu, but they have a plant-based menu with nearly all of the same items. The Irish Nachos are one of those appetizers that you simply must order every time you visit Rock & Reilly's, they are that good. It all begins with the ultra crispy house cooked kettle chips and those are just smothered in Irish cheddar and topped off with applewood bacon, scallions and corn salsa, you can also add corned beef to truly take this over-the-top. One of Rock & Reilly's classic dishes has always been their fish and chips with Alaskan Cod or you can go with the plant-based fishless and chips. There also an assortment of nicely done grass-fed burgers including the Dirty Irish, which contains Irish Cheddar and fried pickles or the truffle burger that is loaded with flavor from the black garlic aioli, truffle cheddar and truffle mustard, both on a fresh and soft potato bun. They also do an amazing four-cheese mac & cheese that is simply cheesy goodness topped with Irish soda bread crumbs and black truffle oil. Not only does everything on the menu taste great, but you simply have to flip it over and you will find an entire plant-based menu. The buffalo cauliflower is simply as close to a buffalo wing as you will find as they bring a great texture with the light breading and the spicy sauce that varies in temperature but is always flavorful. Some other great options include: the vegan grilled cheese, salads that feature plant-based dressing and burgers that feature Beyond Burger patties.
If you are looking for a new happy hour spot, Rock & Reilly's has something going every night of the week and their happiest hour which is Saturday from 3 p.m. to 5 p.m. During the week you enjoy happy hour from 3 p.m. to 6 p.m. daily and they have great individual day specials like $1 dollar wings all day on Tuesday and you can bring your friends in on Thursday for trivia. The outdoor patio on the weekends is the ultimate brunch spot and all weekend you enjoy a brunch-mimosa kit as well as make-your-own Bloody Mary bar.
If you are visiting the USC campus, attending an event at the Galen Center or the yearly Los Angeles Times Festival of Books or you just want a beautiful location to spend a perfect Southern California afternoon, the USC Village is tough to beat. Once you are there brunch outside with a cocktail or a perfectly poured Guinness at Rock & Reilly's is a wonderful day to start or end your day as Reilly was all about a little Irish fun whether it was under the sun or as the sun was going down.
Rock & Reilly's has really amped up their dessert menu and smartly they added a little whiskey to get things started. The Irish Bread Pudding is the must-try dessert on the menu as the base is cinnamon potato bun that is topped with vanilla ice cream and it the wonderfully flavorful caramel sauce that is made with Reilly's Ginger Whiskey and you will taste the whiskey. There are a number of other great options but you can never go wrong with a Guiness Float, a rich and creamy Guiness with a scoop of vanilla ice cream.
The USC Village pairs perfectly with Rock & Reilly's for everything, beginning with anything USC related. For those home games, Rock & Reilly's is perfect for before and after the game and if you just want to enjoy sports along with a perfectly poured Guinness, they offer over 30 televisions as well as a lively experience. Don't feel as if you have to be a college student or that you even have to have any type of association with USC, this is simply a great venue for anyone at anytime.
For more information, visit: Rock & Reilly's