Whoa, has it really been 10 years since C2E2, the largest comic, cosplay, and pop culture convention in the Midwest, took over in downtown Chicago?! Once a year, people from all over the world come together for one weekend (March 22nd – 24th, 2019) to run amok and let their inner geek out at McCormick Place (2301 S. Martin Luther King Drive). Whether you are a fan of comic books, cosplay, video games, anime, TV shows, movies, books, wrestling, or comedy – C2E2 is your home for good times!
The 10th edition (my third time there) of C2E2 brought along incredible celebrities, unique exhibitors, amazing comic artists and epic literary authors, and much more. 82,5000 attendees let wild and cut loose for three days of awesome fun. The massive Show Floor was packed with with top exhibitors, autograph sessions, panels, screening rooms, exclusives, and a massive Artist Alley, which truly had something for everyone. C2E2 also once more home to the C2E2 Crown Championships of Cosplay, the most prestigious cosplay award show in the world, and the final stop in a global competition series that asked one question: Who will become the Global Champion of Cosplay?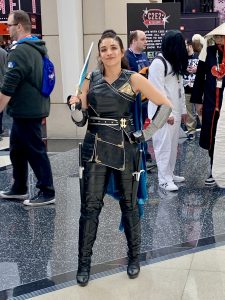 C2E2 is the ultimate people watching party, as seeing so many different cosplay themes come together under one roof, which I find even better than Halloween (one of my favorite holidays of the year). The creativity and thought that people put into their costumes is beyond amazing, and it gets better every year. I highly enjoyed finally meeting one of my super hero idols from 1990's cartoon, Ren and Stimpy, Powdered Toast Man.
This year, I had little time to put together a costume, and kept things simple: A tribute to my favorite snowy white owl, Hedwig, from Harry Potter (we all had an HP and  Fantastic Beasts theme going). I purchased a silk scarf with Hedwig carrying a letter in his beak, and when I opened my arms, his wings would spread open. My friend painted my face, I put my stuffed Hedwig in my purse to take along for the ride, and we were all set!
C2E2 offers endless entertainment and activities for fans. It is three days chock full of comic guests, cosplay, celebrity guest appearances (we met Alicia Silverstone and Ralph Macchio-quite the experience!), autographs, photo ops, wrestling, gaming, and meetups. There was also Artist Alley, where over 500 authors, designers, and illustrators come together to share and sell their artwork and products. Then there are the over 300 exhibitors that filled the booths with games, comic books, art, t-shirts, collectibles, books, brands, and toys.
The event also offered new features such as an official fan store with C2E2 merchandise, C2E2 Live! (celebrity interviews, games and live art), new family-friendly events and activities, a Cards Against Humanity comedy theater, and an amazing gaming zone, with tabletop, deck building games, and video games. Another fun and new feature was Poptaku Point, which celebrates anime, gaming, manga, martial arts, crafts, and characters.
Being a part of C2E2 year 10 was an amazing experience, and it continues to get better year after year. What better way is there than to have an awesome time then to bring out your inner geek, and pay tribute to your favorite pop culture characters and icons? Keep it coming C2E2-see you in 2020!
Photos: Jennifer Lunz
For more information on the 2019 C2E2, and for next year's event, visit the website.