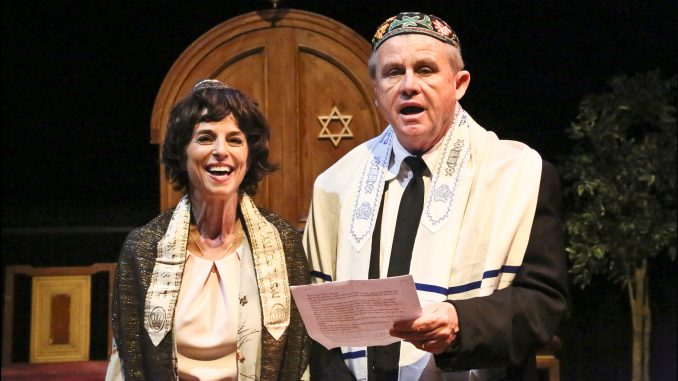 Winner of the New York-based Jewish Plays Project 2017 competition, BAR MITZVAH BOY shines in its Los Angeles premiere. Playwright Mark Leiren-Young has interwoven issues of faith with both pragmatic and soul-searching facets into an entertaining and powerful play about people struggling with the stresses in today's society and their inevitable effects on family and relationships. Directed by Howard Teichman, also artistic director for the West Coast Jewish Theatre, BAR MITZVAH explores the search for meaning in life and how that effects the lives of others.
Attorney Joey Brant (R. Emmett Lee) has a strange request for Rabbi Michael Levitz-Sharon (Pamela Heffler). Although a bit long in the tooth and a highly secularized man, he has decided that it's time to complete the bar mitzvah which he evaded as a youngster. But he doesn't want anyone to know – especially his daughter and her son, who is scheduled to do his own bar mitzvah in the very near future. Almost immediately, Joey manages to alienate the synagogue's regular instructor and must approach the temple's female rabbi for mandatory bar mitzvah training. But the rabbi has some of her own problems which may interfere with his instruction, including a 12-year-old daughter who may be dying from cancer and the huge stresses that has caused in her marriage. Both individuals are on the cusp of finding – or losing – themselves and their faith.
Emmett Lee does an excellent job of portraying an individual who is looking for that elusive something to give his life meaning, while Pamela Heffler matches his skill in presenting a person who may be in danger of losing the one thing which has defined her professional and personal life. Both play off each other effectively as they grapple with their own private needs and beliefs.
Director Teichman manages to keep the action flowing in a story marked by contradictions and divergence. BAR MITZVAH BOY is a tale told primarily in the head through psychological dynamics – with the strengths and weaknesses of such an approach. At times, the play becomes talky and lags in action. However, the piece comes together with a riveting ending.
Kudos to set designer Kurtis Bedford, who has created an excellent backdrop for the show, and to costume designer Sarah Rekow, who has outfitted her actors with a flourish. Ellen Monocroussos' lighting and Bill Froggatt's sound/graphics also add to the overall strength of the production.
BAR MITZVAH BOY runs through May 12, 2019, with performances at 8 p.m. on Thursdays through Saturdays and at 2 p.m. on Sundays. The Miles Memorial Playhouse is located at 1130 Lincoln Blvd., Santa Monica, CA 90403. Tickets are $35 ($30 for Santa Monica residents), $32.50 for groups of ten or more, and $25 for students. For information and reservations, call 323-821-2449 or go online.