Based on her 1939 book – probably Agatha Christie's best-selling novel and one of the world's best-selling mysteries – master storyteller Christie took two years to adapt the tale to the stage. The play, which she titled "Ten Little Niggers," was produced in London in 1943. With the new title of "Ten Little Indians" – since the original name was considered offensive in the U.S. – Christie's blockbuster mystery was produced on Broadway in 1944 and ran for 426 performances.
Based on a nursery rhyme, the play's title was originally a song in the U.K. and the U.S. in 1868-9. When Christie authored the novel, she used the original ending for the rhyme. Given the dark nature of the book's ending, she used an alternate ending to the ditty in her adaptation for the stage: "He got married, and then there were none." As it turned out, a third title later surfaced, AND THEN THERE WERE NONE.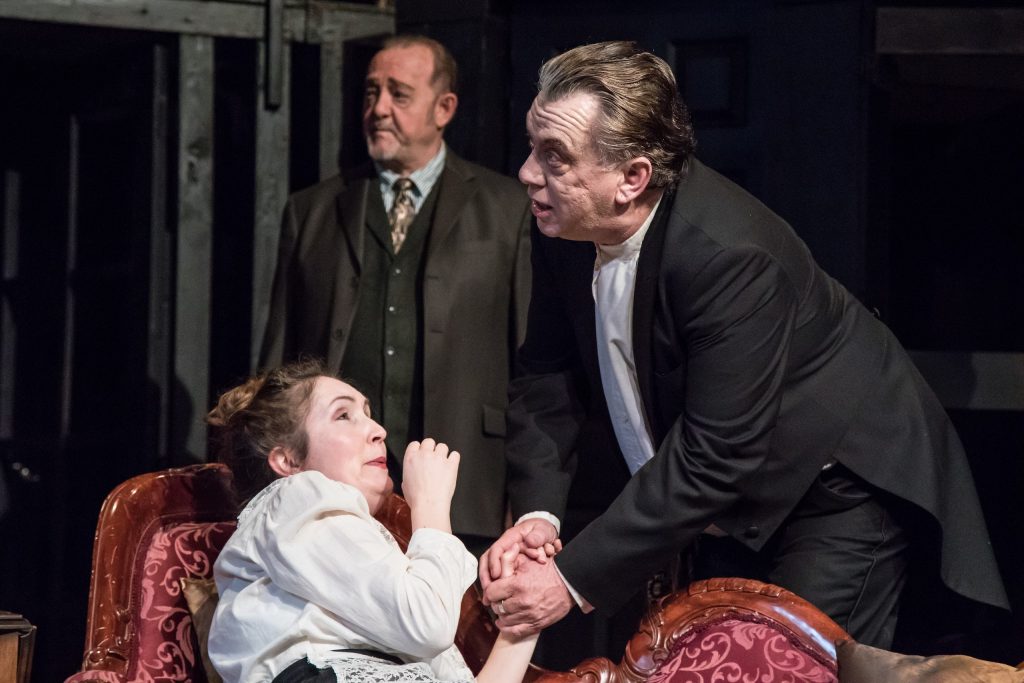 Set in Mr. and Mrs. U.N. Owen's gloomy home (kudos to Paul J. Dufresne's set design), the cast of characters arrives on the remote island, each citing a different motivation for participating in the assembly. Butler Rogers (Jack Stroud) and his wife (Jill Tenney) have prepared the home for their appearance by boat from the mainland. Each of those assembled does not appear to have anything in common with any of the others – until an eerie voice emanates from a phonograph announcing that they have one key element in common: each is a murderer. And then, one by one, they begin to die – frighteningly matching the fates of the characters in that old nursery rhyme. Chilling events start to accumulate, reaching a creepy and horrifying level when the visitors discover that they are trapped on the island and cannot escape.
The first to go is Anthony Marston (Jack Eld), a pompous social dilettante whose bland exterior may harbor a killer. As the bodies pile up – and the paranoia becomes overwhelming – truths also begin to come to light for these terrified folks, including Fred Narracott (Jack Eld), Vera Claythorne (Natalie Eleftheriadis), Philip Lombard (Ken Korpi), William Henry Blore (Aric Martin), General Mackenzie (Michael Bernstein), Emily Brent (Lauren Holiday), Sir Lawrence Wargrave (Larry Gestling), and Dr. Armstrong (Will Craig). It seems clear that the killer must be one of them! A delicious who-dunnit for mystery buffs.
Director Michael Thomas-Visgar has done an excellent job of keeping up the tension by dropping almost invisible clues everywhere for the audience to ponder. Each member of the cast becomes an individual in his own right with his own flaws, fears, and foibles. As the suspense builds, this talented crew never lets up. Twists, turns, and shockers await the audience as AND THEN THERE WERE NONE unfolds. The production team does a great job of adding to the ambiance, with Julia Lisa's costumes and wig design and William Wilday's lighting keeping the clever revelations coming. For a fast-moving, witty, and fascinating exploration of mystery authority Agatha Christie's masterpiece, don't miss this production.
AND THEN THERE WERE NONE runs through May 26, 2019, with performances at 8 p.m. on Fridays and Saturdays and at 2 p.m. on Sundays. The Morgan-Wixson Theatre is located at 2627 Pico Blvd., Santa Monica, CA 90405. Tickets are $23 (students and seniors $20). For information and reservations, call 310-828-7519 or go online.