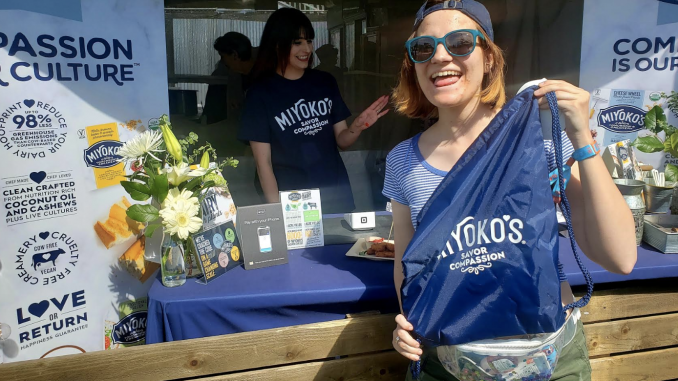 BottleRock has quickly lived up to its motto -The First Taste of Summer. The three-day music festival, turned foodie paradise, has some pretty unique experiences and bites throughout the festivities. Here are our favorite activations and bites throughout the festival.
If you asked me if I could see myself loving a port-a-potty I'd say absolutely not. However that all changed at this years BottleRock! The famed brand that made port-a-potties sort of cool and created a one-of-a-kind experience. The set up – a row of unassuming port-a-potties behind the doors was a dance party unlike any other. Spinning old school hip-hop and R&B, Monkey Shoulder elevated the bar experience. The 30-by-30 makeshift club — complete with a Monkey Shoulder bar and a dancing cage with a disco ball — could only house a capacity of 50 people at any given time. A total of about 2,000 people checked it out over the three-day festival, organizers said.
Other artists who packed the Porta-Party during the three-day festival were Too Short, Kristian Nairn, who played Hodor on "Game of Thrones," Paul Oakenfold, Citizen Cope, White Panda and Crystal Method!
The clever brand brought its 3-story bar back to the festival! Since making its debut last year, the beloved brand brought more theatricals and more cocktails for consumers. From passing floral crowns to jugglers heckling the crowd, Hendricks Gin sure knows how to entertain. This year the fan favorite showcased four beverages and even had its limited Summer edition, Midsummer Solstice. Only available during the Summer months, Midsummer Solstice is FLYING off of the shelves. Luckily, attendees were able to try a bit at BottleRock. Just in time for Summer, this rendition is light, crisp, and perfect for brunch! 
Sadly, any true festival goer knows there isn't many options for Vegan individuals. Miyoko's is changing the game and bringing flavorful cheeses and bites to the forefront. I have to say, this brand genuinely changed my perception of vegan bites. I have always steered clear of vegan cheese as my experience was not craveworthy or really anything that I would openly try again, but Miyoko's has changed that. Hopefully this brand will be at a ton more festivals! Use code BottleRock for a discount on your purchases.
Nothing like a small taste of the South on the West Coast! This stop was a festival favorite by far! Providing an array of options with various levels of spice. My personal favorite? Hands down the Jambalaya Mac-N-Cheese.
Thomas Keller's famed spot, Bouchon Bakery returned to BottleRock once again. Offering favorites from the Yountville outpost, included their classic Ham & Cheese baguette topped with delicious dijon mustard butter. The Brie-L-T was so good, I had to have it twice! Comprised of brie, truffle butter, arugula, and tomato remoulade this sandwich is a classic!
The love for fried chicken is REAL! There are many restaurants that are taking their swing at the foodie favorite, however there is only one that lived up to the hype – Thomas Keller's famed Ad Hoc. While Thomas Keller isn't entirely new to showcasing food at BottleRock, this is the first time his Yountville restaurant has offered a bucket full of buttermilk fried chicken with a hint of fresh rosemary! For $60 bucks, I guess it was worth it. Carrying around the bucket of chicken was almost an accessory at BottleRock!