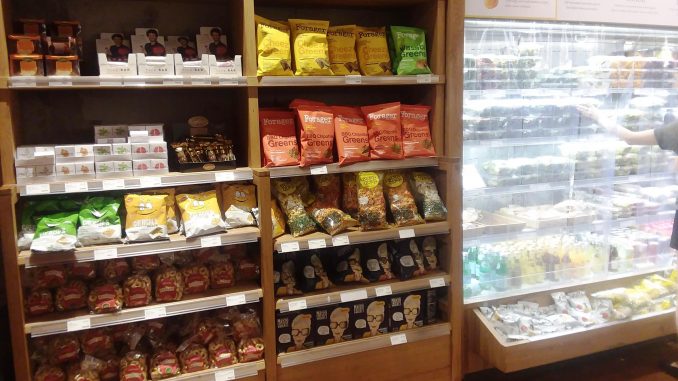 If you live in New York City and want to visit Italy this year but don't have the time, money or resources to do so, take heart. Eataly, located in Manhattan's historic Flatiron District, brings the European country to you, and without needing a passport.
Eataly is a bit hard to describe because, to my knowledge, there's never been anyplace quite like it.  It's not a restaurant, although it features several restaurants, ranging from casual to upscale.  It's not a pizzeria, although you can buy pizza there.
It's not a bakery but if you go in there with a sweet tooth they have desserts and coffee galore.
It's not a bookstore, but you can buy books on Italian history, Italian culture and about a hundred different ways to cook Italian food.
It's not a wine shop, but you can certainly buy wine. It's not an ice cream parlor but they serve the best gelato in town.
It's not a grocery store but if you're looking to make that big Italian meal which will impress your friends or family they can provide you with everything from pasta to sauce to cheese to meat to fish to spices to olive oil and more. And if you don't quite know how to make that special meal or dish, not to worry. They even have cooking schools.
In essence, it's really a small Italian city. But in New York.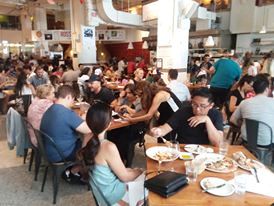 Eataly originated back in 2007, in the Italian city of Turin by Oscar Farinetti. It was billed as a collaboration between Farinetti, Lidia Bastianisch and Master Chef Matio Batali but Batali was rather famously dropped following allegations of sexual misconduct. In New York, at least, all of the products previously associated with Batali have been removed from the shelves of Eataly. It opened in Manhattan in 2010, with great press and fanfare. Mayor Michael Bloomberg attended the opening and praised it for the amount of new jobs it created, which at that point was more than three hundred. It covers about 50,000 square feet of prime New York real estate and features not one, not two, but six unique restaurants.
There is Serra on the Rooftop, a picturesque garden spot on the 14th floor. (Serra means 'greenhouse' in Italian and they take it literally).
There is Il Pastaio, or 'pasta maker', which offers fresh pasta by the bowl and doesn't take reservations.
Manzo is 'beef' in Italian and if you want they will be happy to show you their behind the scenes butcher shop. This one is my favorite, primarily because it has a long bar attached to it that offers a wide selection of whiskey.
La Pizza and La Pasta is pretty much just how it sounds, serving pizza by the slice or popular pasta dishes, such as spaghetti and meatballs.
Il Pesce is fish and if you're the type who enjoys a good oyster bar, this restaurant is for you.
Finally, there's La Piazza, a plaza like atmosphere where you sit or stand at tables and enjoy nice appetizers or smaller meals and wine. My wife Kelli and I chose La Piazza our last time there. Kelli had a glass of prosecco, I had a Classic Negroni (Campari, gin and vermouth) and we shared an appetizer of Carcioti Fritte, or fried artichoke hearts. The whole thing came to just under forty dollars, which is a bit pricey but not unexpected in New York.
Our waiter was a happy, beefy man named Jose, wearing a T shirt which proclaimed "Italians are Everywhere!" Jose had been with this store since it first opened and when asked if he still enjoyed it, he exclaimed 'Of course!'
Eataly is not the kind of place New Yorkers go once a week or even once a month, unless you happen to live or work right in that area. It has pretty much everything you can ask for in an Italian marketplace and that's part of the problem. The crowds can be overwhelming and the line just for the gelatos is not for the faint hearted. There is also a lack of counter space for those enjoying their espresso, cappuccino or gelato. Still, it's hard to argue with their success and for those visiting New York from places like Kansas, or Florida, or Ohio it should be one of the must-see tourist spots as you can spend hours in there and not spend a dime if you don't want.
At the moment Eataly has branches in New York, Chicago, Los Angeles, Boston and Las Vegas, with plans to open more in the U.S.  Worldwide you can find Eatalys in such diverse cities as Sau Paolo, Tokyo, Munich, Paris, Moscow, Seoul and Istanbul as well as thirteen of them scattered throughout Italy.
Italians may not be everywhere, as Jose's shirt claims, but if Eataly has its way they'll be in plenty of places around the world soon enough.
More about Eataly New York
Photos: Tony Sportiello