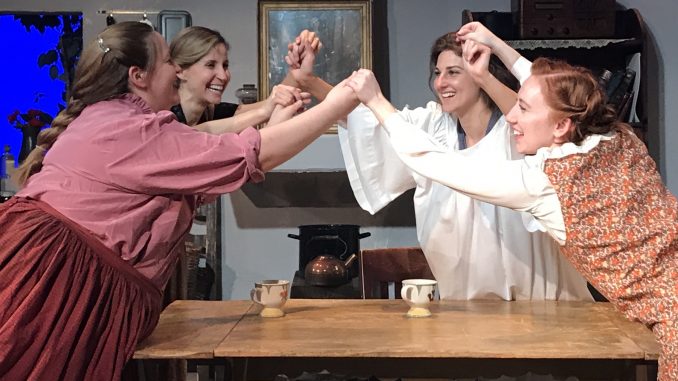 Often described as the "Irish Chekhov," playwright Brian Friel draws DANCING AT LUGHNASA from his childhood memories, memories marked by bitter poverty but also joy, music, and an exuberance for life that could not be dampened by harsh reality. For Friel and his family members, the glass will always be half full. First produced in Dublin in 1990, DANCING AT LUGHNASA went on to open in London in 1991, where it won the Olivier Award as Best Play. Then it hopped the ocean and sailed to Broadway in 1992, where it won the Tony Award for Best Play (along with best actress and best director). A film followed in 1998 starring Meryl Streep as Kate Mundy.
It's early August, 1936, in Ireland – just at the beginning of the Festival of Lughnasadh, the Celtic harvest festival. Timing is everything, and this particular time plays a key role in the story. Catholicism may lock horns with pagan ritual as primitive rites, both Irish and African, seem to engulf everyone. In the meantime, Marconi, the Mundy's radio, has a life of its own as it unpredictably pours out music of all sorts in fits and starts. And, no matter what they are doing, the sisters must dance. For dancing is life – and life cannot exist without dance.
DANCING AT LUGHNASA lets the audience share a seven-year-old child's wonder about the world as it unfolds before him. Adult Michael Evans (David Shofner) is the narrator – and also that little boy who spends the summer in his aunts' cottage on the West coast of Donegal in the fictional village of Ballybeg (Gaelic for small town). For his mother is the youngest of the five Mundy sisters, all unmarried, who live together in Ballybeg. Little Michael's father Gerry Evans (Scott Roberts) is a traveling gramophone salesman who stops by for infrequent and unannounced visits with Christina (Caroline Klidonas), Michael's pretty but lonely mother.
Each of his four aunts has a special something about her which keeps the juices flowing. A fiercely devout Catholic, Kate Mundy (Martha Demson) is a school teacher, mother figure, and the only wage-earner in the family. Plump and fun-loving Maggie (Lane Allison) is the family jokester who manages to defuse the conflicts which sometimes arise in every family. Rose (Sandra Kate Burck) is developmentally disabled, and the Mundy sisters fear that her longing for love will make her vulnerable to Danny, a local married man with eyes on her. Agnes (Ann Marie Wilding) is quiet and contemplative as she (along with Rose) knits gloves to sell to village visitors – the Madame DeFarge of the narrative.
When the oldest of the Mundy clan returns to Ireland after an absence of 25 years as a missionary in a leper colony in Uganda, changes may be on the horizon. In his late 50's, Father Jack (Christopher Cappiello) has come home for vague reasons – perhaps due to his frail state and forgetfulness – and maybe because he has "gone native" and, in his superior's judgment, lost his calling as a priest.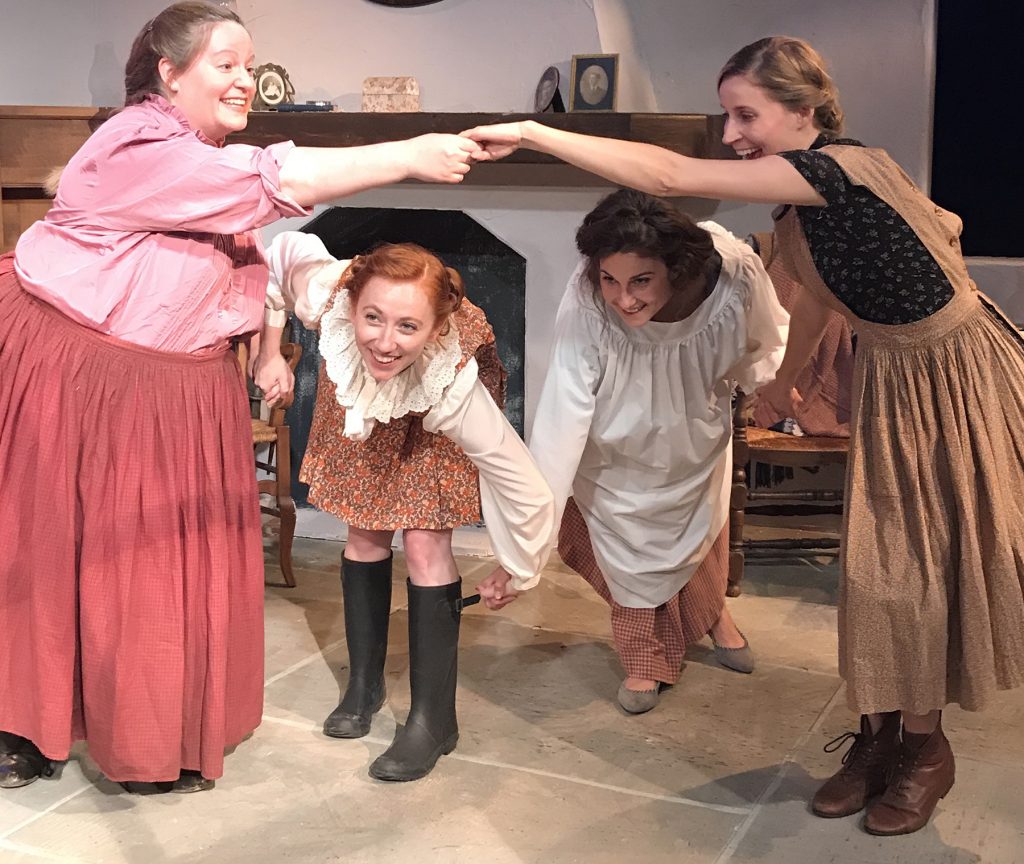 DANCING AT LUGHNASA brilliantly dissects each of these characters as they interact with each other and the world. Director Barbara Schofield helms the talented Open Fist Theater Company with compassion, humor, and pathos. Each of the actors settles comfortably within the skin of their Irish characters – and, on top of it, their brogue is really convincing. They can actually dance too. James Spencer's scenic design perfectly fits the otherworldly tale, and the entire production team deserves kudos for a job well done. Theater lovers – this is your chance to see a near-perfect mounting of Brian Friel's masterpiece. The intimacy of this production adds a profound level of understanding about each of the people in the piece – and also about the strength of family ties in hard times.
DANCING AT LUGHNASA runs through August 18, 2019, with performances at 8 p.m. on Fridays, Saturdays, and Mondays, and at 4 p.m. on Sundays. The Open Fist Theatre Company performs at the Atwater Village Theatre, 3269 Casitas Avenue, Los Angeles, CA 90039. Tickets are $30 ($25 with advance purchase). For information and reservations, call 323-882-6912 or go online.