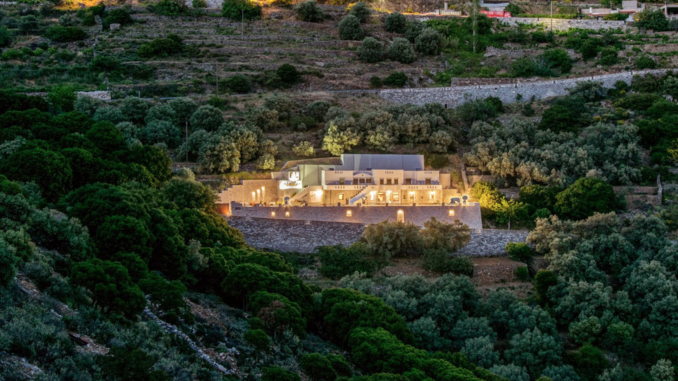 Right in the middle of Naxos island, there lies a secluded resort, surrounded by olive trees and orchards. Its name, ELaiolithos. ELaiolithos is an astonishing mountain paradise that captivates you from the first glance and brings you face to face with a more natural way of life.
This luxury retreat is an oasis in the very heart of Naxos island and denotes a brand new holiday hideaway, with a calm and tranquil atmosphere, a slice of heaven at an altitude of 500 meters. It is totally understandable that mother nature is at the center of your holiday experience. When we reached the hotel, we could smell the trees and feel the oxygen stronger than usual, even though at high altitudes the air is thinner, having less oxygen and pressure.
Its privileged location makes every spot on the island accessible at equal time. ELaiolithos is an establishment that blends gracefully with its spectacular surroundings: Moni village is the balcony of Naxos with its amphitheatrical view; the imposing Zeus (Zas) Mountain – the highest in the Cyclades region 1004m (3290 ft), Fanari Mountain 883 meters (2897 feet), the well known Panagia Drosiani Byzantine Church, the astonishing uninterrupted view over the Drimalia/Traghaia olive grove valley that is considered the "Aegean Byzantine Mystras" and the endless blue sea in the background, all at the feet of the ELaiolithos.

The decor is based on earthy tones from L-Eco Art Gallery in Halkio, providing an oasis of serenity. The resort itself took its name from the owner's initials, the olive tree, and the very old olive millstone displayed on the premises that used to be the main way the people from the nearby area turned olives into oil.

Breakfast, lunch and dinner are made of pure organic and local ingredients. The products that the Chef does his magic with are regional and sourced from a 3 mile radius from the hotel. Wine, fruit, Naxian cheese and healthy snacks make their way to each table, signifying an eating experience that reaches all of your senses. 
Just a thirty minute drive to the port or any of the turquoise beaches of the island, ELaiolithos safeguards your discreet stay in nature! Enjoy authentic local experiences and feel the rest of the world melt away! Be sure to visit Halkio village within 2 miles for a stroll, it is not called the "Byzantine Mystras of the Aegean" for no reason.
Photos: Courtesy of the hotel.