Knowing I was going to be in Santa Barbara for several days recently, I wisely contacted the wonderful people at Visit Santa Barbara to help suggest ways to fill a spare afternoon for sightseeing. Their suggestions made an already wonderful trip even more memorable.
If you're thinking of traveling there, be certain to visit their extremely comprehensive website to help you plan.
Stopping by the small Santa Barbara Visitor's Center building at the corner of Garden St. and E. Cabrillo Blvd. will also give you access to helpful volunteers and a host of brochures and materials to help you find your way around and make decisions about what to do first.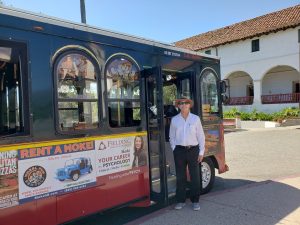 Conveniently, right outside the Visitor's Center was our first activity, the excellent Santa Barbara Trolley Tour.
My Uncle has lived in Santa Barbara for decades and has taken us around it several times, pointing out spots of interest, but I learned so much on this tour! I've done trolley tours in some locations and ended up with a litany of famous so-and-sos who lived in various houses, but even though Santa Barbara and Montecito are filled with the rich and famous, that's not all there is by a long shot.  Celebrity watchers will have plenty to enjoy, but so will people interested in history, architecture, Native American cultures, natural beauties, and commerce.  Plus, Santa Barbara is just so beautiful that an hour or so spent touring around its lovely streets is a very pleasant way to get your footing. The very large windows on the trolley make viewing the sights easy.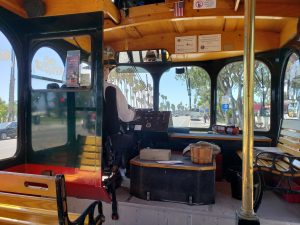 Our trolley driver, Richard, was an absolute font of knowledge about Santa Barbara past and present.  We began by driving along the area where we were and saw the vibrant Funk Zone, which I will detail more later.  But it is one of the hubs of Santa Barbara nightlife.
We passed Stearns Wharf, built in the 1870s, and a must-see on any trip. We learned that Santa Barbara's beaches were preserved from development because of limited water and bad soil for crops in the early days of settlement, so now the residents and visitors have wonderful parks and beaches to enjoy all along the waterfront. The Chase Palm park hosts an Art Walk every Sunday for the past 55 years. It's a great place to get something handcrafted and truly unique as a souvenir of your trip. There's also a park dedicated to Santa Barbara's favorite sport, beach volleyball.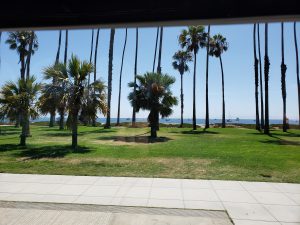 We also saw the Santa Barbara Inn, the city's oldest hotel; the first-ever Motel 6, built in 1962; the original and only remaining Sambos restaurant, and the 90-year-old Cabrillo Bathhouse, currently undergoing renovations.
On the way into Montecito, we saw the abandoned Clark Estate. The Clarks made their fortune in copper, built a huge home, and founded the Andre Clark Bird Refuge, then they all moved back east.  They still own the house, but it's stood empty for more than 50 years.  It's wonderful and creepy at the same time atop its very pretty hill.
Montecito is Santa Barbara's Beverly Hills and boasts such famous residents as Oprah Winfrey, Ellen DeGeneres, Kirk Douglas, James Cameron, and George Lucas, to name just a few.  Half of it seems to be owned by Ty Warner these days, who made his fortune from selling Beanie Babies.  Richard informed us that the average home price in Montecito is four million. You'll hear all about famous residents and visitors like Charlie Chaplin, Fess Parker (who is responsible for much of the modern development) and Ronald Coleman.
We passed by both Santa Barbara City College and UCSB.  We stopped by the harbor and the Yacht Club. The harbor features a wonderful breakwater to walk on, many antique boats, a maritime museum and a dedicated Coast Guard station with the boat the Black Finn.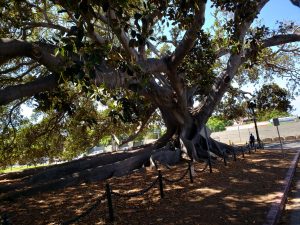 We passed the Train station. The train was how tourism first began in Santa Barbara as it was an easy ride up for the weekend from Los Angeles.  On the grounds of the station is a remarkable Mission Bay Fig from Australia, the largest specimen in North America.
From there, we headed for the oldest part of Santa Barbara, originally settled by the Spanish, who imported their architectural style from the south of Spain.  There was a presidio there from the original settlement.  When the local Courthouse was built in 1925, it was decided to follow this style, which the locals call Spanish Hollywood. It was made mandatory in the 1920s. The Courthouse is very beautiful and a popular site for weddings at all times of the year.
We also noted the change from Spanish style original architecture, to American-style bungalows and Victorian architecture in certain sections of downtown and in the surrounding residential areas.  There's a notable building by Julia Morgan, who is most famous for her work on Hearst Castle, and the summer home of the Singer Family, of sewing machine fame.
In the downtown area, many of the streets are named for the Chumash Indians. If you read Scott O'Dell's "Island of the Blue Dolphins" as a child, or saw the movie based on it, that story took place on one of the islands off the coast of Santa Barbara as the Chumash and other native tribes were being dispossessed by the Spanish.  There are artifacts from "Juana Maria" the real Nicoleno woman the story is based on in the Mission, which is, of course, one of the tour's final destinations.  You have 15 minutes to explore Santa Barbara's most famous site before the bus leaves.  But if you want to stay longer, all you have to do is catch the next one, which will be along in an hour.
Then we went on the fabulous Santa Barbara Urban Wine Trail in the very nearby Funk Zone.  I know everyone tends to think of wine country as being farther north, but there are 200 vineyards in the county and many have opened tasting rooms in Santa Barbara proper.  Because we are lightweights, we were only able to sample at two, but there are more than 35 to choose from along the trail.  The Funk Zone has the largest concentration.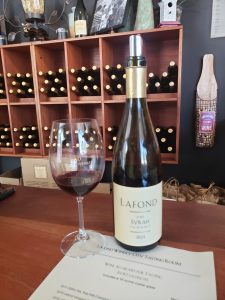 First, we visited the LaFond Winery tasting room and sampled everything they make. I'm not a lover of Pino Noir, which is their specialty, but of the three I sampled, two were excellent examples of the variety with enough uniqueness and complexity to make each distinct despite coming from the same vineyard.  I was particularly impressed with their Chardonnay, though, which is as crisp and refreshing as could be wished.  My favorite was their Syrah because I love Syrah. The tasting room is pleasant and modern with an attentive and knowledgable staff.  Well worth a stop on your tour.  It's located at 111 East Yanonali Street and is open Sunday-Thursday 10a-6p, Friday-Saturday 10a-7p.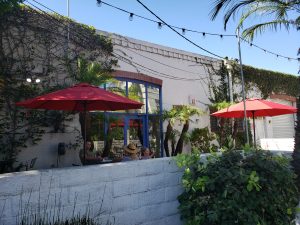 Next, we just walked down the street to the venerable Santa Barbara Winery the oldest winery in Santa Barbara County, established in 1962. I know, it sounds like they are all newbies, but they certainly don't seem to be.  Santa Barbara Winery has 22 varieties and because we couldn't sample them all, we honed in on our favorite—don't judge—Riesling. We tried five. Four are fine examples of their style.  I outright loved the Riesling 2.3 R.S. 2016 and Riesling 5.7 R.S. 2017 because I like my Rieslings crisp and a bit less sugary.  I found the Late Harvest cloying, but that's the point. It's a super-sweet variety, like an aperitif, so if you're looking for wine for people who don't like wine, this may be perfect. We also had a fabulous and knowledgable staffer there.  And, if you can only go to one, be sure you stop here.  They've been around a while and have a huge selection. Plus, a wonderful outside seating area where you can sip a glass in tranquility. They are located at 202 Anacapa Street (on the corner of East Yanonali Street) and are open Sunday–Thursday 10a–6p, Friday & Saturday 10a-7p.
After that, we had to go sober up, but if you're looking to spend an excellent afternoon in Santa Barbara, you can't go wrong with this itinerary.
All photographs by Suzanne Magnuson. (Most while in a moving vehicle and some while sampling a LOT of wine.)