Sarah Bernhardt is a name that has echoed through history. Although she played many leading roles in her six-decade career, the one she is perhaps best-known for is not one of the myriad she originated, but one played countless times before and since: Hamlet. Aptly, the story of how this extraordinary woman took on Hamlet (and the subsequent controversies it caused in both her personal and professional life) is tackled by one of our greatest women playwrights, the inimitable Theresa Rebeck. Currently playing at The Goodman Theatre, directed by Donna Feore, Bernhardt/Hamlet is a play as sharp-witted, charismatic, and fascinating as its subject.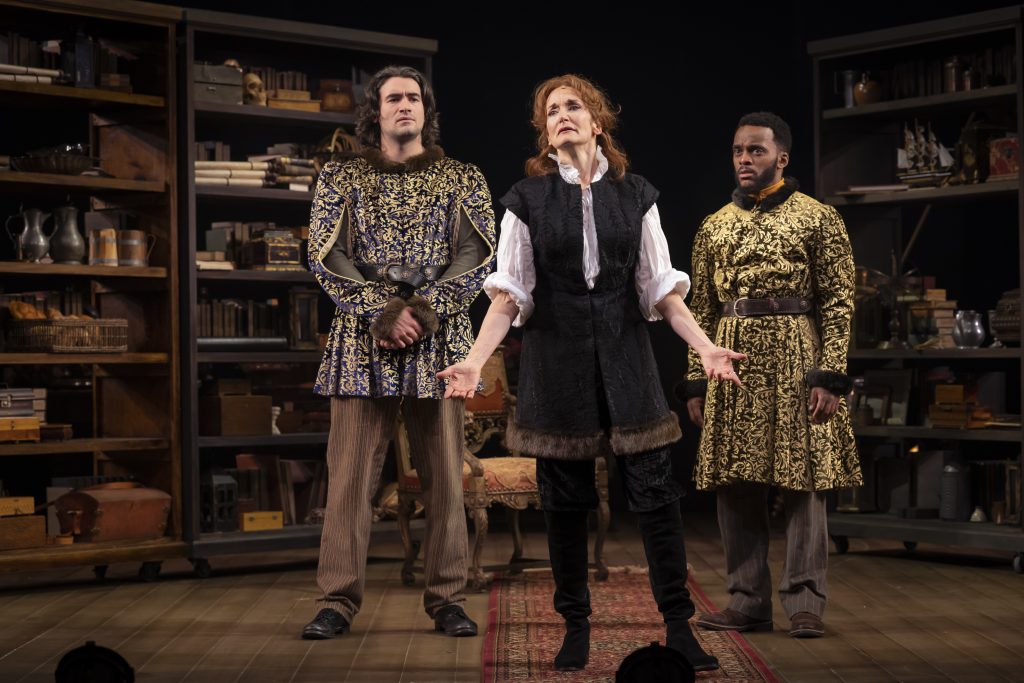 The play opens with Bernhardt in rehearsal: she insists she has Hamlet's lines memorized, but she struggles to connect to Shakespeare's lofty (and lengthy) poetry. As the story unfolds, Bernhardt finds herself facing bigger problems than just her acting troubles: she is in an enormous amount of debt; she faces criticism on all sides (from an actual theatre critic to her own son) about how "inappropriate" it is for a woman to play Hamlet; and her relationship with her (married) lover and artistic collaborator Edmond Rostand is crumbling before her eyes.
Through it all, Terri McMahon, who plays Bernhardt, fills the stage with an all-consuming energy, encompassing Bernhardt's brashness, boldness, and confidence with equal skill as her vulnerability and self-doubt in her quieter moments. The always-delightful Larry Yando, who plays fellow actor and friend Constant Conquelin, brings wry humor and heart to his role. And indeed, the entire ensemble is lively and engaging, the kind of actors who play their roles so well it's impossible to imagine anyone else in their place.
The most stunning performance of all, though, is that of Jennifer Latimore, who plays Rostand's wife Rosamond. Although she only has one scene, that scene is the pivot point of the entire play, and Latimore is more than up to the task of playing the role the entire story hinges on. She plays Rosamond with a measured steadiness and a stalwart determination to get what she came for, no matter how Bernhardt feels about it. The power play between her and McMahon's Bernhardt makes for one of the most intense and engaging scenes in the play, eclipsed perhaps only by the climax in which Bernhardt forces Rostand and Conquelin to read a scene from Rostand's latest play with her.
Set design by Narelle Sissons is gorgeous, with rich details that transform the Goodman's contemporary stage into the elegant early 20th century Théâtre Sarah Bernhardt. Costumes by Dana Osborne are a visual treat, especially those of Bernhardt, which move seamlessly from her rehearsal breaches to more casual clothing to extravagant gowns from scene to scene, reflecting the character's state of mind as much as her external circumstances.
Bernhardt/Hamlet is funny, moving, thought-provoking, and altogether too timely. After all, how does a woman conquer a man's role when even she is not sure she's up to the task? Successfully, in the end, for Bernhardt's historical performance was well-reviewed in Paris, yet Rebeck does not let her play end so neatly, laying bare the fallout of Bernhardt's choices, both good and bad. Even if Shakespeare isn't your jam, this play will be.
Ticket Information
Location: The Goodman's Albert Theatre, 170 North Dearborn
Dates: September 14 – October 20
Tickets: $25-80. Available at the Goodman Theatre's website, by phone at 312.443.3800 or at the box office (170 North Dearborn). Discounts are available.
All photos by Liz Lauren.