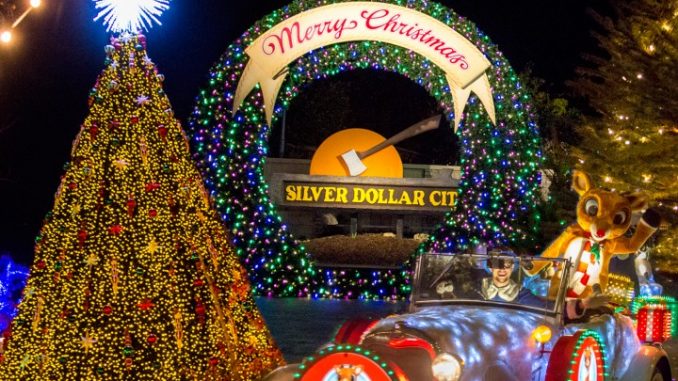 Waiting for you in the spectacular Ozark Mountains is Branson, Missouri where everything is geared to celebrating family memories. Think beautiful outdoor recreation on Table Rock Lake to X-mas festivities at Silver Dollar City to down-home Southern cooking. If that's not enough, Branson is the live entertainment capital of the world with plenty of magic shows, acrobats, pet shows and holiday musicals the whole family will enjoy.
You should know that Christmas starts early in Branson… from November 1 until December 31. Named America's Christmas Tree City, you can find beautiful trees around the city all decked out for the holidays. Take a driving tour of Let There Be Lights!, Branson's Gift of Lights and Trail of Lights for a fabulous showing of color and light.
Silver Dollar City Rings in the Holidays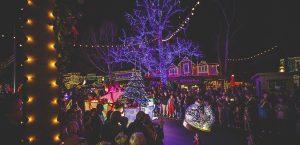 Silver Dollar City celebrates the holiday with more than a million sparkling lights, magical performances of "A Christmas Carol" and "It's a Wonderful Life" and delectable holiday treats. See their new 8-story, state-of-the-art Christmas Tree in Town Square, guaranteed to amaze you with color, music, light and animated imagery. Silver Dollar City makes the holidays even brighter with the Holly Jolly Christmas Light Parade.
What sets Silver Dollar City apart from other amusement parks is watching craftsmen at work as they create one-of-a-kind gifts. Whether it's blowing glass, throwing pottery, making leather works or creating woodcarvings, daily live demonstrations are fun and fascinating. Get a sneak peek of Mystic River Falls, their awesome new water ride, opening in 2020. This epic rafting journey features the tallest drop on any River Rapids ride in the Western hemisphere.
Showstopping Branson Showboat Belle

One of Branson's most popular experiences is the Showboat Belle that cruises around Table Rock Lake. Enjoy a fabulous three-course meal, walk around the four decks for beautiful views and enjoy an afternoon of singing and dancing by their talented troupe. Special Christmas shows, too like Santa's Pancakes and PJ Cruises.
For something extra special, hop aboard the Polar Express at The Branson Scenic Railway's Polar Express Train Ride. Bring the kids to hear Santa read the story and enjoy hot chocolate and a cookie.
Where to Stay
I had an opportunity to stay at Still Waters Resort, recognized by Better Homes & Gardens as the "Preferred Place to Stay in Branson." And for good reason. It offers so many family activities that people may find it hard to leave, no matter what the season. Sitting on Table Rock Lake, families share a variety of outdoor recreation like boating, kayaking, paddleboards and aqua bikes. Come fall, try pumpkin bowling and enjoy the Harvest Festival. Discover winter wonderland with giant inflatables like Winter Toboggan Ride, Polar Bear Slide, and Cabin in the Snow bounce house. The resort is located about five minutes from Silver Dollar City and includes a free shuttle.
Where to Eat
Branson takes great pride in their down-home Southern cooking and warm, friendly hospitality. Here are a few suggestions.
Owned by Bass Pro Shops, White River Fish House serves up fresh seafood, salads and sandwiches with great views of the water. Try some Alligator Appetizers or Duck Poppers and don't miss their cornbread or onion rings. Love the Key Lime Pie for dessert.
New in town is Paula Deen's Family Restaurant at the recently expanded Branson's Landing, where I guarantee you won't leave hungry. Meals are served family-style with everything from appetizers to desserts from Paula's own Southern-style recipes. Choose from fried-green tomatoes to Best Ever Southern Fried Chicken to Poppyseed Salad to Broccoli Casserole. Leave room for the Ooey Gooey Butter Cake, Deen's signature dessert. Be sure to visit the store for unique gifts and cooking items.
Gettin' Basted, Branson's award-winning BBQ restaurant is just plain fabulous. Winning accolades year after year for their mouth-watering BBQ, everything is cooked over live, Missouri hardwood coals in their Gateway Smokers. Start with the Basted Nachos or Championship Wings. Go with the Judges Plate featuring brisket, pulled pork, ribs, chicken, sausage, four sides and more. Or try the Burnt End Plate.
Fly like the Wind
If you're wondering how high you can fly, try skydiving while really only about six feet off the ground at Fritz's Aerodium. After a brief training in Flight School where you'll gear up for flight in a flight suit and goggles, you'll head to the outdoor wind tunnel, one of only two outdoor tunnels in the world. Then the wind begins and you're up in the air! This dynamic adventure is for anyone who dreams of flying for an instant adrenaline rush! Opens again in May 2020.
Dick's 5 and 10 – From Nostalgic to Novelty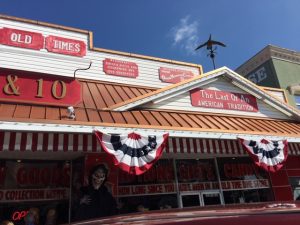 One of the last remaining dime stores in America, Dick's Five and 10 is an experience unto itself, which is one reason they get over a million visitors each year. You name it, they got it…home décor, Branson gifts, old-fashioned candy and soda and more. Don't miss their collections of baseball memorabilia and G-trains running overhead.
The beauty of Branson is that it's a year-long destination that changes with each season. If you're looking for a special holiday adventure, head to Branson this season!