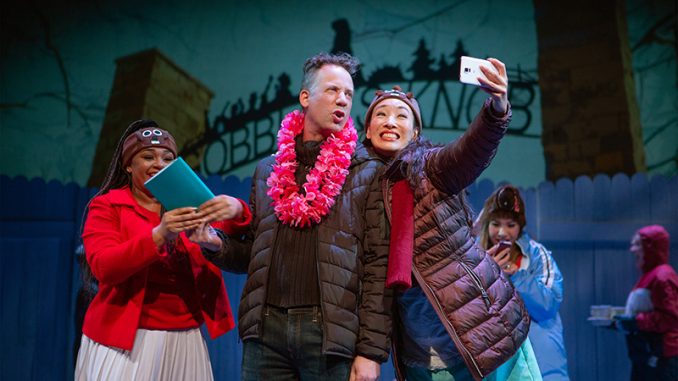 By Susan Alexander
"GROUNDHOG DAY the MUSICAL" with music and lyrics by Tim Minchin and book by Danny Rubin, directed by Susi Damilano music direction by Dave Dobrusky and choreography by Nicole Helfer is currently playing at the San Francisco Playhouse through January 18, 2020.
I know what you're thinking. You're thinking that this review of "Groundhog Day the Musical" is going to tell you that you should see it over and over and over and over and over again….
Guess what? Although I liked a lot about it, I think one time will be just about right.
Before I point out all of the really good features in this performance, please allow me to explain a couple of reasons why I'm nostalgic about the classic 1993 film, starring Bill Murray and Andie MacDowell–the film that inspired it. First, Harold Ramis, the director and co-author of the screenplay, not only attended my high school and undergraduate university, but I also knew Harold when we both lived in Chicago. Second, Bill Murray grew up in a Chicago suburb I inhabited for over 30 years, and I once spied him at our local bike shop buying a bicycle for one of his kids. So for those and other even more important reasons, I've always had a soft spot in my heart for the film.
Now, on to the stage production. The musical premiered at London's Old Vic theatre in 2016. (In London, writer Danny Rubin and composer/lyricist Tim Minchin won the Olivier Award for Best New Musical.) The musical went on to have a Broadway run in 2017, where it was nominated for 7 Tony Awards, including Best Musical and Best Book.
The production by SF Playhouse is the first stage performance that's appeared since the production on Broadway in New York. The SF production is jam-packed with over twenty musical numbers, many of which feature spirited music and lively choreography performed by the cast of sixteen energetic performers. Kudos to music director Dave Dobrusky and choreographer Nicole Helfer, both of whom do a top-notch job.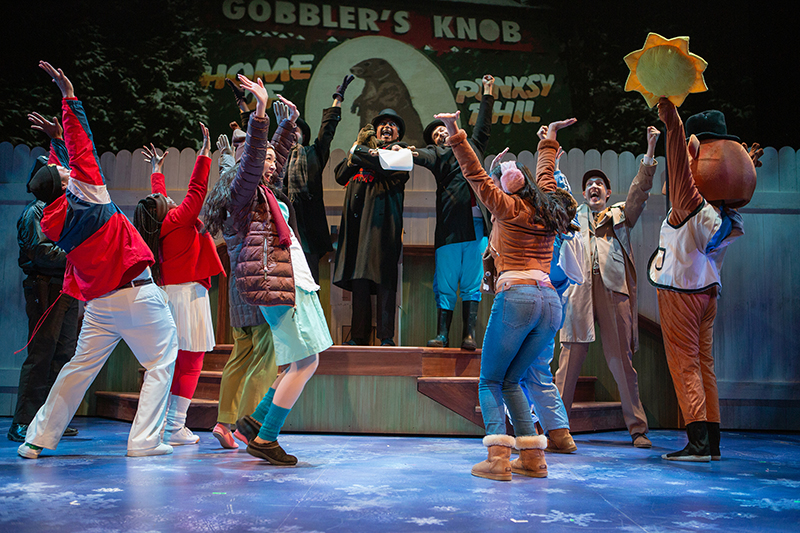 The two leads, Ryan Drummond (as Phil Connors) and Rinabeth Apostol (as Rita Hanson) are both outstanding and deserve kudos of their own. You may remember (from Bill Murray's performance in the film) that Phil Connors is the arrogant, cynical, world-weary weatherman who makes his way from his TV perch in Pittsburgh to Punxsutawney, PA, resentfully forced to cover the Groundhog Day ceremony that's held in that small hamlet every February 2nd. The annual event features Punxsutawney Phil, the groundhog who is extracted from his rather unimpressive wooden box so that he can see his shadow or not, thereby informing the world whether there will be six more weeks of winter. The colorful event brings out the entire town, whose cheery residents insist on having fun despite the cold, cold temperatures and accumulating snow.
Because of a blizzard Phil failed to predict, he and his producer, Rita Hanson, are stuck in Punxsutawney, much to Phil's consternation. Producer Rita (and the cameraman/van driver Jeff) have a much sunnier view of life, even its adversities.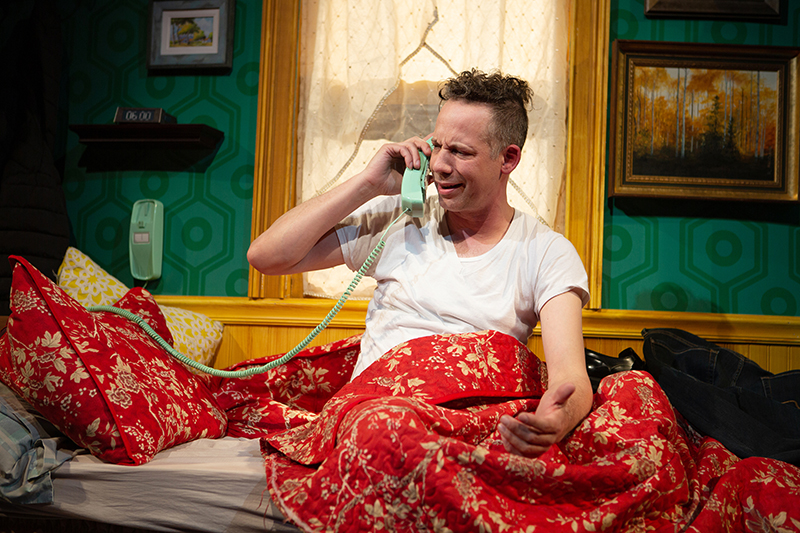 Phil proceeds to relive Groundhog Day again and again, in an unending sequence of days in which he changes, slowly, from his earlier arrogant and manipulative self into a very different kind of man. These changes are largely due to his attempts to win over the charming Rita, who is not only unfailingly clever but also unfailingly kind. Her approach to life gradually wears down Phil's cynicism and rudeness.
In the meantime, Phil awakens every morning at 6 a.m., finding himself stuck in the small town he scoffs at. Ryan Drummond's excellent depiction of Phil's initially shocked reaction to his predicament is perfect. We can see the bafflement creep over his face as he confronts each day after frustrating day. He even resorts to several attempts at suicide until he finally decides to spend his seemingly endless near-imprisonment by bettering himself (taking piano lessons, for example, lessons that lead to his becoming an impressive jazz and classical pianist).
Rinabeth Apostol is equally perfect as the bright and delightful producer Rita, whom Phil eventually targets as the woman he wants to spend the rest of his life with. She puts up with his changing moods and attempts on her virtue until he finally and genuinely changes, turning into the kind of man she wants to spend her life with. In other words, he becomes a "mensch."
I'll note a couple of other standout performances. First, Sophia Introna as Nancy, who sings the plaintive "Playing Nancy," hoping to someday be "something more" than her character reprsents right now. Second, Dean Linnard as abhorrent insurance man Ned Ryerson, who turns out to be quite a guy after all.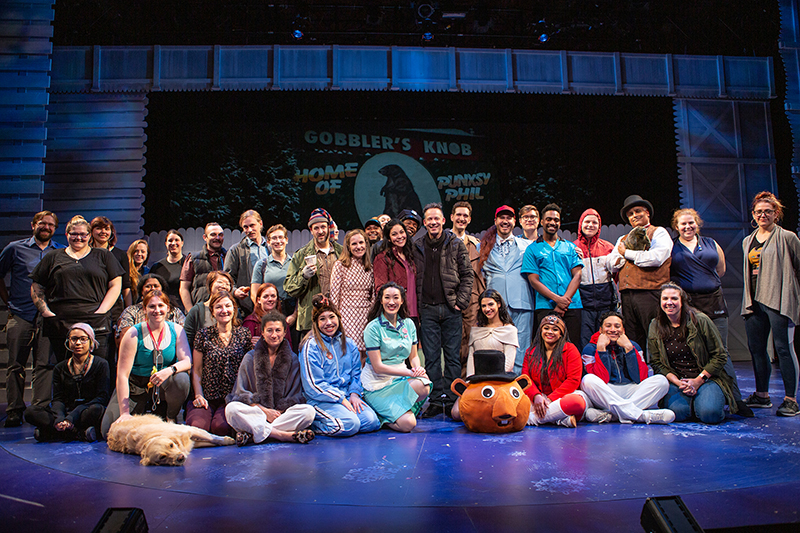 While the production as a whole is a great success and inspired tremendous enthusiasm from the audience, I do have a couple of quibbles. The six-piece band, which performs live accompaniment from behind a screen behind the performers, can be too loud at times and overpower the singers, making it hard to decipher some of the clever lyrics. I'm also somewhat critical of the SNL-level humor that cropped up in several scenes, creating a tasteless grab for laughs that wasn't really necessary. Do we really need to see an ugly scene where Phil Connors declines into debauchery? I don't think so.
Overall, let's cheer for "Groundhog Day the Musical," noting talented director Susi Damilano's observation: "The underlying theme of the show—that we must practice empathy to make ourselves better people, makes this a perfect show for the Playhouse and the holiday season."
For tickets and more information about the San Francisco Playhouse
Photos by Jessica Palopoli