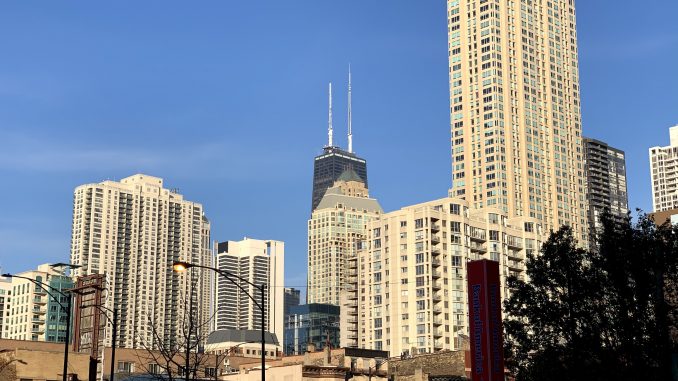 Mapping out the walking route along the scenic Rivernorth neighborhood to partake in "Chicago's Most Delicious Bar Crawl" was multifaceted. A delicious day full of tasting a variety of pizza while mixing in competitive games to work off the calories is what the pizza crawl was all about. Making sure to incorporate the right timing to get your hands on yummy pizza slices while checking out the different scenes from day into night required good time-keeping skills. With seven locations to explore, seven pizza options were on deck. Although the stipulations of the pizza crawl were set for a slice of pizza per hour, some patrons did not mind bending the rules much to our pizza craving tummy's delight.

Brisk winter winds kept you awake along the crawl, serving as a reminder to practice gratitude for the warmth at each location. Picking up the wristband started the event with Punky's Pizza at Old Crow Smokehouse on 149 W. Kinzie. Three choices included Vinny's Vodka Sauce, Soprano (sausage, pepperoni, mushroom, hot giardiniera) or Taco Pizza. Opting for the taco slice of pizza as the concept was intriguing, the crust was golden and the dough had the perfect amount of ingredients. Old Crow Smokehouse is a large space with a second floor that showcases a panoramic sky ceiling with lots of natural light that fills the room while catching glimpses of the neighboring downtown buildings. After checking out the expansive dance floor with full bar and DJ booth, it was time for a shot before heading out to the next place.

Gino's East at 500 N. LaSalle Drive served up mouthwatering famous Chicago deep dish slices of cheese or pepperoni. Since it's always better to be eating a fresh slice rather than waiting for one, cheese deep dish it was! The crust is a meal in and of itself, crunchy edges, soft cheesy middle, deep dish sure hits the spot after that shot! Sitting at the bar and looking across the room, droves of people gathered at high tops and booths as well as along the tops of the room in a standing only area. With the brewery located in the far corner of the room and a large stage across, it's easy to order a signature craft beer from Gino's Brewing Company while preparing your vocal chords for karaoke in this cozy establishment.

A quick highlighted rundown of the other pizza crawl spots included 10 pin at 330 N. State Street. With cheese, sausage or pepperoni slices and a quick game of bowling, the Delirium Tremens beer washed down nicely. Bottled Blonde at 504 N. Wells Street provided cheese or pepperoni slices while AceBounce at 230 N. Clark Street delivered clutch new ingredients like meatball or spinach. Plus the option of playing ping pong pretty cool.

As the sun went down, the pizza crawl raged on, and walking across the bridge offered restorative views of the river and glistening reflections of light from the nearby buildings bounced off the water. At Joy District located on 112 W. Hubbard Street, cheese or pepperoni slices were given as well as 90s music dance offs. Unfortunately the rooftop was closed due to a private event. Last and definitely the most packed, was Trophy Room at 170 W. Ontario Street which served a full pizza bar with truffle mushroom, the chipotle (chicken, pico, chipotle crema), Cheesehead (Mozzarella, Parmasean, Provolone) pepperoni and sausage. Getting hungry yet?

Visit River North Fests for an updated list of upcoming events and plan for the next pizza crawl, you don't want to miss a slice! 

Photos: Courtesy Yvonne Pulido